If you have a Shopify store, you likely have the front end of your business taken care of. However, the backend needs attention too, especially when it comes to order tracking and management.  The Shopify apps store has a variety of tools available for these purposes, including private integrations, extensions, and plugins.
Here we came up with a list of the best Shopify order tracking apps by looking at the app store ranking, the number of Overall Ratings, the app's top features, and other necessary criteria.

9 Best Order Tracking Shopify Apps of 2022:
Aftership:
Key Features:
Shipment visibility: Insightful tracking data in one place to resolve delivery incidents faster.
Branded tracking page: Match style and colors with your website to make it look alike.
Shipment notifications: Send email notifications to engage customers.
Analytics: Get actionable insights into your post-purchase experience and shipping performance.
Apps & developers: Connect AfterShip with other applications easily, including Shopify, Magento, and WooCommerce.

Rating: 4.7
Shopify App Link: https://apps.shopify.com/aftership
Trackr Order Tracking:
Key Features:
Branded Tracking page: Easily customize to match your store design and allow customers to track their orders on your website.
Seamless integration with Shopify: Trackr can be easily embedded in any of your Shopify stores in a few clicks.
Real-time information: We collect and display data about orders in real-time so that your customers could easily know where their packages are.
Flexible pricing: Choose between different pricing options to meet your business needs.
900+ carriers: We provide package tracking updates from more than 900 couriers around the world, including carriers commonly used by dropshippers (Aliexpress standard shipping (Cainiao), ePacket, China EMS, China Post, others). See the full list here.
Customizable email notifications: Send your customers automatic email notifications about main order status changes. Customize your email notifications to reflect your brand.
Estimated delivery time: Display the approximate date your customers should expect the order to arrive right on the tracking page.
Tracking info translation: Display tracking info in the language your customers understand.
Product Recommendations: Promote your product on a tracking page with a smart recommendations block.
Hide carriers option: Dropshippers can enable this feature to put carriers names and locations out of customer's sight while the package is in China.
Fast and streamline support: We understand the importance of reliable customer support and pay exceptional attention to any possible issue our clients may encounter.

Rating: 4.1
Shopify App Link: https://apps.shopify.com/trackr
Tracktor
Key Features:
Real-time package lookup that integrates all the popular carriers across the globe.
Branded Tracking Page: Create a tracking page to match your brand and impress your customers with responsive design for mobile and tablet shoppers.
Custom Order Statuses: Create new custom order statuses like "in production", "picked from warehouse", or "waiting for confirmation" to show additional steps in between when an order is placed and when it's ready to be handed over for transport.
Email/SMS notifications: Send email or SMS notifications to your customers when their package is out for delivery or arrives at their doorstep.
Product Recommendations: Show your customers smart recommendations for other products you offer based on their order history
Integration with Shopify: Customers can view their order status on your store with or without an account. Add tracking links directly in your automated emails and Shopify customer notifications.
Rating: 4.7
Shopify App Link: https://apps.shopify.com/tracktor-2
Parcel Panel
Key Features
Real-time sync & tracking to save your time focusing on other important things.
Branded tracking page: 3.7X lookups per order, bring customers back to your store to make more sales.
Shipping notifications: Engage customers through proactive & timely notifications.
Smart analytics: Get powerful insights into your shipping & upsell performance.

Rating: 4.9
Shopify App Link: https://apps.shopify.com/parcelpanel
Track Order by Shipway
Key Features:
Real time tracking of 650+ carriers across the globe
Branded Tracking Page: Whitelabelled & Branded order tracking & order lookup URLs.
Notifications: Delivery alerts via SMS, Email & Whatsapp. Customizable Sender Ids, Email, SMS & Whatsapp templates
Advanced: Calculate & Show Estimate date of delivery to your customers. Customers can track the shipment status of their order on your website. Auto-update Shopify fulfillment status
Net Promotor Score (NPS): Measure Customer Satisfaction using Net Promoter Score
Analytics: Powerful carrier performance report with avg delivery time. Supports partial shipments tracking.

Rating: 4.7
Shopify App Link: https://apps.shopify.com/shipway-tracking-notification-and-order-reviews
17Track
Key Features:
Analytics: Get all your tracking information. Support translation of tracking result in 77 languages, tracking with no barriers.
Automatic email notifications: Automatic email notification for package status. All notifications are provided with an email template.
Global Package Tracking: It supports 1000+ carriers worldwide. Track your order from the start to the end, show 7 standard tracking status & complete tracking info, with 99.9% accuracy.
Data Analysis & Real-time Statistics: Status analysis & real-time statistics are provided,  you can filter and export the orders according to the package status.
Email Notifications: Send email to your customer, for free, and unlimited in number. One dedicated quota for each tracking number. Repeated trackings cost no extra.

Rating: 4.9
Shopify App Link: https://apps.shopify.com/17track

Track 123
Key Features:
Integrate with 800+ carriers all around the world, including UPS, DHL, USPS, China Post, TNT, 4PX, Aliexpress standard shipping (Cainiao), etc.
Real-time information: All shipping information of your orders can be automatically tracked from any carrier.
Advanced: Extraordinary Tracking Experience, Notification & Estimated Delivery Date
Branded Tracking Page: Automatically generate a branded tracking page for you under your store domain.
Customized order status can be added to the shipping progress bar, keep your customers informed of the latest order status.
Automatic translations of the tracking page and Google Translate extension to translate the tracking details and meet global customers' needs.
Product recommendations feature for upselling helps you drive more additional sales.
Hide Items: Chinese origin or other unwanted keywords in tracking information can be hidden or replaced as you want.

Rating: 4.9
Shopify App Link: https://apps.shopify.com/track123
Tracking More - Order Tracking
Key Features:
Real time tracking all the major couriers worldwide
Analytics: Track and check delivery status in one place, be aware of all order status with one glance
Email Notifications: Receive daily email reports of customers' delivery updates, including Basic Info, Tracking Overview, and Detailed Attachment.
Branded Tracking Page: Automatically generate a branded tracking page under your store domain (SEO friendly) and customize the style to fully fit your store, no need to answer "Where is my order?"
Integration with Shopify: Automatically insert your tracking link to your Shopify store so that customers can track shipments effortlessly at order-related pages and Shopify native notifications. Tracking link also available for your store's header and footer
Customizable shipping notifications, sent from your email address, keep your customers informed instead of asking for your support. Configure notifications for In Transit, Out for Delivery, Delivered, Failed Attempt & Exception
Advanced: Customizable and Equipped with order lookup widgets, shipping progress bar & map coordinates along with estimated delivery timing.
Carriers Support AliExpress, YunExpress, 4PX, CJ Packet & ePacket tracking (China Post, China EMS), etc.
Safe Import: We Import your orders from the last 30 days for free to ensure you a worry-free migration experience from all tracking apps.

Rating: 4.8
Shopify App Link: https://apps.shopify.com/trackingmore
Order Lookup
Key Features:
Dashboard: Order Lookup adds an easy-to-use customer facing portal to your Shopify storefront. This allows customers to enter their email address and order number, empowering them to access their order information, in real time.
Reduce support ticket size: When you use Order Lookup, a significant amount of your customer support requests will be eliminated, which saves you time and money, while simultaneously allowing you to provide a flawless customer experience.
Multilingual supported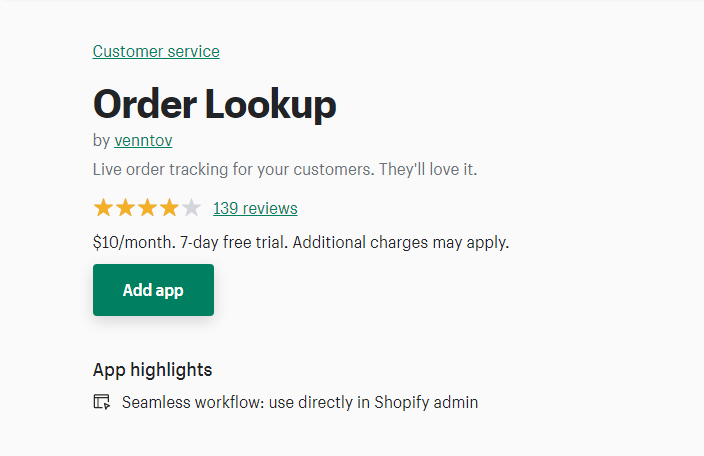 Rating: 3.9
Shopify App Link: https://apps.shopify.com/order-lookup-app