Black Friday and Cyber Monday (BFCM) remain the biggest shopping events of the year. For ecommerce businesses, Black Friday and Cyber Monday is a huge revenue opportunity, especially as more shoppers are moving online.

This can be a busy time for your business, but hopefully a very fruitful one. Therefore, it is very important to be prepared in advance and have your BFCM strategies in place.
Shopify, a leading global provider of essential internet infrastructure for e-commerce, made a remarkable announcement regarding Black Friday 2022. Their sales soared to an astounding $3.36 billion, spanning from the commencement of Black Friday in New Zealand to its conclusion in California.
That's why it is so important for any kind of business to prepare a great BFCM eCommerce strategy in advance in order to achieve the highest results: increase sales, attract new customers and improve your customer retention rate.
But first of all, let's discuss a little deeper what BFCM is.
What is BFCM?

BFCM, short for Black Friday Cyber Monday, represents a pivotal shopping period that marks the start of the Christmas shopping season. On Black Friday, stores lure customers in with a plethora of discounts and promotions, while Cyber Monday follows closely as the year's final major sales event, mainly focusing on exclusive online deals.
While the roots of Black Friday date back to the past, it wasn't until the 1990s that retailers began formulating strategies involving significant discounts and early opening hours. In 2005, Cyber Monday emerged as a solution to the long holiday weekend queues, enabling customers to conveniently shop from the comfort of their homes or offices.
In today's landscape, Black Friday and Cyber Monday have grown larger than ever, starting earlier and extending over a more extended period.
Neglecting to devise a well-thought-out strategy for Black Friday and Cyber Monday could result in retailers missing out on significant revenue. Implementing an organized, data-driven plan is essential for boosting sales and reducing stress during the holiday season.

Tips for Developing an Effective BFCM Ecommerce Strategy

Proper preparation of your BFCM proposal can be the factor that makes or breaks your eCommerce business.
If you are a business owner looking to grow your eCommerce site, read on to learn how to prepare the perfect Black Friday ecommerce strategy.
Since we already know what BFCM is , it's time to know how to increase BFCM sales and maximize your business potential with 9 tips for building a great eCommerce strategy.
1.Optimize your website for mobile.

There is a high demand for mobile online shopping which makes it a strong need for any online store to further optimize their website for mobile phones. Every year, more than half of smartphone users make at least one digital purchase from their devices.
Younger shoppers use mobile apps to shop at higher prices than older people. According to Bizrate Insights, every month, about 60% of US internet users aged 18 to 34 use a mobile app to purchase a product or service.
As more consumers use their mobile devices to interact with retailers, companies need to optimize the functionality of their websites and apps for mobile devices.
Mobile optimization best practices include:
reducing the size of your web pages to load faster;
including mobile payment options such as Apple Wallet and Google Pay;
implementing of Accelerated Mobile Pages (AMP) plugins;
developing an omnichannel strategy to ensure a seamless experience across multiple platforms.
If your company has a mobile app, consider how you can promote this shopping experience to your customers. Include direct calls to action and prominent links to your app through website banners, social media, search ads, and pop-ups. These efforts are an effective way to drive mobile traffic to your mobile app. Make sure your links open your app (if it's already downloaded) or direct the user to a download page in the app store.

2. Improve your site navigation.
Website navigation is a set of user interface components that help everyone find content and features on a website. This allows your customers to easily access promotions and various offers that may be available on your website.
In an ideal world, every visitor would start at your home page and follow the same path through your site. But this is not the case. Website visitors move everywhere. Remember that you want people to stay on your site to explore further. Give them a reason to click on links, pique their curiosity and tempt them with great offers.
Website navigation is one of the main factors to consider because if visitors can't find something on your website, it doesn't matter how good your products or services are.
Let's take a look at some useful tips here:
Place navigation exactly where users expect to find it;
Customize your navigation bar to your audience and business (navigation bar optimized for the needs of a specific audience makes it easy to navigate the website);
Make your slidebars stand out from the rest of the web page;
Make it easy to read on any screen;
Keep your navigation titles clear;
Use text links instead of buttons (more useful for SEO and usability).
Kiehl's, a skincare brand, has a great example of site navigation with a mega menu.


3. Use multiple communication channels.

Your customer service is a reflection of your brand. Improving customer satisfaction can have huge benefits in terms of reputation, revenue, and retention. In order to improve customer experience, this is a great way to provide your customers with assistance through multiple channels. Some of the more common examples include a call center, a live chat service, and a help desk.
Here is list of channels you can use:
Emails. Email is a popular digital support channel for many customers due to the ease of customer interaction. No need to wait for a free agent. It's also perfect for sharing complex or sensitive information.

Phone support. The telephone remains an important communication channel as it allows customers to resolve issues quickly and conveniently in real time (which is essential for some customers).

Live chat. Live chat services have quickly become a favorite among customers as they provide instant responses regardless of device or location. It is a great alternative to telephone support.

Social media. Social media sites are ideal for customers who are active online. Your business should have this communication channel if you are serving a younger audience. You can also create a public discussion where customers can share experiences with each other. This will make your support team's job easier.

Self-service option. For example, the FAQ page, this is an ideal option for customers who prefer to find information themselves rather than contact customer service. Just make sure to check and update the list of questions before the holiday shopping period.
4. Use website pop-ups.
A pop-up is a small window that appears when you browse a website. They are mainly used as a marketing tool for advertising and lead generation. What are the benefits of integrating popups into your site?
Pop-ups will generate interest from people. Once your customers search for Black Friday deals online and visit your site, the pop-up will act as a call to action. Customers focus on one message among many different messages on your site, so they tend to visit a link in a popup for further action (purchasing, subscribing, etc.).
5. Improve checkout.
Companies often offer a set of codes and discounts during the holiday season. Have you considered how customers will use it at checkout? Coupons and codes must be valid, understandable, and easy to use. Your customers may become frustrated and leave your site at the final stage if they are unable to enter the discount code.
Also, double-check your discount policy. In case you offer multiple discount codes make sure to explain to your customers all the requirements if needed. There are many companies that offer several codes customers should enter during the checkout process, as well as automated applied discounts. Make sure to prepare clear explanations how each discount works.
This will help you improve customer satisfaction, your customers will be able to finish the checkout process easily and without unexpected surprises. Additionally, this will reduce the number of incoming requests regarding the discounts to your customer service department. So your team will be able to focus on more complex requests.
6. Set up Upsell and Cross-sell.
Upselling is a common sales method in which a seller encourages a customer to buy a more expensive product or upgrade to a premium version of the item in question. Cross-selling encourages the purchase of something in combination with the main product.
According to many studies, product recommendations such as upselling and cross-selling generate up to 30% of eCommerce site revenues. So, if you're not upselling this BFCM, you're missing out.
These methods can be used both during a customer browsing session and during the checkout process. Choosing where and when you can offer upsell and cross-sell opportunities depends on knowing your customer base.
It also can be a great marketing tool to increase the probability of repurchase. Fow example, Trackr app allows you to add product recommendations feature on the tracking page to increase selling and generate additional revenue.  The product recommendation feature can help customers find the products they are interested in, and showing relevant products to shoppers increases the likelihood that they will make a purchase.
With Black Friday Cyber Monday sales, customers may be more ready to buy an additional item since they have already saved money. This is a great opportunity to promote certain items and increase your overall profits, so this should definitely be part of your Black Friday marketing plan.
Apple product recommendations before the checkout process.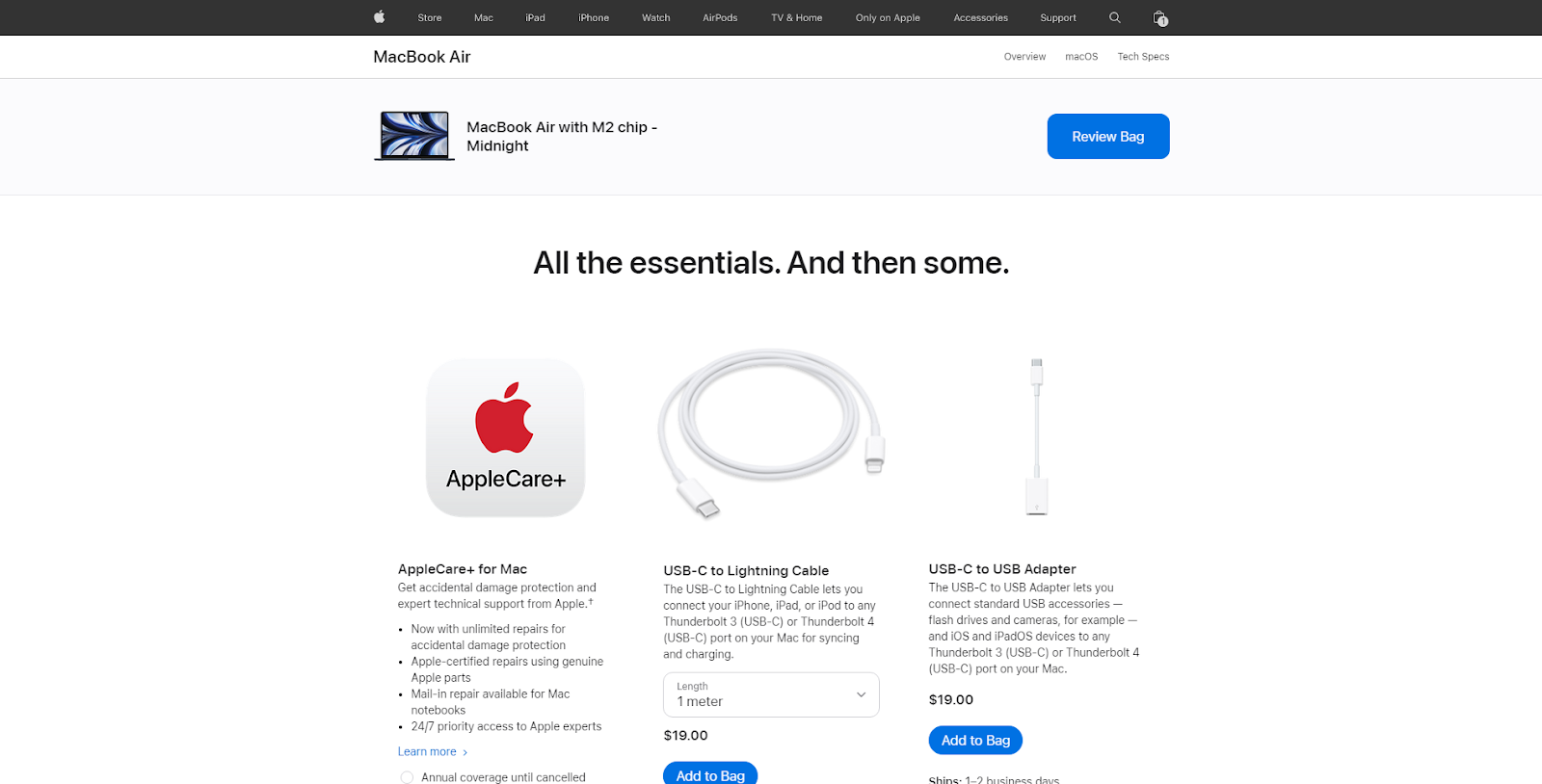 7. Add reviews.
Product reviews increase customer trust and loyalty. Having product reviews in your online store demonstrates what makes your products different from similar brands and can increase your credibility. Product reviews encourage customers to interact with your brand.
And even more advantage! Product reviews also boost your SEO visibility by posting valuable content that Google displays for relevant searches.
The most effective way to include useful reviews on your site is not only to display customer text reviews, but also to include the ability to add customer photos, share real stats (like how many customers have already bought this item or how many customers like this product or service), etc.
8. Create a clear return policy.

A clear return policy allows your customers to feel secure because they are confident that the products they purchase are guaranteed. If the seller does not provide this guarantee, customers may become suspicious and even refuse to purchase the product.
Also, if a customer has already made a purchase but then can't find a Return Policy or find that your policy is unclear, they may decide it's too difficult to return an item and simply write your store off as a store to avoid in the future.
To gain trust and retain your customers, you must ensure that your Return Policy is displayed prominently on your website and it is easy to understand. Clients will appreciate that you are open about your procedures.
Additional bonus: You may not have thought that a return policy could be an addition to your marketing strategy, however, demonstrating this policy can actually increase your sales because a large percentage of buyers are looking for it.
Narvar's consumer survey found that 49% of shoppers actively check a store's return policy before buying anything. In addition, customers who are informed of their refund and return rights are more likely to make a purchase.

9. Meet customers expectations.
One of the best ways to meet customer expectations is to set them.
Of course, it's so attractive to promise things like next day delivery to compete with larger businesses, but please don't. Be realistic about what you can guarantee your customers and they will appreciate your honesty.
If you know, for example, that orders will take longer to arrive due to the holiday season, make sure customers are aware of this when they place their orders. This way you will avoid a bunch of angry requests complaining about unreceived parcels.
The best way to ensure your customers about their orders location is to provide them with the real time order tracking information. Parcel Trackr app collects tracking information from more than 900 carriers around the world and sends your customers email notifications with updated information regarding their order. This is a great tool to improve your customer post-purchase experience as well as increase your brand trustworthiness.
Another advice here is to use personal customer experience. Customers expect companies to understand their unique interests and preferences and treat them as individuals rather than consumer segments. Personalized customer experience allows you to do this by providing personalized messages, offers and products to each person.
How can this be done?
Show recently viewed items;
Offer customized upsell and cross-sell options;
Offer personalized coupon codes;
Use personalized Black Friday email marketing;
Offer products/services based on customer's geoposition.
Conclusion

Whether you're just starting out in ecommerce or have been in it for a while, preparing Black Friday Cyber Monday ecommerce strategy right can double, triple or even quadruple your business in a very short period of time.
For businesses, this is a very exciting time of the year, but it can also be very stressful as there are many aspects to think about, including having enough product and being willing to ship it as quickly as possible.
We hope these tips help you to develop an effective Black Friday Cyber Monday strategy to increase your sales and improve customer retention!