The most important months of the year for small businesses and online merchants have started. With the increased demand in online sales, it's more important than ever to be properly prepared in order to avoid holiday shipping errors and keep customers happy.
Last year in December, over 3 billion packages were shipped in the US alone. Compared to 2019, there were 800 million shipments more, and 2021 will undoubtedly see a similar increase as numerous businesses have taken on an e-commerce-focused strategy.
With businesses highly relying on services such as USPS, that undoubtedly will get overloaded and where merchants have no direct power over shipping times, it's crucial to focus on providing great customer experiences.
In this article, we will cover this year's holiday shipping deadlines and strategies you can apply in order to avoid holiday shipping delays and ensure successful delivery before Christmas day.
Holiday shipping deadlines 2021
Due to the course of the pandemic, holiday shipping delays and product shortages this year are inevitable. This is why the shipping deadlines for 2021 tend to be earlier than before and customers should be encouraged to get their holiday shopping done as soon as possible.
Based on previous years' trends, the last day for standard holiday shipping is December 11th, according to Adobe Holiday Predictions Research. However it's strongly recommended to send packages before then, preferably even before the shopping season hits its peak with Black Friday sales.
To be on top of things, here are the final deadlines for holiday shipping from some of the major delivery services.
USPS Christmas shipping deadlines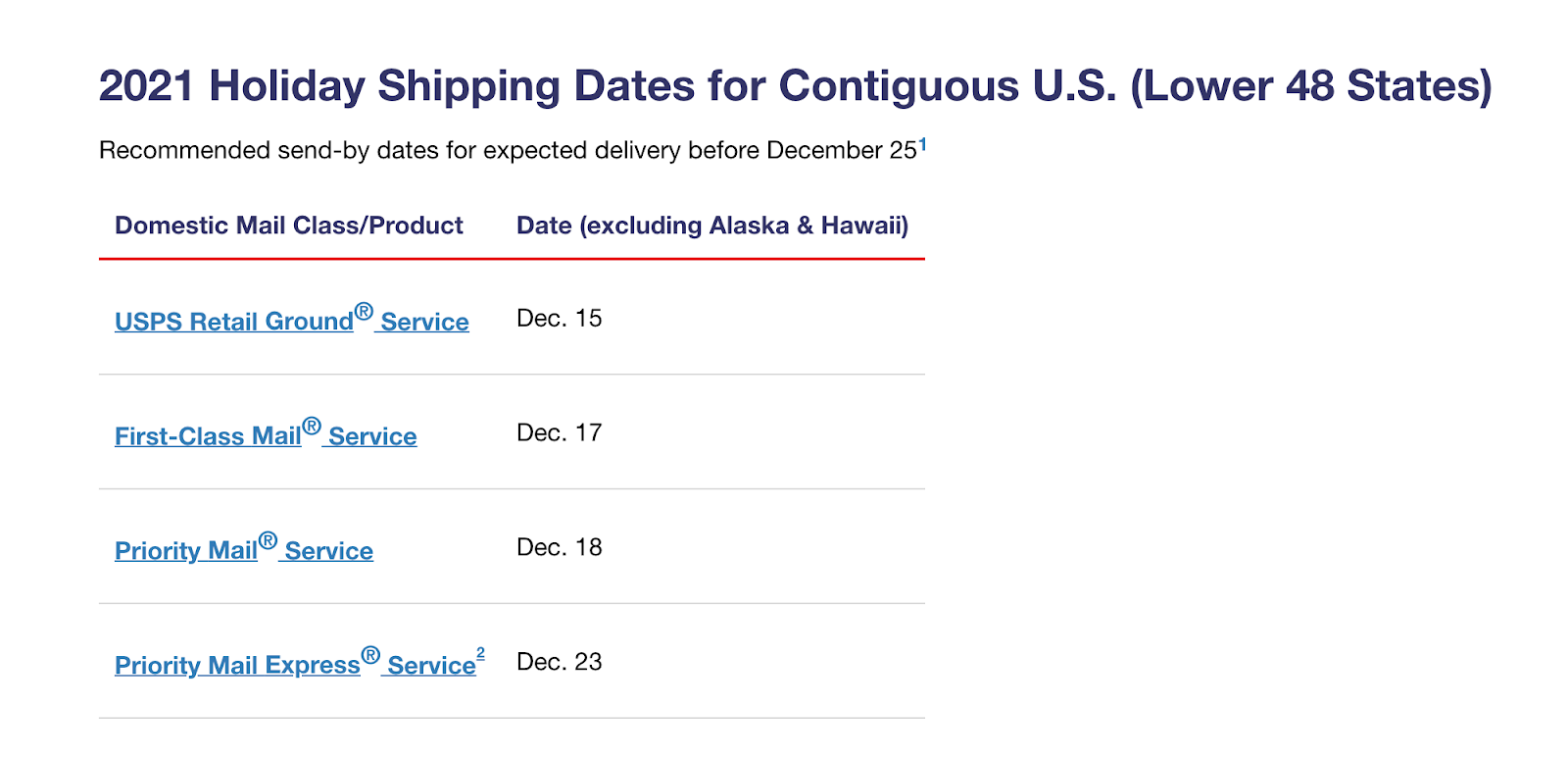 December 15 - Deadline for shipping with USPS Retail Ground Service.
December 17 - Deadline for shipping via First-Class Mail.
December 18 -  Deadline for sending packages with Priority Mail Service.
December 23 - Deadline for shipping with Priority Mail Express Service
UPS holiday shipping schedule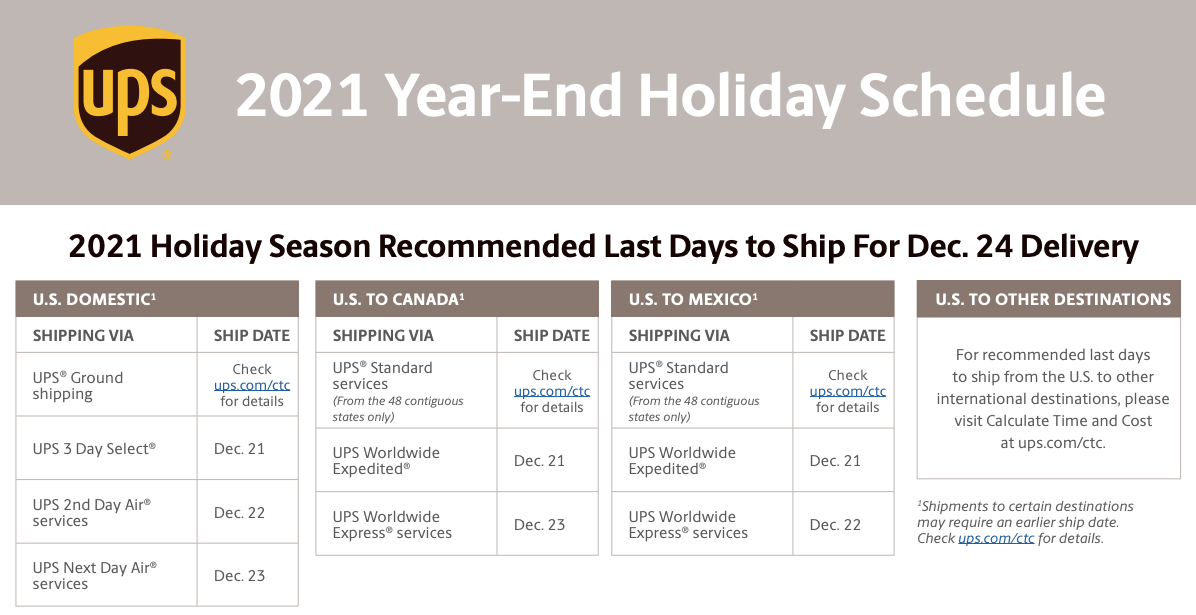 December 15 - Deadline for sending packages with UPS Ground.
December 21 - Deadline for shipping via UPS 3 Day Select.
December 22 - Deadline for shipping with UPS 2nd Day Air.
December 23 - Deadline for sending packages using UPS Next Day Air.
FedEx shipping deadlines for holiday packages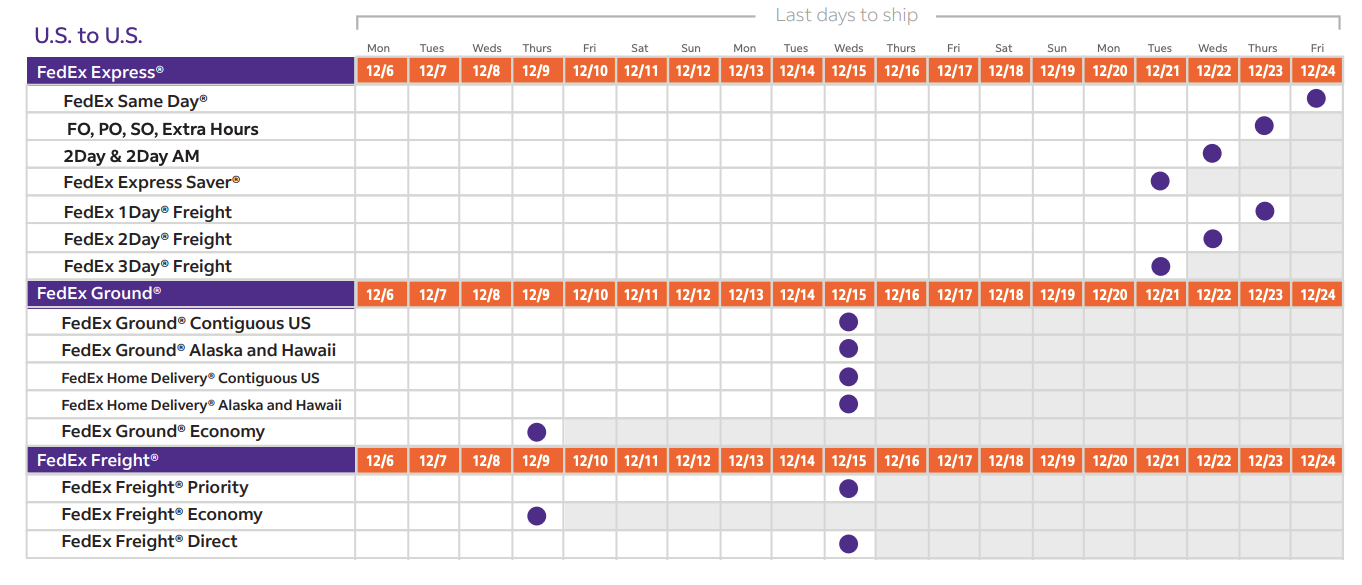 December 15 - Deadline for sending packages via FedEx Home Delivery and with FedEx Ground.
December 21 - Deadline for shipping via FedEx Express Saver and with 3 Day Freight.
December 22 - Deadline for sending packages via FedEx 2Day A.M., 2 Day Freight, and 2 Day.
December 23 - Deadline for shipping with 1 Day Freight, FedEx Standard Overnight, Priority Overnight, and First Overnight.
December 24 - Deadline for sending packages Same Day domestically.
TIP: Increase customer satisfaction by enabling real-time order tracking and shipping status updates.
4 strategies to keep customers satisfied this holiday season
This season's e-commerce sales are predicted to reach $206.88 billion, which is 11.3% higher than the previous year. Such increased demand naturally brings many challenges to online merchants.
For nailing this year's holiday season sales, we have put together 4 key strategies to provide customers seamless experiences and develop brand-customer relationships.
1. Start holiday shopping campaigns early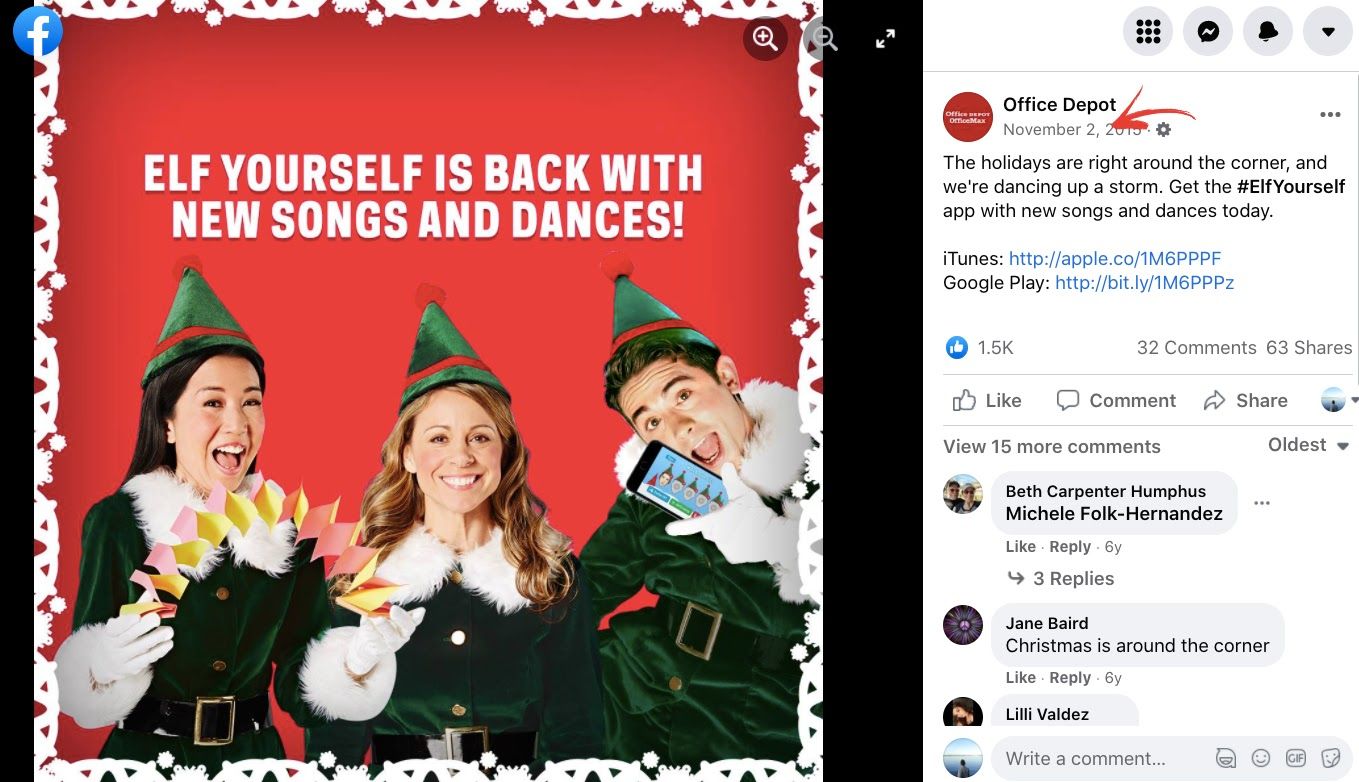 People are already looking for great deals and ways to save money to sort out their Christmas presents, and 41% of customers are likely to do their holiday shopping with the brands they love. This is a great opportunity to reach out to your loyal customers and help them to avoid shipping and delivery delays in December.
To boost your holiday sales, send out personalized campaigns to your subscribers before the peak season starts:
Send out an early shoppers discount and highlight the exclusivity of the offer.
Offer shipping perks - advertise fast and free shipping if the order is placed before the main holiday shipping season.
Play on urgency - remind shoppers to order early to avoid shipping delays and let them know inventory is limited this year.
Emphasize the value your subscribers gain to encourage opt-ins to your email and SMS lists (e.g. offer a free gift with every pre-regular sale order).
2. Communicate shipping times and focus on customer support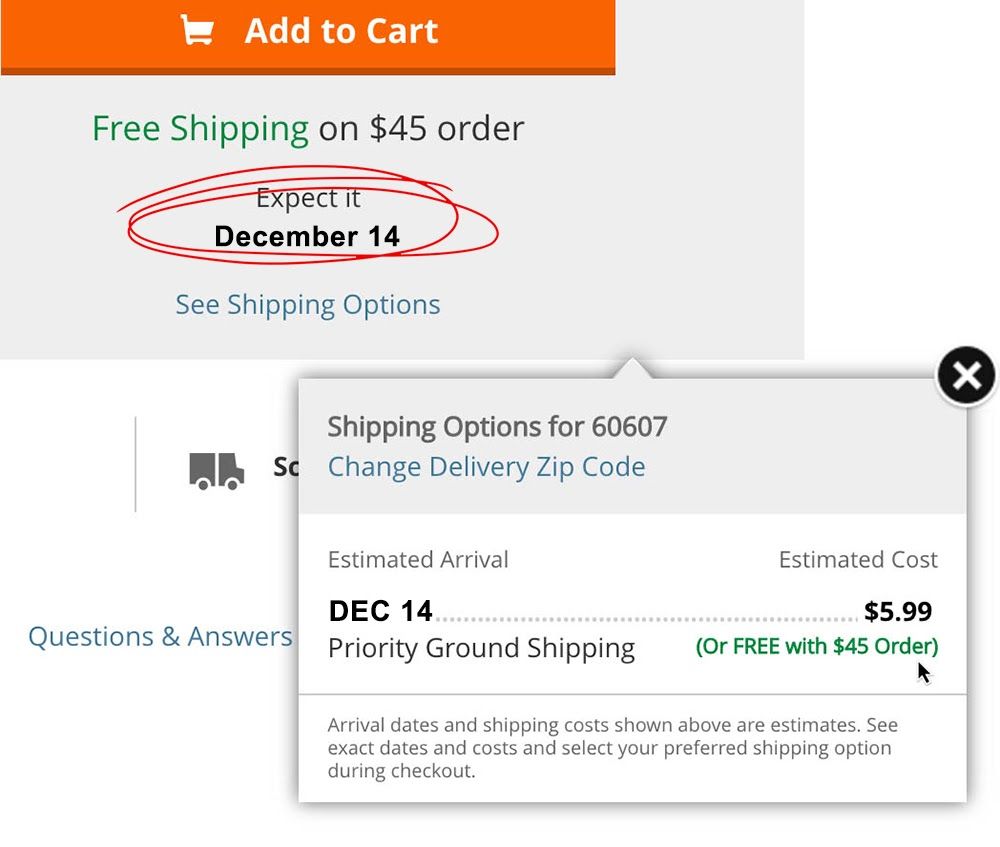 As holidays draw nearer, it's important to inform your customers about the changes in estimated shipping times and prepare your customer support team for increased ticket volumes.
In order to be ready for increased traffic and to prepare for holiday shipping delays:
Set clear expectations on which products will be delivered on time and which products might experience delays.
Include estimated delivery times to shoppers' carts and at checkout pages.
Encourage customers to pay a little extra for express shipping when the last-minute deadlines are at hand.
Send out order confirmation with expected shipping times.
Enable order tracking and send shipping status updates.
Add options to buy online and pick up in-store or include local delivery options to stores so that nearby shoppers could skip longer delivery processes.
Update your FAQ page with common questions you have received in previous years.
Make it convenient to get in touch with your customer support (besides displaying your email in easily findable places, use contact forms and a live chat) and be clear about the expected response time.
3. Make returns process easy and convenient
Holiday shipping madness might make merchants forget the importance of focusing on a seamless returns process, yet almost half of customers check the return policy before making a purchase.
As returns are inevitable, yet are a vital part of providing a great customer experience, it's important to be prepared.
For excelling in returns:
Have a dedicated returns policy page on your website.
Include prepaid return labels and packaging.
Add clear instructions on how to make a return together with the parcel.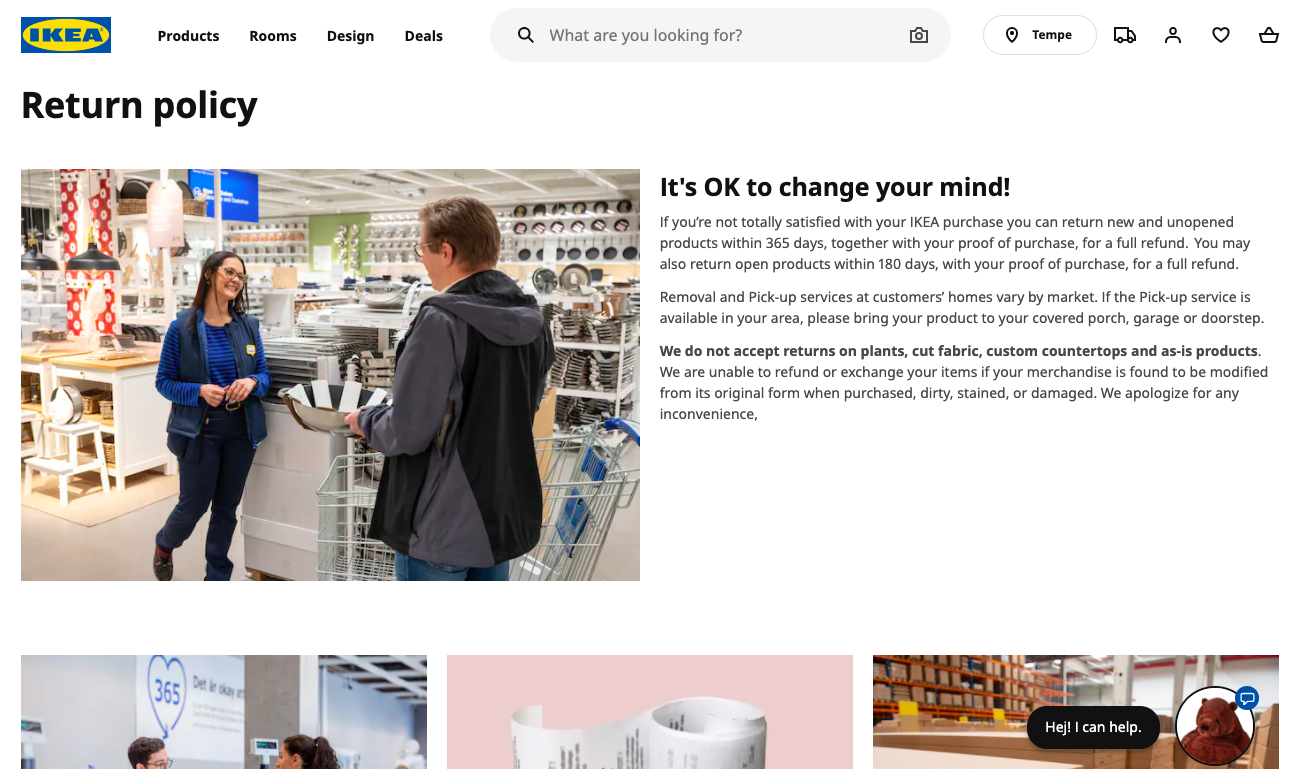 4. Consider shipping insurance
Shipping always comes with little risk especially when all the delivery service providers are bombarded with holiday packages. In fact, 80% of returns are made because of a damaged item.
During such times, shipping insurance can come in handy, especially if you're sending high-value items.
Some benefits of choosing shipping insurance:
Compensation for damaged or lost packages given that they were packed properly.
Reimbursement covering purchase value and shipping costs, which allows you to send a replacement package without additional costs to you.
Peace of mind both to you and your customer that fast service is available even if something happens during the delivery process.
Final thoughts
The holiday season can get a little overwhelming for merchants and customers alike, but being able to expect the unexpected, you can be one step ahead of the game.
Transparency and communication are on top of the list to survive the growing demand for online sales. By nurturing the relationship with your repeat customers, putting extra effort in the customer support department, and keeping a keen eye on delivery processes in order to sort out any errors fast, you will be able to keep customers happy and prepared for the upcoming holidays.