Looks like the pandemic-inspired shift to digital is here to stay. Many people are already accustomed to shopping from the comfort of their couch, and constantly growing global e-commerce numbers show no signs of any unexpected twists in the near future.
Last year was especially exciting to the U.S. retail giant Amazon that ended 2020 on a high note, reporting a record-breaking $386 billion in revenue – a yearly increase of almost 38%.
Therefore, the data presented by Trackr estimates that Amazon will continue to follow the same path and exceed $500 billion in revenue by the end of 2021. The profits are projected to increase by at least 30% and hit all-time highs as people continue to face the new challenges of the ongoing health crisis. This projection is based on five fundamental factors as discussed below.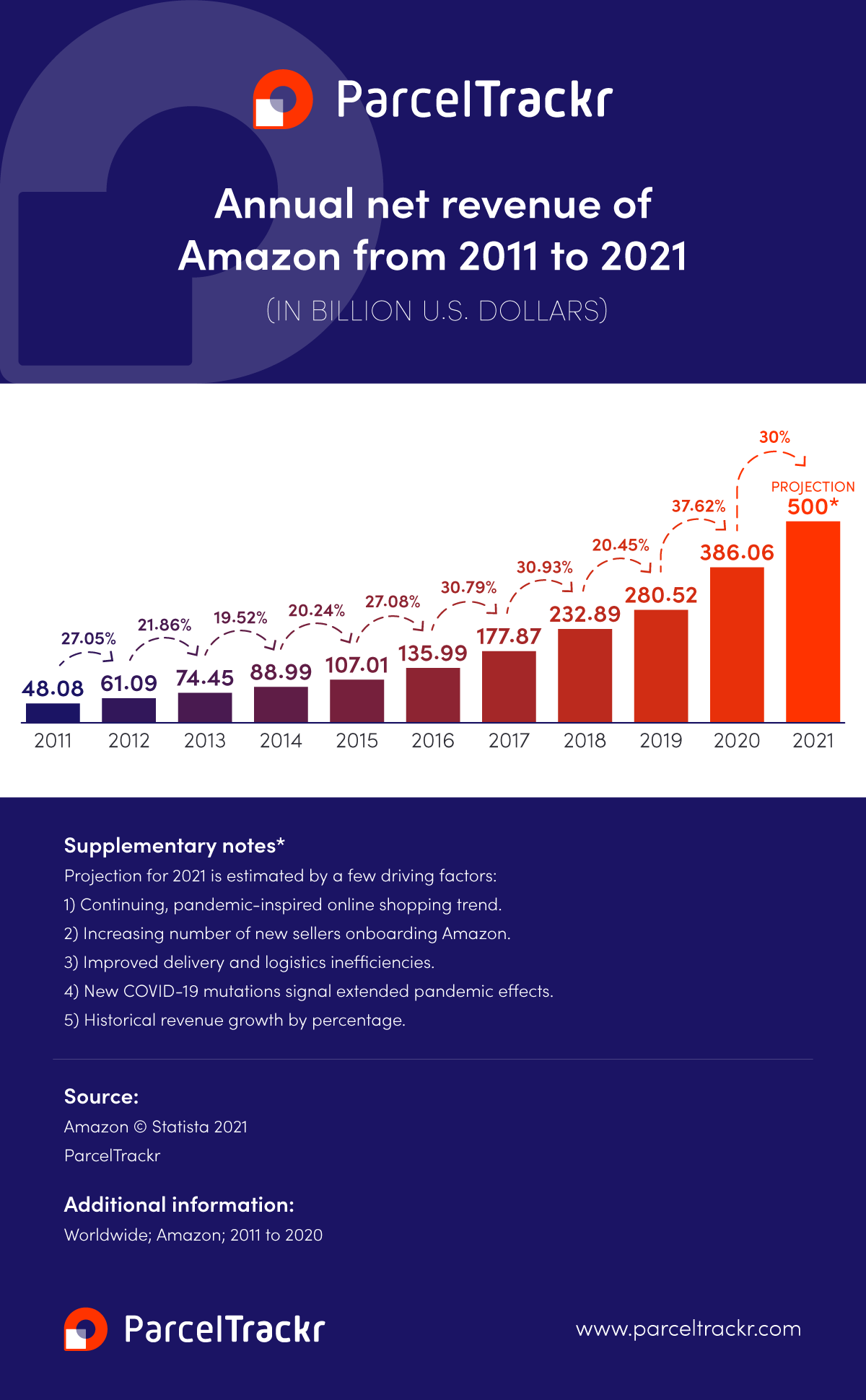 Amazon thrives as people shift to online shopping
As online shopping continues to trend upward, thus significantly increasing global e-commerce sales, the given projection of further Amazon growth comes as no surprise once we delve deeper into the key factors affecting it.
The unfortunate coronavirus outbreak and the worldwide lockdowns have accelerated the shift to e-commerce by 5 years as people try to adapt to the new normal using modern technology. Therefore, shopping apps have seen a spike in downloads, becoming the second most popular app category after music apps.
Such an increased demand for online shopping options allowed Amazon to secure its position at the forefront of e-commerce. With more than 200 million visitors every month, continually increasing numbers of Prime memberships that are expected to reach 153.1 million in 2022, and record-breaking holiday season and Prime day sales, Amazon now enjoys the perfect conditions to thrive like never before.
Furthermore, more and more people are starting to see Amazon as an opportunity to pursue their own dreams. More than a million new sellers are onboarding the platform every year, and not without a good reason. According to the latest research, 85% of Amazon sellers are profitable, driving more than half of Amazon's $386 billion revenue in 2020.
While more than 60% of them experienced an increase in revenue despite the challenging economic situation, 44% of sellers admit that COVID-19 was a significant part of their success in 2020. Amazon now has nearly 2 million active sellers worldwide, and 319,000 new ones have joined the platform in 2021 so far.
Ongoing global health crisis sets the stage for further growth
Being one of the key factors for customer satisfaction, the post-purchase experience is another area that needs polishing in order to succeed in today's e-commerce environment. Therefore, Amazon's revenue projection for 2021 is also based on the continuous improvement of delivery and logistics inefficiencies that lead to better customer experience, thus strengthening the online shopping trend even more.
Amazon has been looking for ways to improve its own delivery services besides partnering with such logistics companies as FedEx, UPS, and USPS. To be more in control of the shorter delivery times, the everything store continues to build Amazon Air to ensure higher efficiency of the delivery process. In September 2020, the company added four aircraft to its base to achieve this goal, for the first time buying them instead of leasing.
To be able to offer such a variety of delivery options, one of them being one-hour delivery, Amazon also works towards improving its distribution systems and testing new delivery methods. Specifically, drones aimed at delivering orders in about 30 minutes to be able to offer even quicker delivery solutions.
The projection is also attributed to new COVID-19 mutations that signal the possibility of extended pandemic effects. As there's no way to tell how this will affect pandemic management and what risks does it hold for the future, people are expected to continue practicing social distancing and purchase online in order to keep themselves and others safe.
Overall, Amazon has been growing steadily for the past 10 years, exceeding its own expectations in 2020. Such consistent growth and the recent record-breaking numbers indicate that the projection of this e-commerce giant crossing $500 billion in revenue by the end of 2021 is more realistic rather than just optimistic. Even if the COVID-19 restrictions will begin to ease, the pandemic has significantly impacted consumer habits that aren't likely to change anytime soon.