When it comes to choosing a platform for an online business, Shopify always ranks among the TOP. It makes it easy to get started even with no previous experience and anyone interested in selling online can take advantage of many great tools for growing their e-commerce stores.
Wide opportunities of Shopify are also one of the reasons why this platform is so attractive to dropshippers. Shopify offers a plethora of various tools designed for this business model specifically.
So without further ado, let's go through some must-have Shopify apps for dropshipping stores, focusing on several very important areas for this specific type of business, like product sourcing, marketing, sales, order tracking, and customer service.

Best apps for dropshipping on Shopify
1. Oberlo
Use for: Product sourcing from AliExpress suppliers.
Key features: Thousands of suppliers, inventory and price auto-updates, bulk orders, multiple languages, variant mapping, customization options, order tracking, affiliate program, multiple users.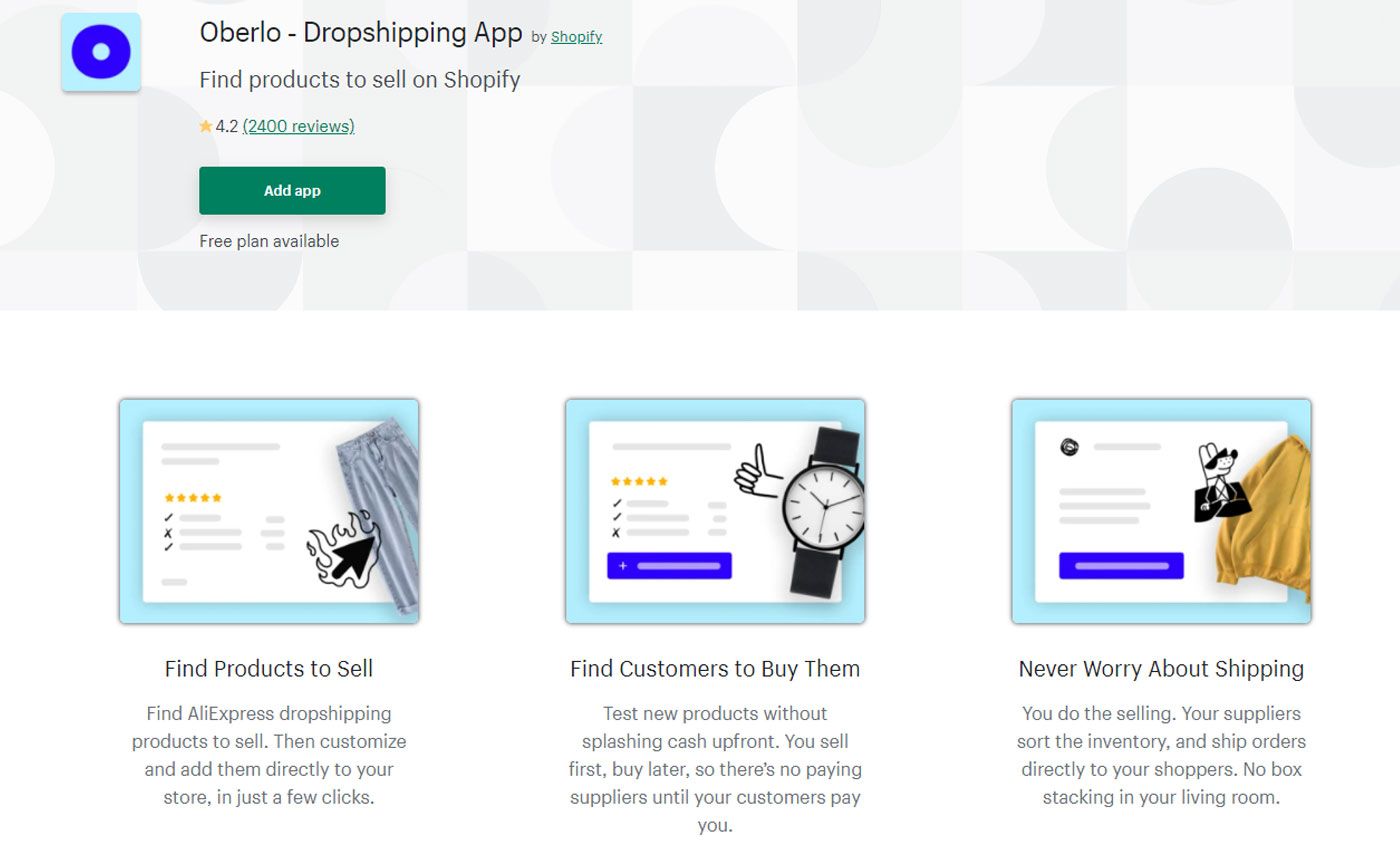 Once you decide to run a dropshipping business, the next question that naturally pops into your head is where do I get the products to sell? This is where one of the most popular Shopify dropshipping apps – Oberlo – comes in handy.
Oberlo allows you to browse thousands of different suppliers, find the products you like (ranging from electronics to fashion), and import them to your Shopify store. Put simply, you get access to a huge virtual warehouse that you can use to sell online.
The app also helps you to keep up with the latest trends and find products that are on the rise, in addition to unveiling some hidden gems as well. It will automatically update stock levels and prices in real-time, let you automate bulk orders and easily fulfill multiple orders, and have full control of your product details to make your store more unique. If you're new at dropshipping, you can benefit from Oberlo dropshipping course that teaches you to build a dropshipping store from scratch.
Price: Free plan available; Grad plan costs $7.90/month, and you can also upgrade to Boss plan for $29.90/month.
2. Spocket
Use for: Product sourcing from EU & US suppliers.
Key features: Real-time inventory updates, automated order processing, US/EU-based suppliers, sample orders, order tracking, one-click checkout, branded invoicing.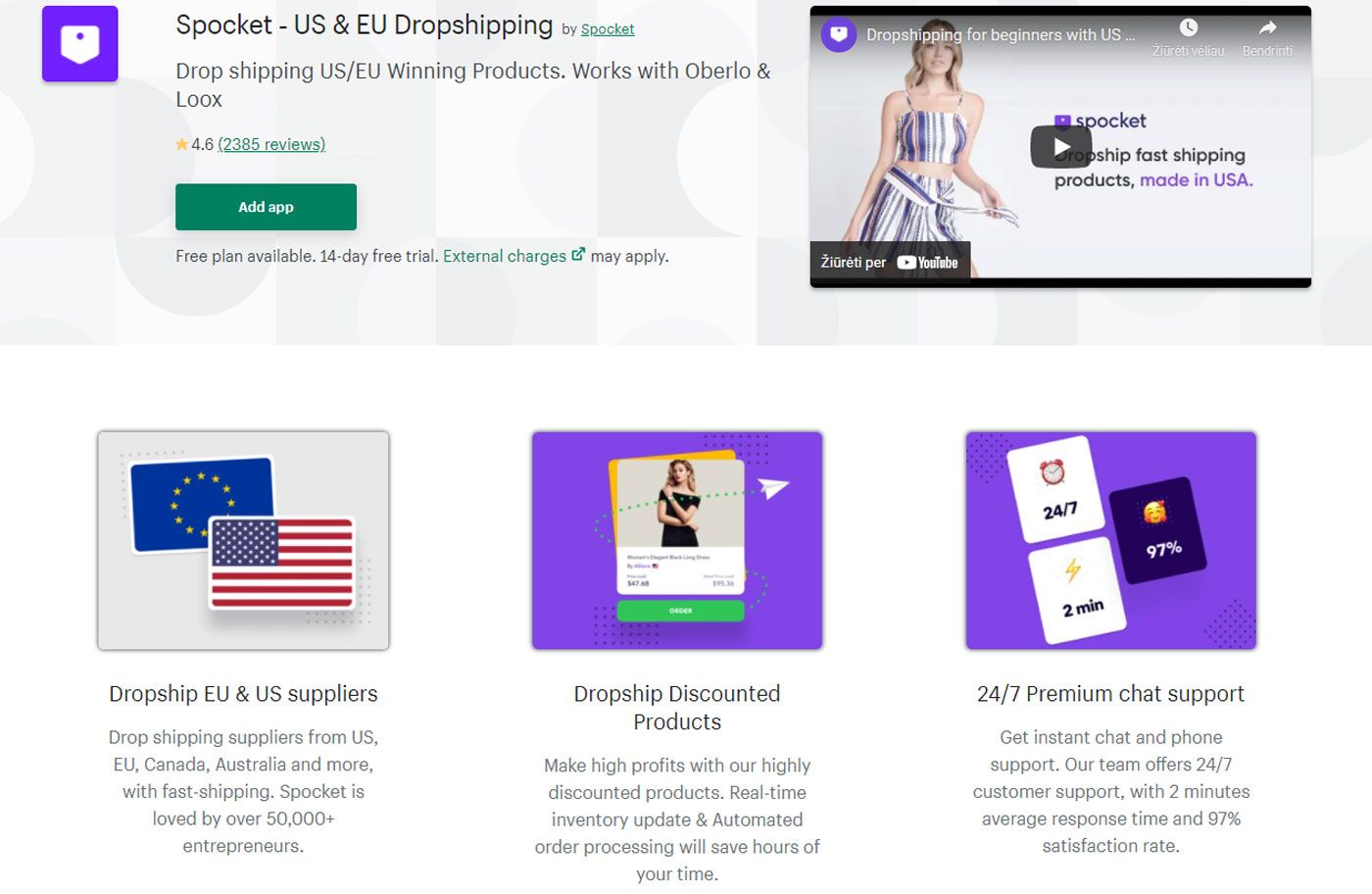 Spocket is another Shopify app that makes product sourcing easier for dropshippers. What differentiates it from other product sourcing apps is that Spocket is focused on US and EU rather than AliExpress or other Chinese suppliers.
Spocket users can also benefit from significant discounts that often reach 30-60% off retail price. The app also offers automated inventory updates that will never let you sell products that are out of stock, and enables one-click order fulfillment to save you some time.
You can also test out the products and shipping times by test-ordering them yourself (sample orders) and make sure that the items and the process itself meet your needs. Spocket won't let you lose your brand voice as every product shipped will have your logo and be personalized for specific customers.
Price: Free (very limited); paid plans vary from $24/month to $99/month.
3. Spreadr
Use for: Product sourcing from Amazon.
Key features: Import Amazon products in one click, Amazon affiliate program, SEO-friendly, auto-updates of inventory and prices, bulk-import.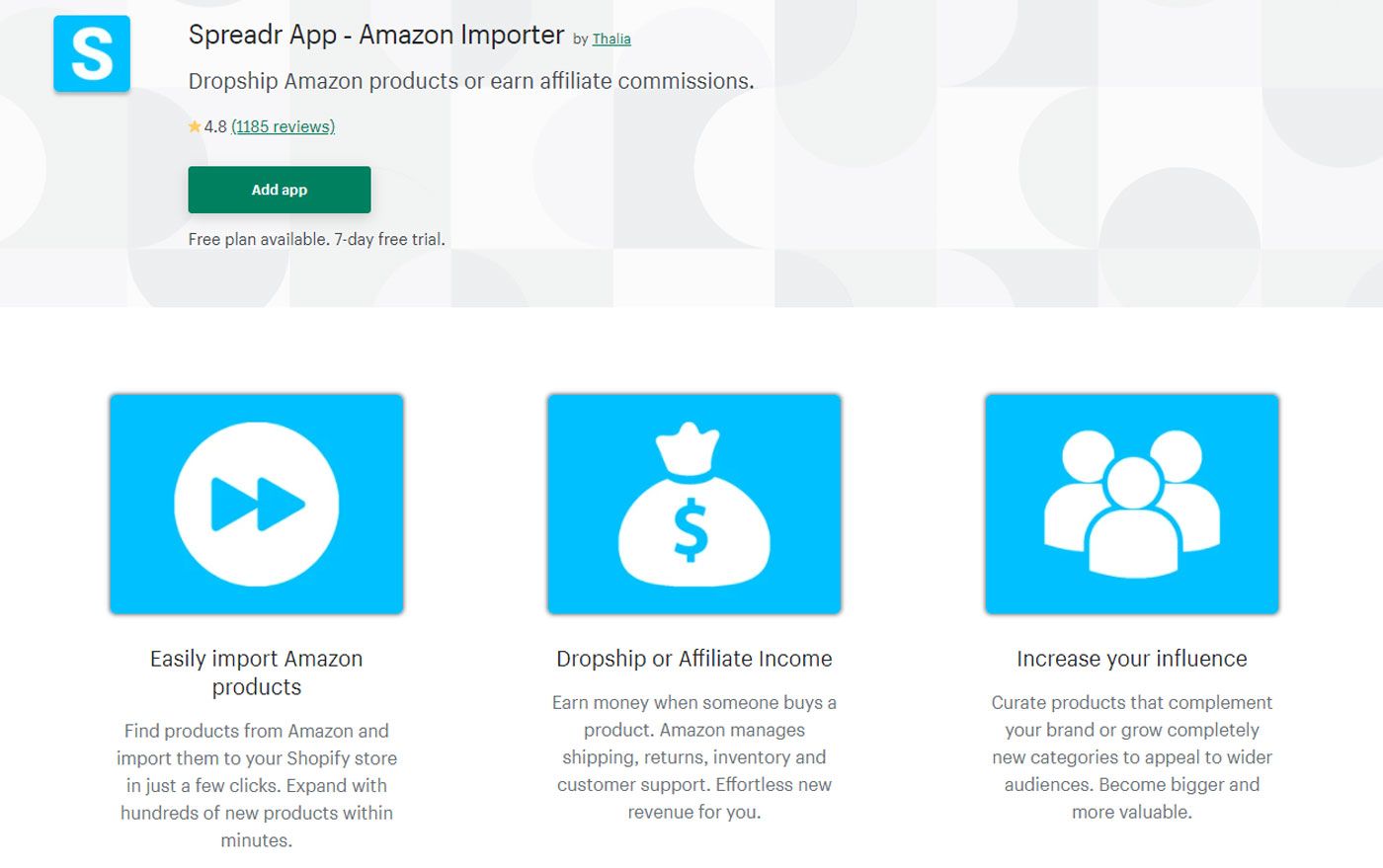 If your dropshipping business is aimed at Amazon specifically, Spreadr can also be a good choice for product sourcing. There are two ways you can use this app to earn extra money – sign up for the Amazon Affiliate program or make Amazon your dropshipping source and fulfill orders yourself.
The variety of products is enormous, you can choose from over a million items available on Amazon and have full control of their descriptions and how they go with your store. Once someone makes a purchase, Amazon takes care of the order and you can get a commission from all qualifying purchases.
If the affiliate program is not something you're interested in, you can simply add Amazon products to your store and take matters into your own hands. Spreadr offers many valuable features to make the process smoother, like bulk-import, auto-tags, or currency conversion, that every dropshipper will find beneficial.
Price: Free to $10/month.
4. Omnisend
Use for: Email and SMS marketing.
Key features: E-commerce automations, email newsletters, SMS/MMS marketing messages, user segmentation, customizable list building forms.
Marketing is another important aspect of any online store, not excluding dropshipping. Omnisend can help you achieve both your email and SMS marketing goals while offering many additional functionalities to keep your customers engaged.
With Omnisend, you can easily create shoppable email newsletters using a drag and drop builder or take advantage of a wide variety of ready-to-use templates. In addition, you can combine emails with SMS, MMS messages, and push notifications to boost the performance of your marketing efforts, all without time-consuming manual work.
The app also helps you build subscriber lists by using fully customizable forms, drive sales with automations (cart abandonment, welcome series, transactional emails, and more), segment your customers based on various criteria for better targeting.
Price: Free plan; paid plans vary from $16/month to $99/month, and you can also get a custom offer when choosing an Enterprise plan. Free trial available.
5. Sixads
Use for: Creating and launching Facebook, Instagram, Google ads.
Key features: Simple ad set-up, targeted ads, all-in-one ad manager, automated processes, an advanced analytics tool.
If you struggle with promoting your store, more specifically creating ads that sell, take a look at sixads. This Shopify app will let you easily set up Facebook, Instagram, or/and Google ads to easily target your prospects, as well as drive returning visitors back to your store.
Using sixads, you will be able to avoid a lot of manual work, like uploading pictures and videos or writing headlines for multiple products. Sixads will set everything up for you, you will only have to approve it and leave the rest for the app's advanced algorithms.
And by "the rest" we mean tracking the behavior of your visitors and then targeting the right audiences at the right time by showing ads to your shop visitors until they convert. You can also connect multiple ad accounts from different channels (e. g. Facebook and Google) and take advantage of automated ad management which will prevent possible misunderstandings, like showing ads when the item is out of stock.
Price: Sixads is free to install. Paid plans start from $14.99/month, depending on the features you choose.
6. Trackr
Use for: Real-time order tracking.
Key features: Branded tracking page on your store, 900+ carriers worldwide, real-time information, email notifications, tracking info translation, "hide carriers" feature for dropshippers.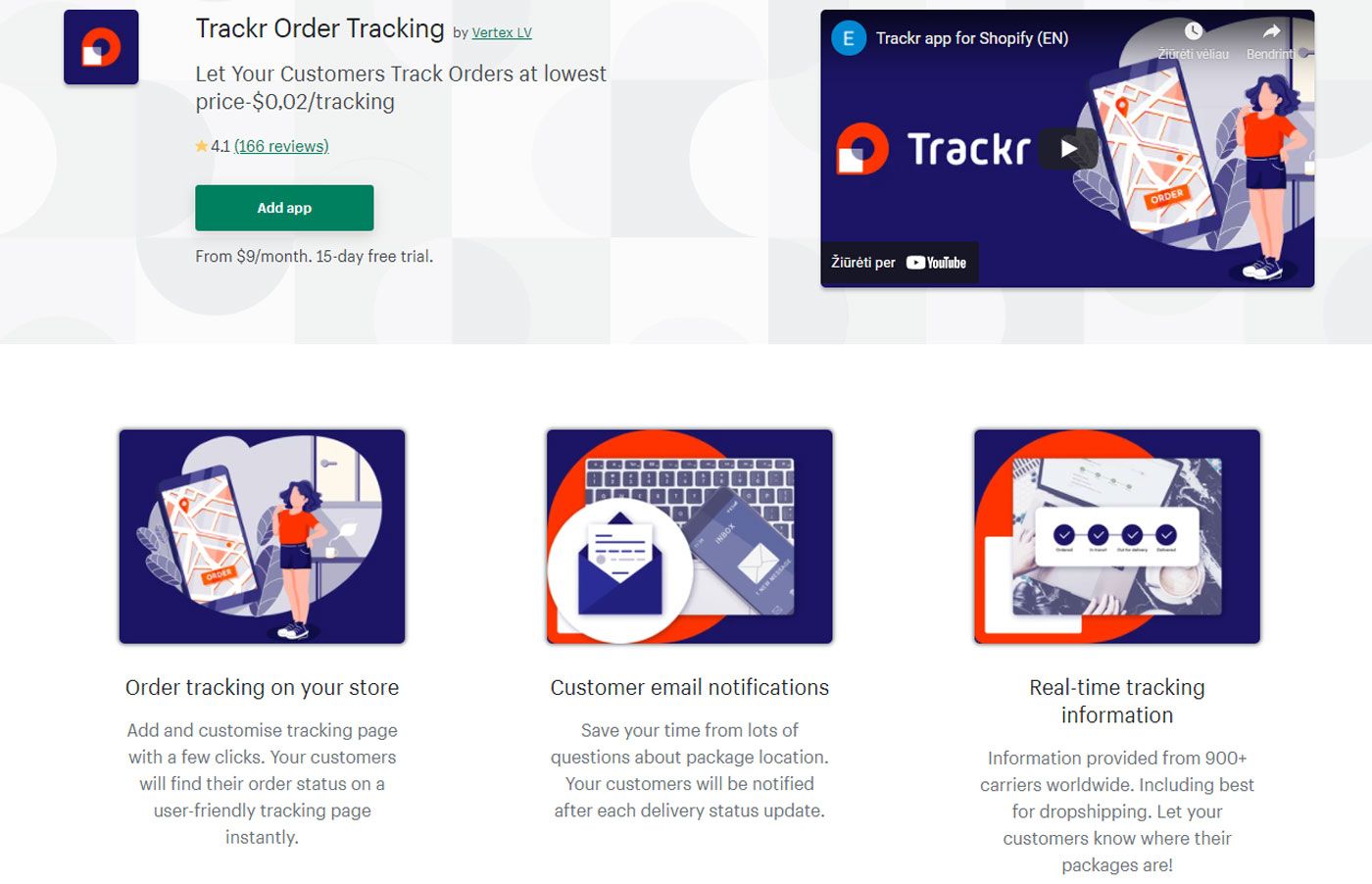 Your job is not done yet once the customer pays for their order. Offering order tracking is the best way to reduce post-purchase anxiety, and you can do it using Trackr.
The app lets you create a branded tracking page and allows your customers to track their orders right on your store. With email/phone and order number or simply a tracking number, your customers will be able to follow the journey of their packages in real-time, and you might even benefit from the fact that this makes them return to your site.
Trackr collects order tracking data from more than 900 carriers globally, including the most popular carriers used for dropshipping, such as Aliexpress standard shipping (Cainiao), China Post, China EMS (ePacket), 4px, YunExpress, Yanwen, and others. Your customers will receive automated email notifications that you will be able to adjust to your branding (insert company logo, link, choose the text and background colors, etc.), and access tracking checkpoints' information on the tracking page in the language they know best (English, French, Spanish, or Italian).
There's also one feature created for dropshippers specifically – it allows shop owners who dropship from China to hide carriers' names and locations as a part of delivery status information while orders are still there. Once the package arrives at the destination country, all tracking information becomes available to the customer.
Price: $4/month for an annual plan ($48 overall) or $9/month billed every month.
7. SEO Booster
Use for: Better organic search rankings.
Key features: Auto-management (alt tag auto-updates, redirecting invalid links), easy access to trending keywords, auto-scan for SEO issues and duplicate content, insights.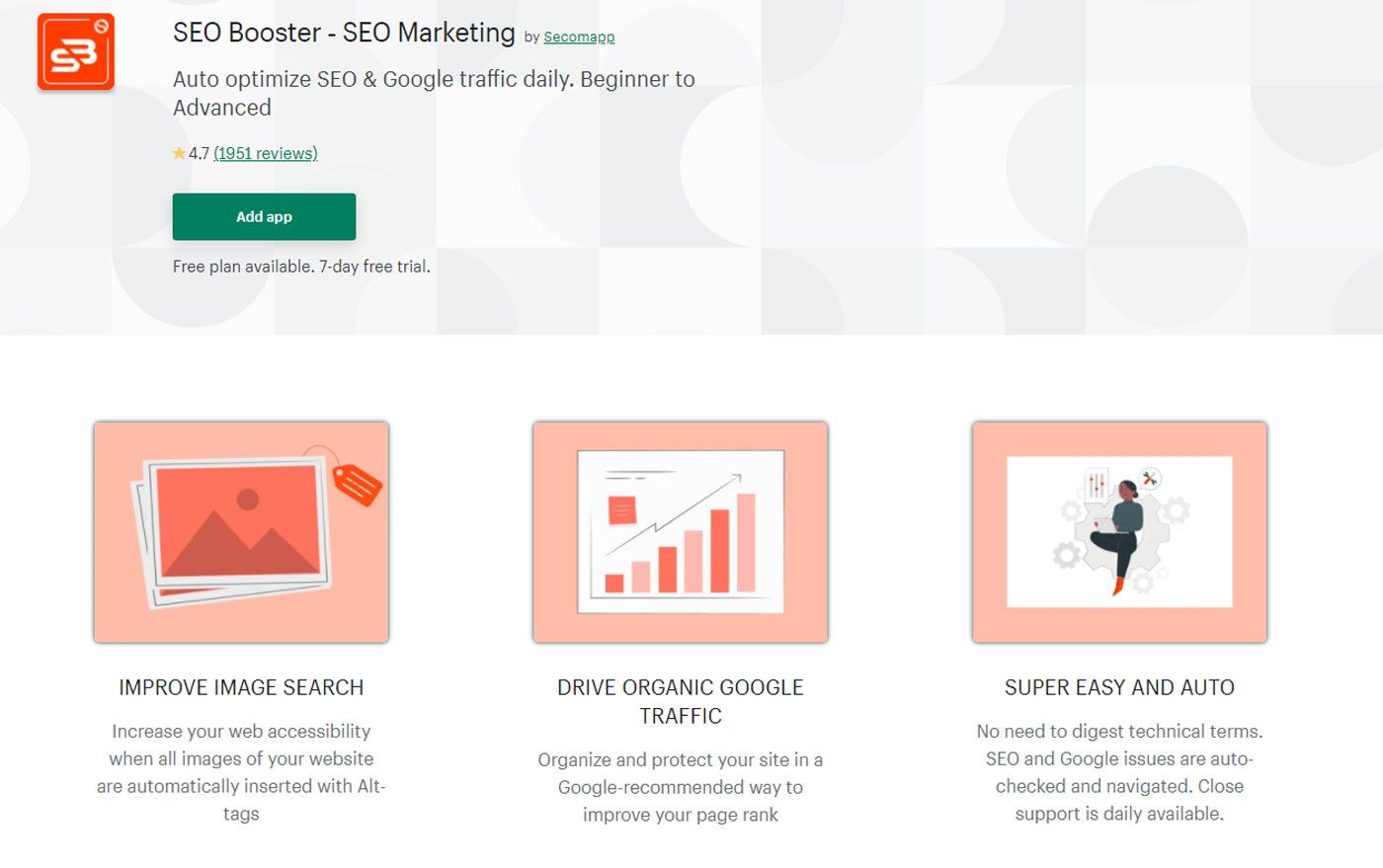 Shoppers might not be aware of your store's existence when they have some specific needs, but many of them do their research before purchasing. SEO Booster can help you get discovered by bringing you higher in those search results and drive more traffic to your dropshipping store.
Many of SEO Booster's features are automated which means that you will be able to save some time and resources while still improving your page rank. The app will perform automatic scans to detect any SEO issues and provide suggestions. You will also be able to find out popular keywords from selected geographic areas, detect duplicate content on your site, and forget about ALT texts for new images since the app will take care of them for you.
SEO Booster will also assist you in finding your SEO score, offer some powerful tools like full JSON-LD for better structure of your data, and help to easier integrate Google Analytics/Google Search Console into your website.
Price: SEO Booster offers free and several paid plans, starting at $29.99/month.
8. Loox
Use for: Collecting customer reviews.
Key features: Photo reviews, auto review requests, scheduling, reminders, wide variety of widgets, multiple languages, customization options.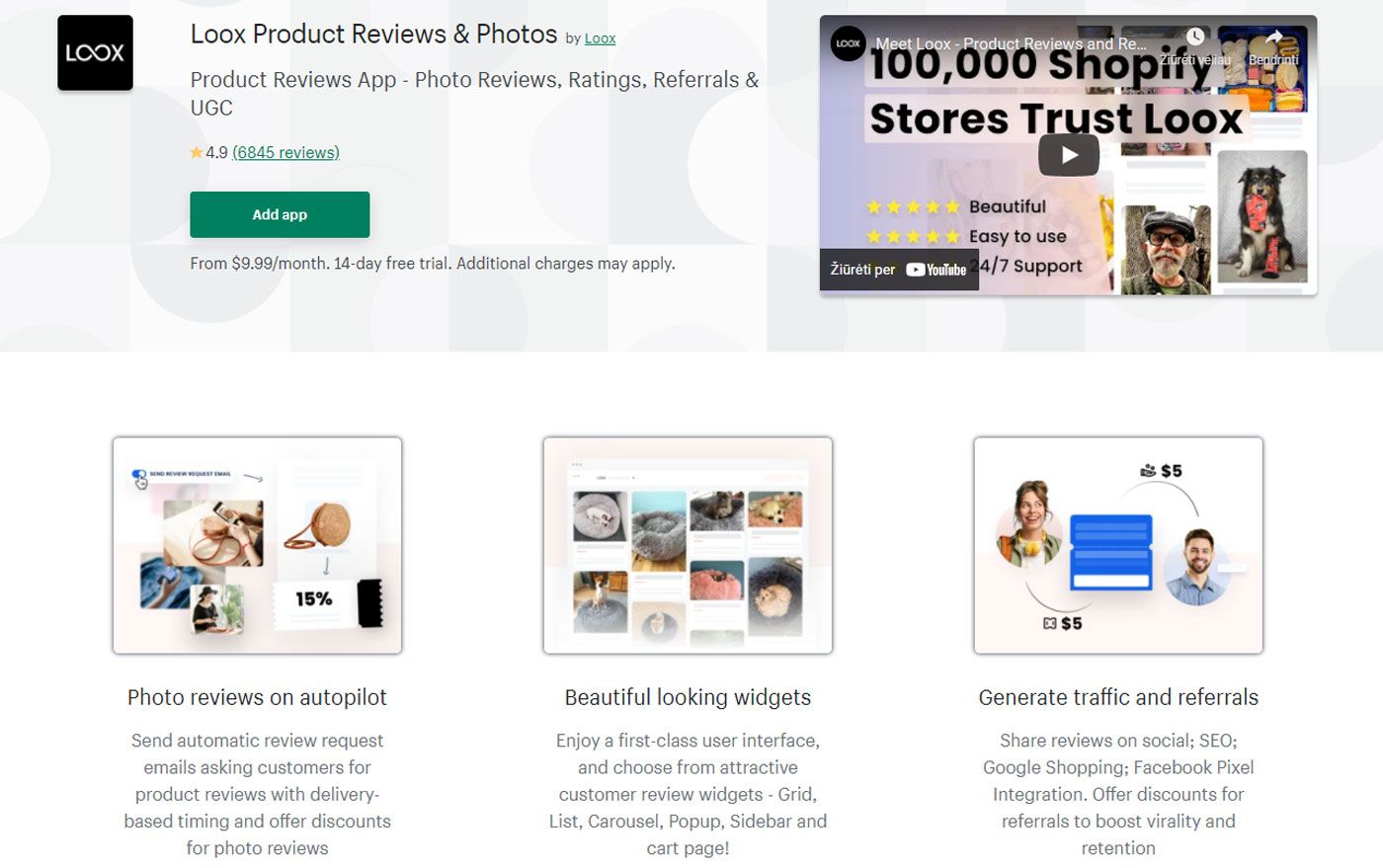 Social proof or, in other words, customer reviews can make a huge difference in whether you will sell or not, therefore, showcasing other people's experience with your brand is highly recommended. Loox will not only help you collect those reviews but also display them in the best possible way, including images.
With Loox, you will be able to send your customers review emails after they buy something from your store. The app allows scheduling based on delivery time or order status and offers shoppers a discount code in exchange for photo review. If by any chance the first time does not work, Loox sends review request reminders to improve the chances of getting feedback.
It's totally up to you how those reviews will be displayed on your store since you can choose from several customizable widgets, like galleries in list/grid layout, product review carousels, popups, etc. The rest will be under your control as well – Loox allows you to define email timing, review form questions, widget looks (including colors, font, size, and position).
Price: plans vary from $9.99/month to $99.99/month, free 14-day trial available.
9. HelpCenter
Use for: Seamless customer service.
Key features: FAQ builder, help desk ticketing system, live chat.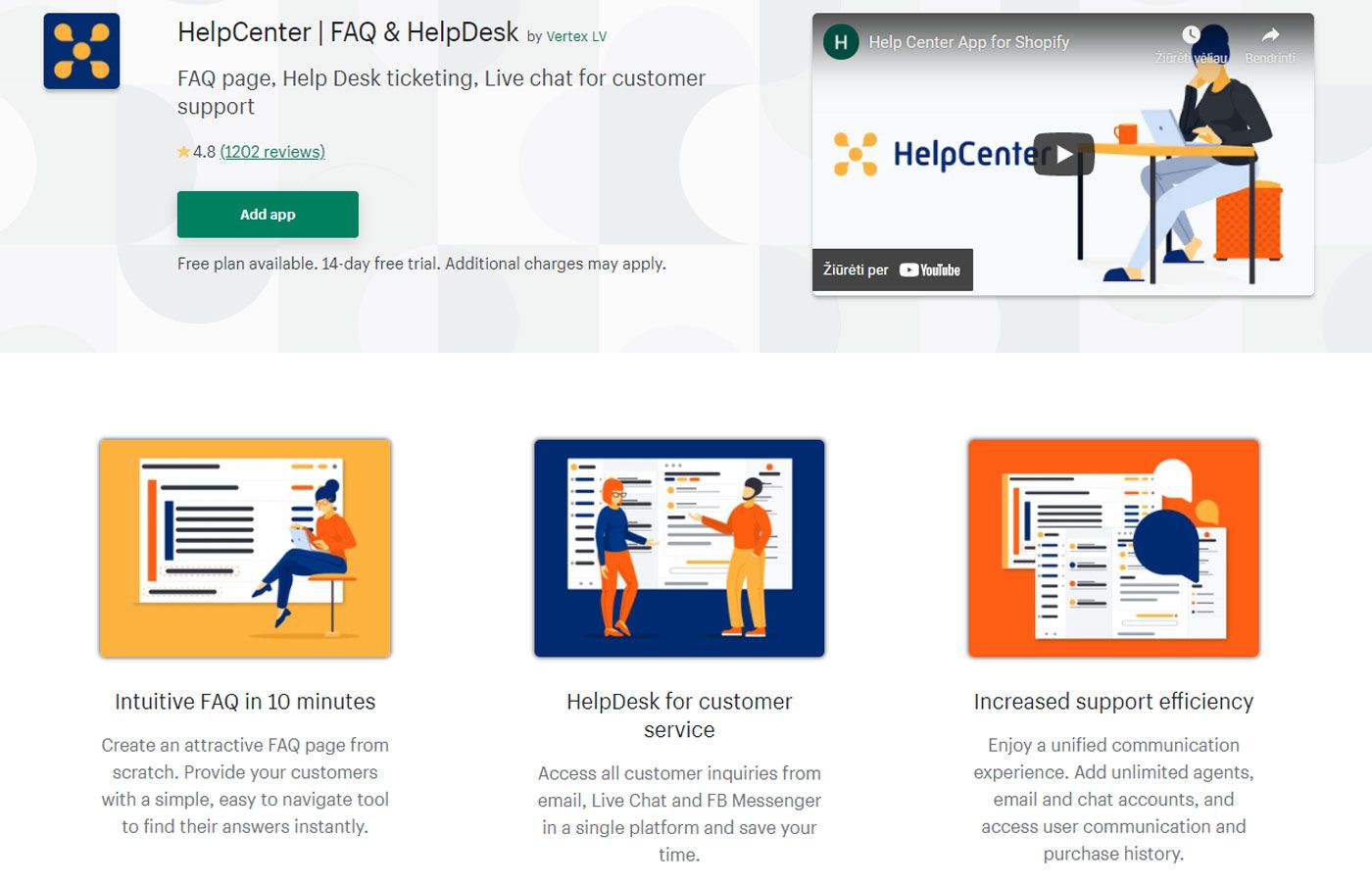 Great customer service is a must for any store, whether you're dropshipping or not. HelpCenter is a way to achieve it, and for this, the app offers three solutions – FAQ builder, help desk ticketing system, and a live chat.
With HelpCenter, you can build a nice and informative FAQ page that will seamlessly integrate into your store and provide your visitors with an option to find answers to their questions without reaching out to customer support.
If it's something more complex and a visitor decides to contact you, the inquiry will go to your help desk ticketing system that centralizes all communications in one place, regardless of the channel. HelpCenter's HelpDesk ticketing system will also give you access to customers' purchase and communication history, take advantage of various automations, you will be able to manage multiple stores, and add an unlimited number of agents. Adding a live chat to your store will enable real-time customer support when you're online and provide shoppers with the option to fill a contact form after office hours.
Price: Free plan available; Premium annual plan costs $4/month (billed at $48/year) while Professional annual plan is $24/month (or $288/year). Free trial available.
10. Rich Returns
Use for: Easy returns management.
Key features: Automated returns, order exchange, branded portal, multiple languages and currencies, customizable emails, analytics dashboard, works globally.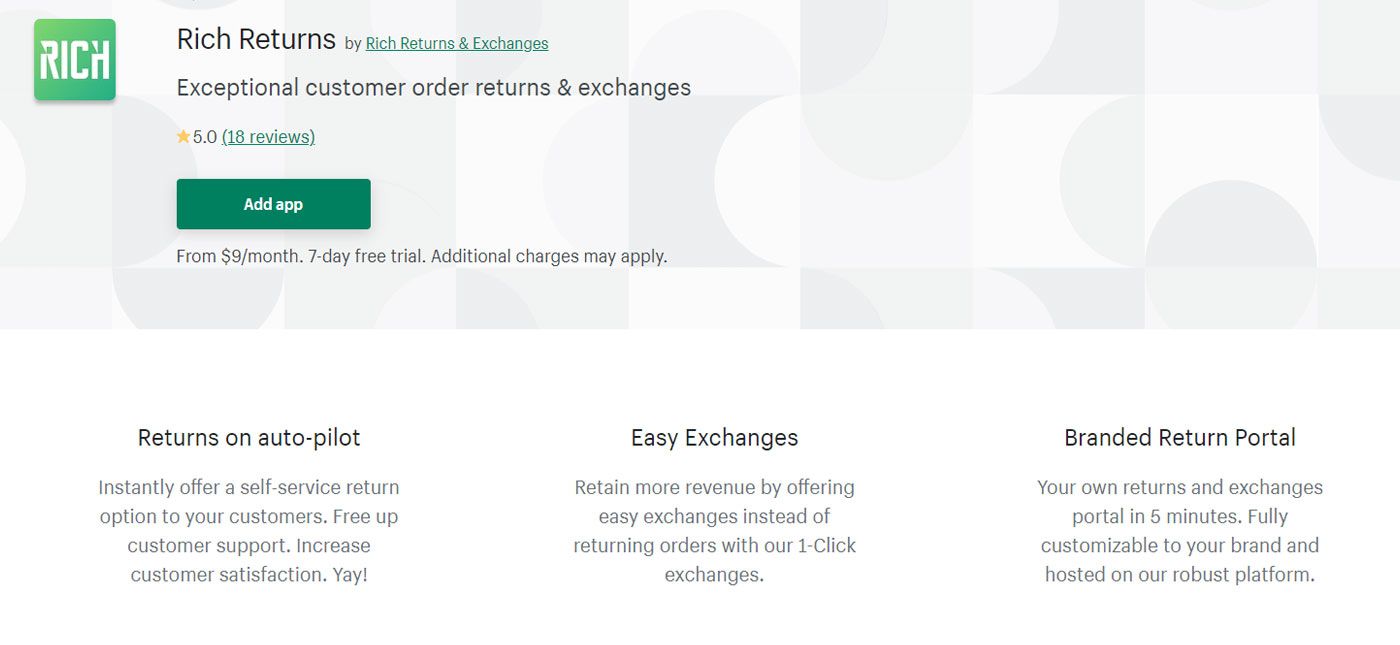 There will always be customers who will want to return what they've purchased and Rich Returns is the app that can help you handle this.
Rich Returns uses automation to take some burden off of your shoulders and provide your customers with an easy way to return or exchange items. These two options will allow you to free up your customer support since it won't be necessary to process returns manually and retain revenue by enabling the exchange of products.
The returns portal is easy to create and should take no more than 10 minutes to set everything up. Besides, it's fully customizable (as well as emails) so you will be able to adjust it to your website design and make it an equal part of your store. Rich Returns supports more than 50 carriers around the world, including logistics giants like DHL, UPS, FedEx, USPS, and others.
Price: From $9/month to $199/month. All plans include a specific number of returns so you will also have to pay $0.5 per extra return if you exceed the limit.
Dropshipping: Shopify apps to the rescue
Although dropshipping business model is quite specific, the goal of such businesses is still the same – attract new customers, keep existing ones in the loop, and grow revenue. This won't happen without putting enough effort into your marketing strategy, actively working on sales, building your brand image, and increasing awareness.
Shopify offers many great and affordable tools that can help you achieve that and not only help you to start your own dropshipping business from scratch but also make it easier to maintain it and generate income from it. Check out the apps mentioned above to boost your store performance and feel free to explore the Shopify app store for more.