When you first learn about dropshipping, many questions can pop into your head.
Can anyone do it? How much money do I need to get started? Is it as simple as it sounds? Have I just discovered a quick way to get rich?
Well, it's probably possible, but that's more of an exception rather than the rule.
Dropshipping is indeed a good option if you want to test the waters of entrepreneurship with limited funds and other resources, yet like any other venture in life, it requires a lot of learning. And preferably, from other people's mistakes.
One of them is not offering your customers order tracking, which, as a result, can leave many of your customers confused and disappointed with your company.
What to focus on when choosing a dropshipping supplier and how to ensure a seamless order tracking experience are what we're going to learn in this article.
Dropshipping 2021: does it still work?
Dropshipping has been on the rise in the past few years and that is what can give you the wrong idea of how long this business model has actually been there.
The truth is that the idea of dropshipping is around 50 years old but the word "dropshipping" came into play in 2006 when many dropshipping companies emerged in China.
In the chart below you can see how interest in dropshipping has been changing during the last 5 years, according to Google Trends.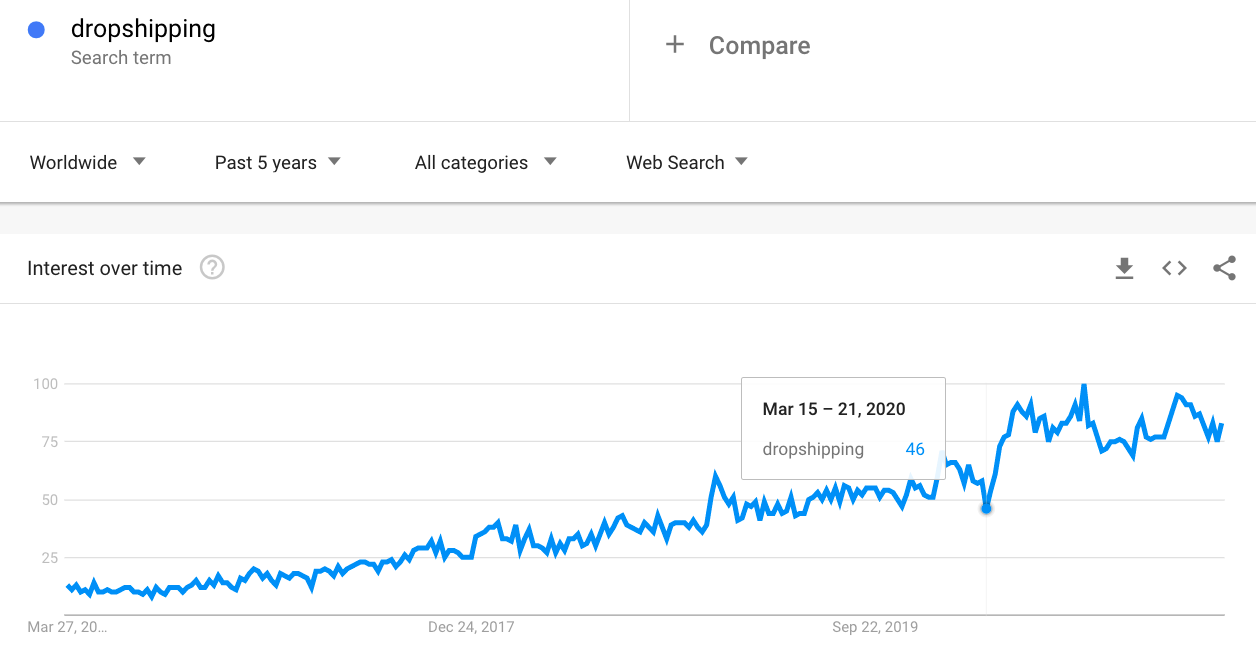 With ups and downs, it has been steadily growing until March 2020, when it suddenly jumped to its all-time highs. And it's probably safe to say that we all know what was the reason for this.
The peak started on March 15-21, 2020 – more or less at that point when almost the whole world has already experienced the effects of the pandemic. As a result of worldwide lockdowns and social distancing, e-commerce started to boom and people saw this as an opportunity to start their own online businesses.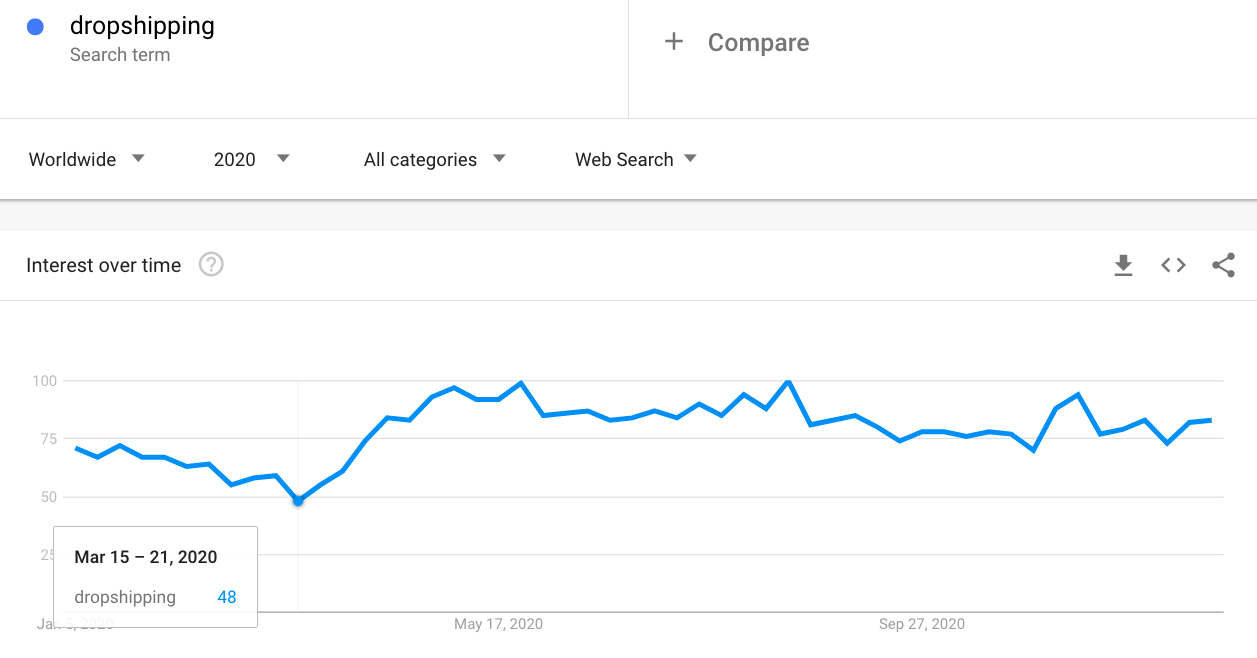 In 2021 so far, the interest in dropshipping is still high as the future is still unclear. We're also witnessing new COVID-19 mutations that signal the extended effects of this whole situation as people will continue to shop online to stay safe. Therefore, further e-commerce growth is expected, and dropshipping will likely stay a part of this trend.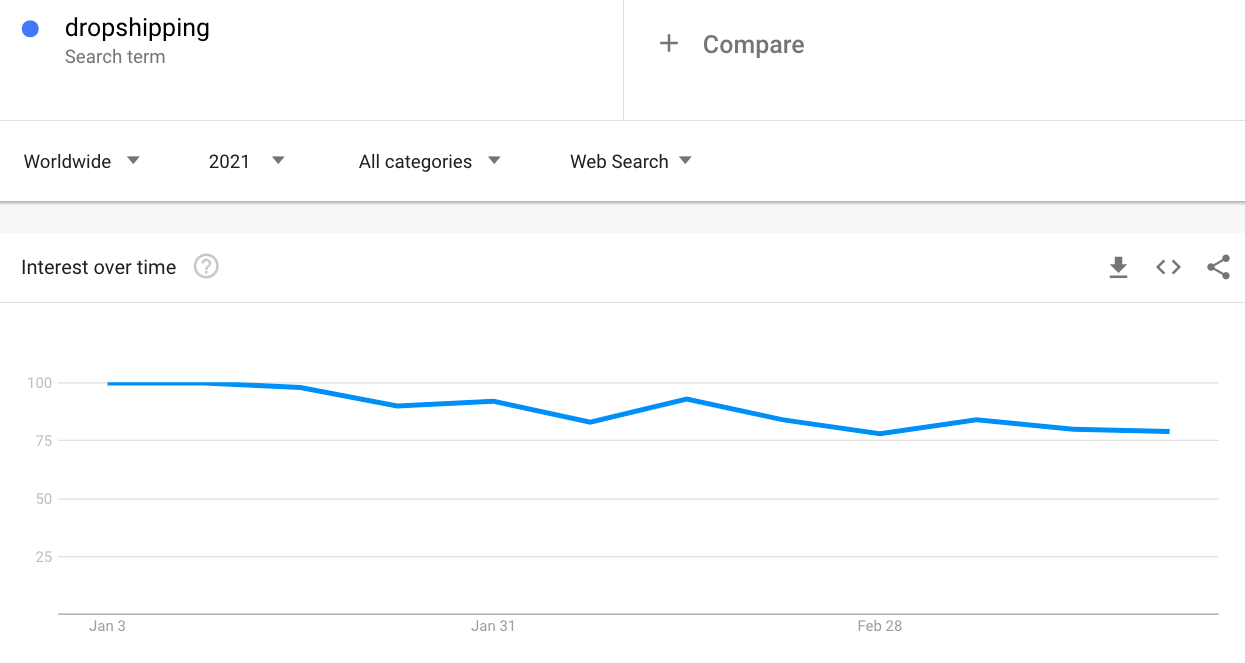 So let's dive deeper into the benefits of dropshipping with Shopify.
Shopify dropshipping
Shopify as an e-commerce platform is very well-suited for both e-commerce beginners and professionals. It's user-friendly, intuitive, and offers a wide variety of different tools to help you reach your goals easier. Basically, it's packed with solutions that not only help you create a website for your business – but actually run a business.
That's why Shopify is also loved by dropshippers as it offers numerous apps specifically designed for this purpose. So they can not only import products and manage inventory hassle-free, but also take advantage of payment, order tracking tools, marketing, customer service apps, and many more.
As for dropshipping tracking, how can you ensure the best possible experience though?
Pay attention to order tracking when choosing a supplier
Choosing a dropshipping supplier is not an easy task. You should consider many things, such as product quality, fee per order, shipping speeds and methods, return policies, customer support, etc.
When it comes to order tracking – it's not an obvious bet. Many suppliers and their shipping methods still don't include order tracking options and this is the kind of companies you should avoid if you don't want your business to suffer.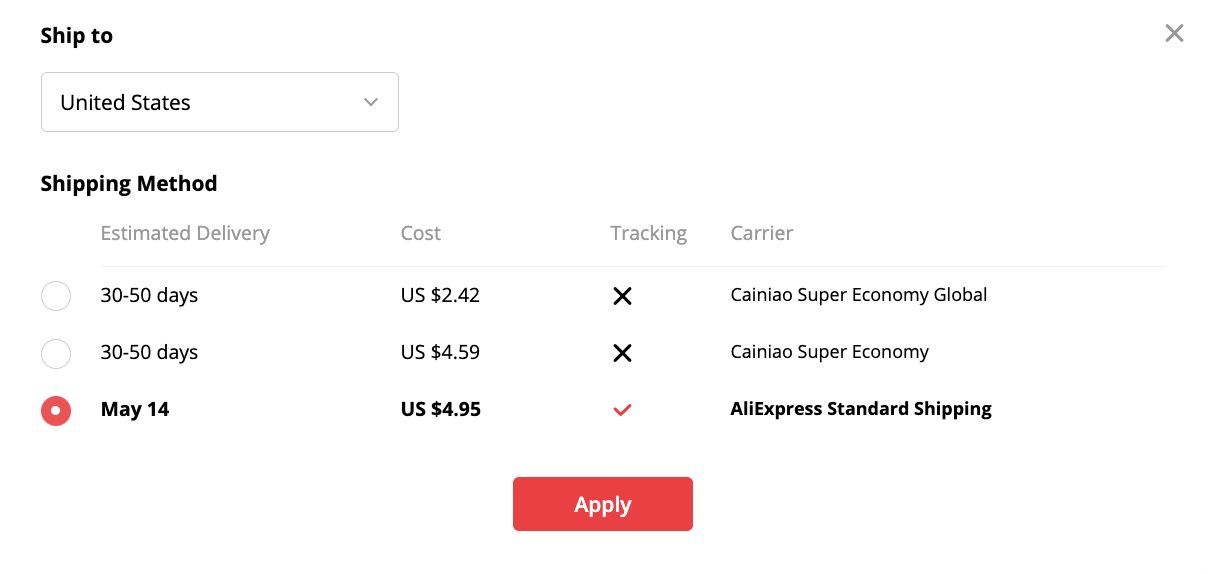 Without order tracking, your customers will flood your inbox with questions about their order status updates, the lack of transparency may hurt your brand image, and there will be nothing you can do in case of PayPal disputes and chargebacks.
On the flip side, if you already chose a supplier that offers order tracking, you should be aware of the different tracking methods available. Usually, when a supplier allows order tracking, for instance, many Chinese suppliers use ePacket, your customers can simply check their order status updates on official websites like EMS or USPS. Which is not a bad option.
However, an even better option would be making the order tracking process a part of your own website instead. It would not only be more convenient and drive customers back to your store but also give a feel of professionalism.
Most popular carriers for dropshipping
Aliexpress standard shipping (Cainiao). This delivery method is available within AliExpress and other sites from Alibaba Group. It works by cooperating with other carriers and postal services, such as Singapore Post, Posti Finland, etc., rather than delivering parcels itself. Shipping usually takes 15-45 days (premium - from 7 to 15 days).
China Post delivers packages in China and beyond, offering both tracking and non-tracking options. It's mostly used by those who sell on GearBest, Aliexpress, BangGood, FastTech, eBay, etc., and usually delivers within 30 days (20-50 days officially).
China EMS (ePacket) offers shipping services for those shopping with Chinese and Hong Kong merchants from such marketplaces as Aliexpress, GearBest, Lazada, or Banggood. It's one of the cheapest options for light packages. The shipping times depend on different destinations and can vary from 7 to 30 days.
4px is one of China's leaders in logistics, widely used by dropshippers. The company also manages warehouses in the United Kingdom, Australia, the US, and Germany that offer a possibility to deliver goods by local carriers. Deliveries can take 7-10 days.
YunExpress is another "mediator" between merchants and the logistics sector that handles thousands of orders daily. It partners with such marketplaces as Amazon, AliExpress, Wish, and Ebay, and normally delivers packages within 14-30 days.
Yanwen picks up packages from sellers, mostly from AliExpress or Wish, and "hands" them to the destination country's postal services. From there, orders are delivered to the shoppers. On average, it takes 2-3 weeks for Yanwen to complete this process.
Setting up dropshipping tracking on Shopify
On Shopify, you have two easy options:
You can use Shopify order tracking
Or install one of the apps from the Shopify app store.
Shopify order tracking
Shopify itself allows you to add tracking numbers to each of your customers' orders. You can either add a tracking number before or after you fulfill an order.
Shopify then sends order confirmation, shipping confirmation, and similar emails with an order tracking number that directs customers to the official carriers' website. There they can see the latest order status updates and follow the journey of their orders.
For a marchant, this information is displayed on a customer's order status page, in case you need to provide any additional details.
Order tracking apps
However, different suppliers can be using different tracking systems and that's where it can get complicated in terms of sharing this information with your customers.
Therefore, the order tracking number in Shopify emails can also serve as a link to an order tracking page on your own store, if you have a third-party order tracking app installed. With tracking apps, all the necessary tracking information, regardless of the carrier, appears in one place.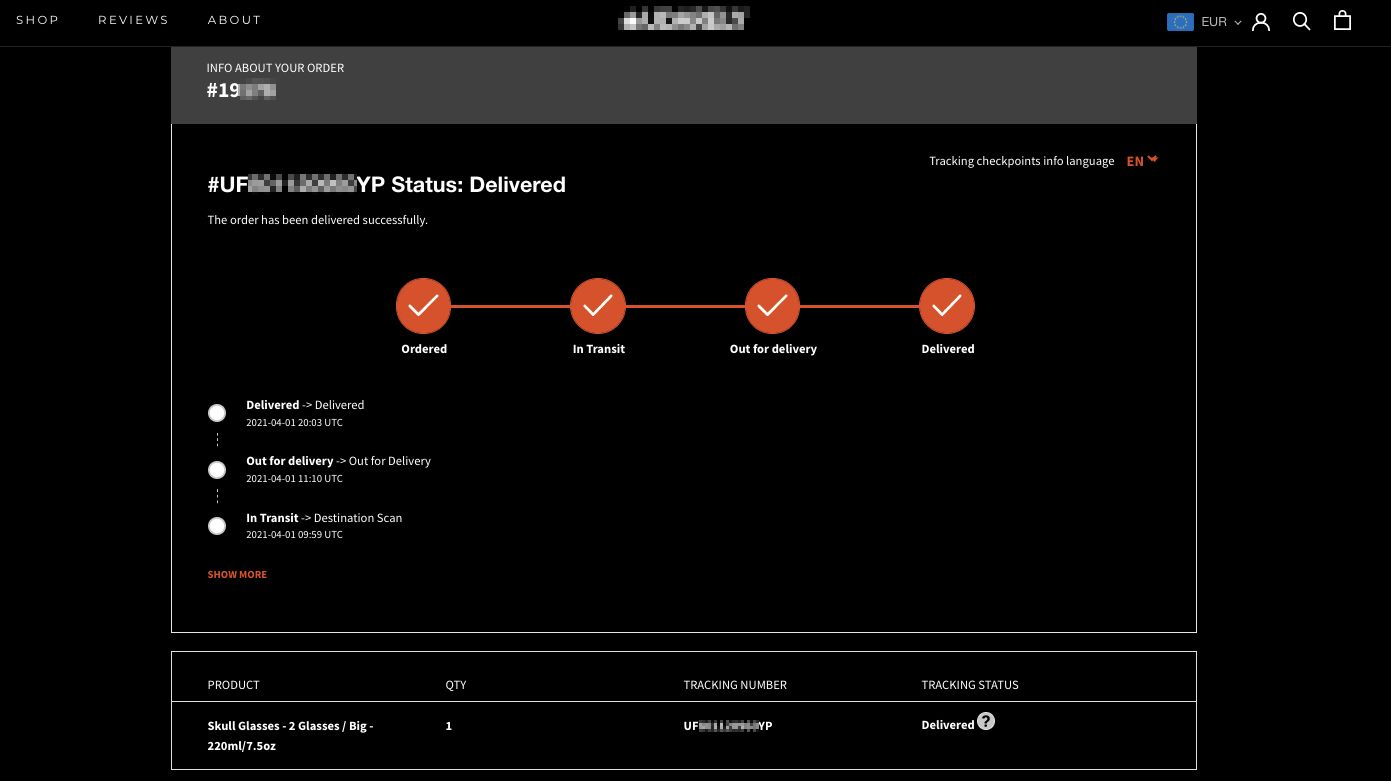 Customers can also access this information by simply visiting your website. It can look something like this: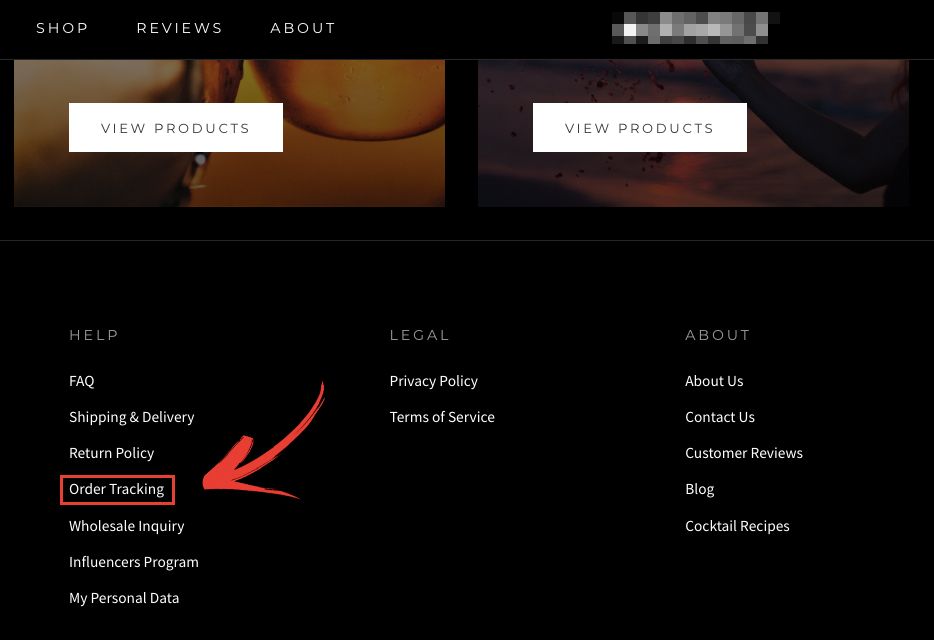 Such order tracking apps can seamlessly integrate with Shopify, creating a separate tracking page on your website and allowing users to see the detailed order status updates on the same store they used to purchase an item.
These applications collect order tracking information from many different carriers and update it automatically, so after a customer fills in his email/phone number + order number or tracking number, s/he can follow the journey of their package on your store.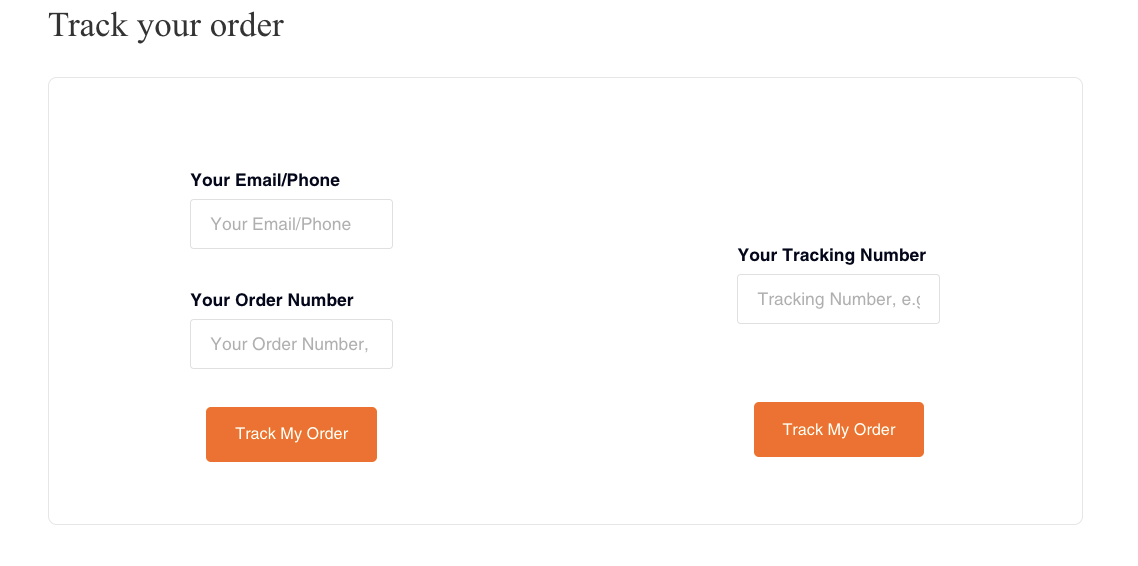 PRO TIP: If you use Trackr, you can simplify this even further. You can enable automatic email notifications (or the shopper can do it himself once he visits the order tracking page) so that your customers would get regular emails every time their order status changes.
You can choose how often do you want to send those emails. There are two options:
Major status changes: Ordered, In Transit, Out for delivery, Delivered.
Major status changes and intermediary checkpoints: for instance, Prepared for shipment, Dispatched from sorting center, etc (that are sent once per 24 hours, if this information is provided by the carrier).
How to choose an order tracking app for dropshippers?
As dropshipping comes with its own specifics, there are some common things that many dropshippers look for in order tracking apps:
1. Hiding tracking details when dropshipping from China. In order not to disclose the origin of products (when it's China), hiding that part of tracking information while it's still there is a desirable feature between dropshippers. So instead of this: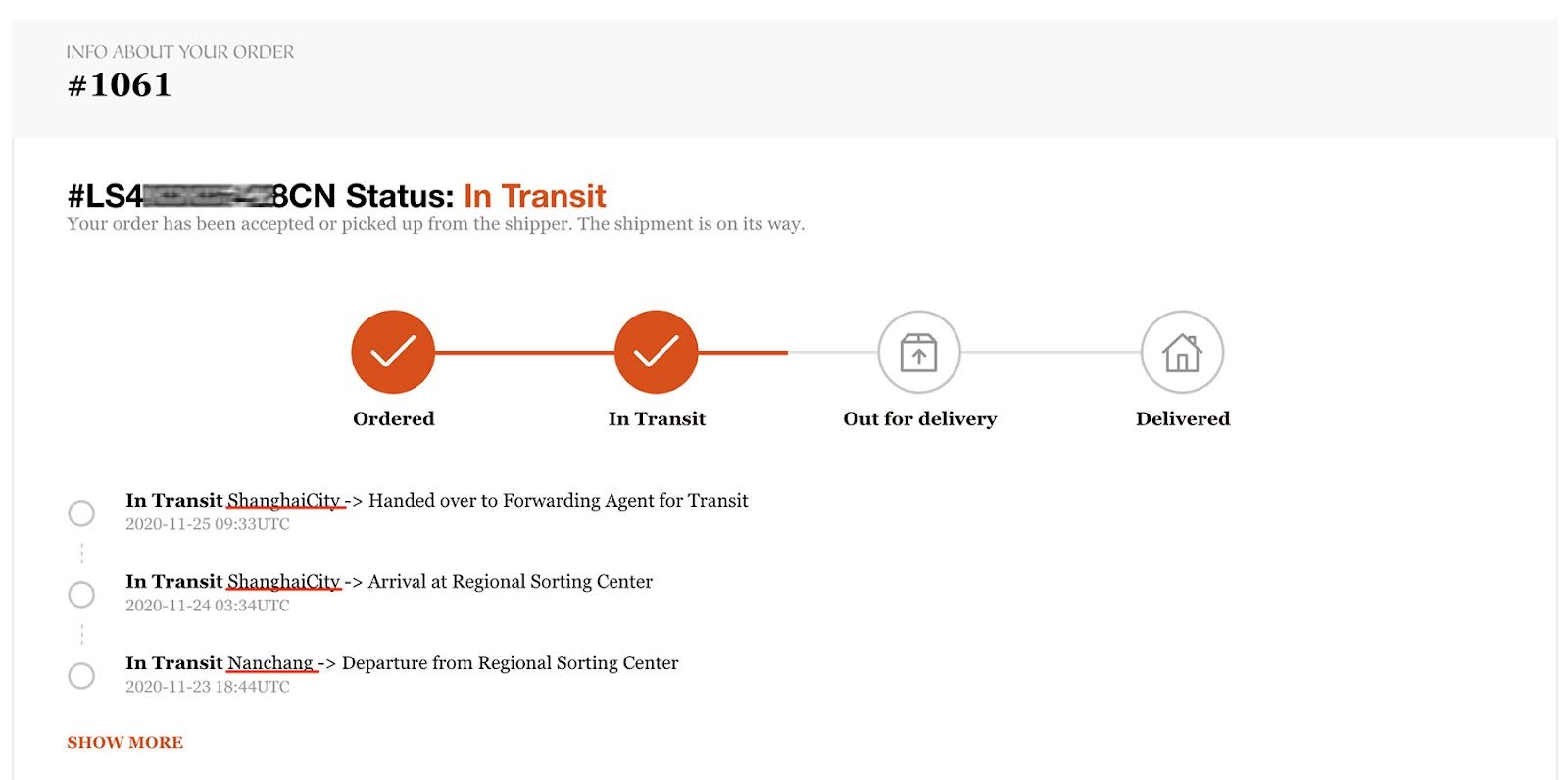 Your customers will get to see something like this: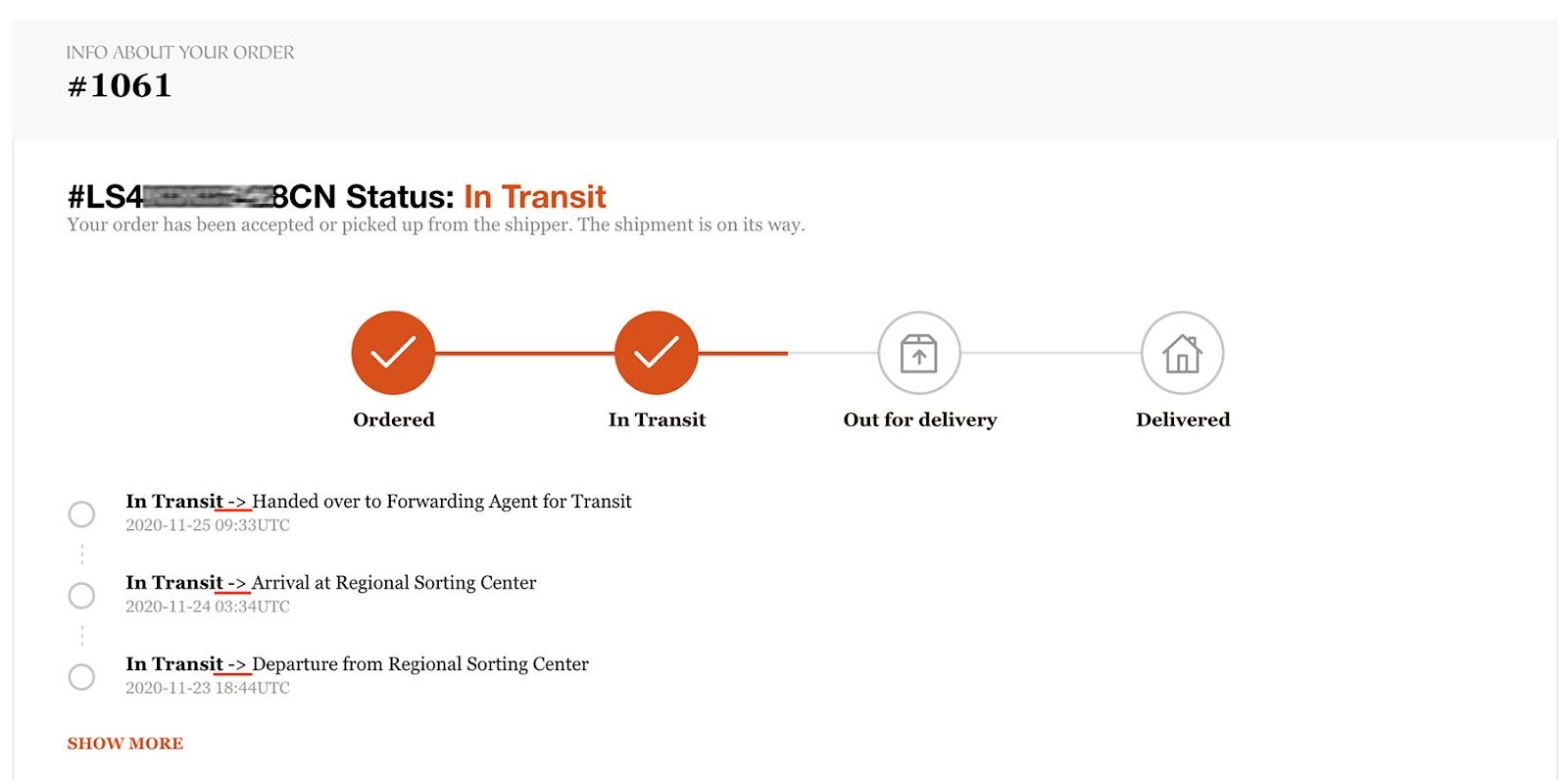 2. Most common carrier list. When dropshipping from China, orders are usually shipped by such carriers as Cainiao, China Post, ePacket, and others already mentioned above. So it's important to keep in mind which carriers are relevant to you specifically and check if that order tracking solution collects information from those carriers.
3. Multiple languages (or tracking info translation). Dropshippers generally ship across borders so the possibility to translate order tracking information comes in handy for customers in different countries that do not necessarily speak English. For instance, some Chinese carriers offer tracking information only in Chinese: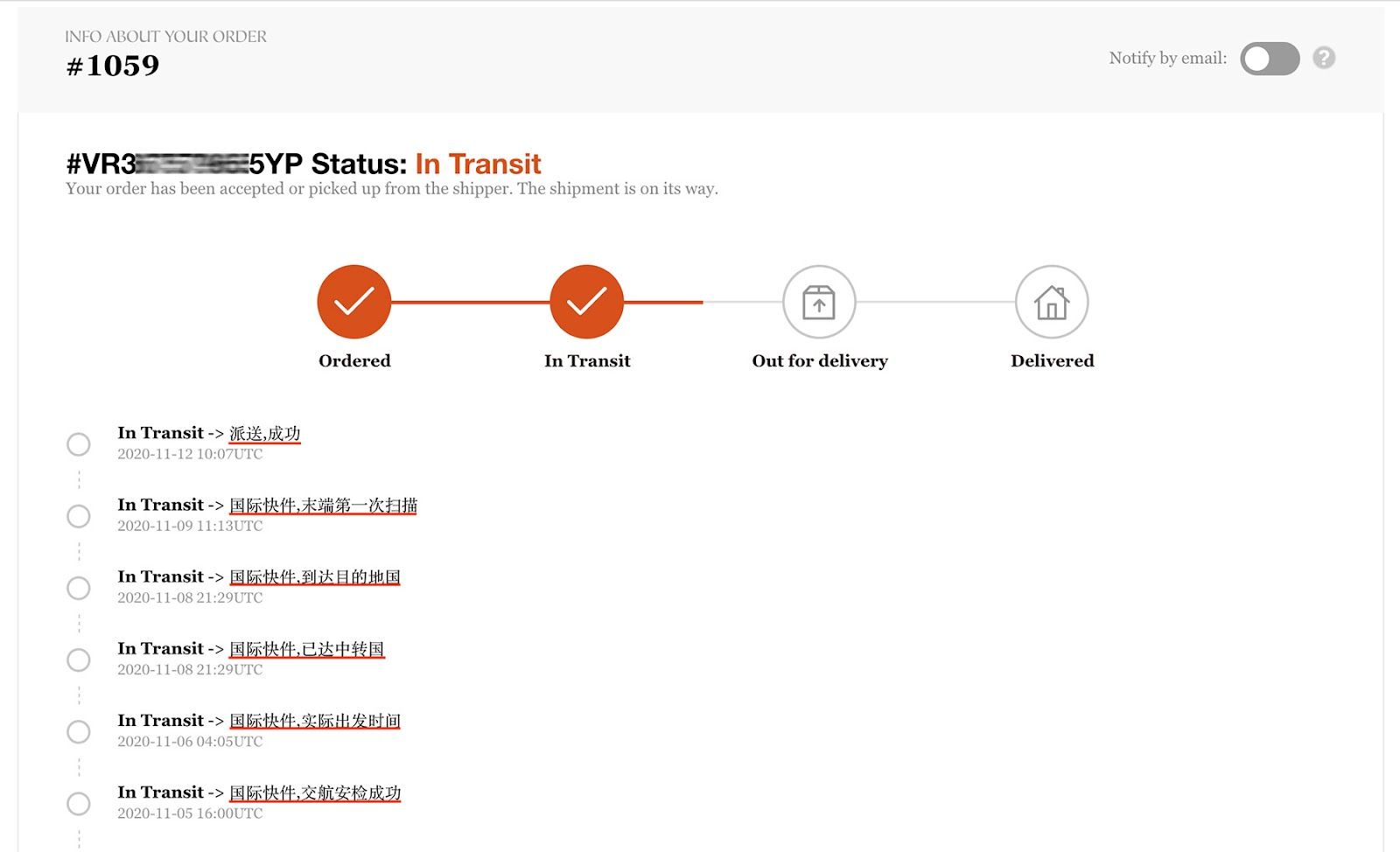 Tracking info translation feature allows you to translate the main tracking checkpoints into languages that are relevant to your customers (or those that they can better understand):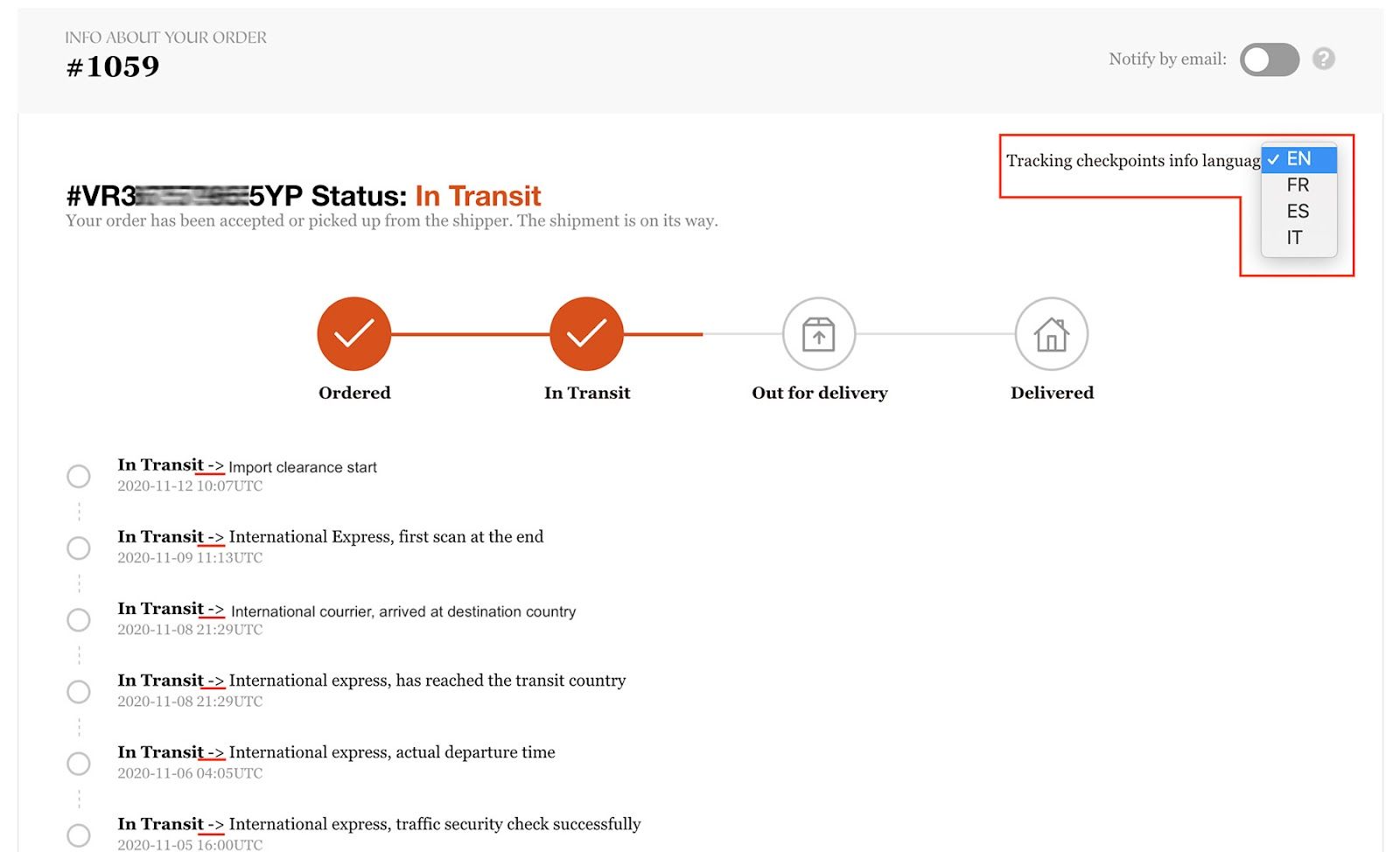 4. Popular features, like automated email notifications and order status updates that ensure a smooth and transparent tracking process.
Before choosing any solution, sit down and think about how you would like your customers to feel when shopping with you and what solutions would you need to provide it. This should lead you to the right decision when comparing different tools.
Conclusion
Dropshipping may sound easy but like any other business, it requires just the same amount of effort and making the right decisions to succeed. Offering your customers order tracking is one of the aspects that cannot be missed as it would not only ease the pain of answering the same inquiries about order status over and over again but would also give your customers peace of mind, positively affecting your brand image.