The sudden coronavirus outbreak has sent shock waves around the world, altering many different areas of our lives. Worldwide lockdowns and social distancing have also increased the demand for online shopping, naturally boosting the workload for delivery companies. Therefore, the continually growing number of online orders has created perfect conditions for logistics giants to thrive, leading to the record-breaking year of 2020.
Data analyzed by the Trackr app team reveals that in spite of the challenging economic environment, four leading logistics companies – UPS, DHL, USPS, and FedEx – report over $300 billion in revenue for the financial year 2020.
The surge in e-commerce enabled UPS to take the lead with the highest revenue growth among these four compared to the last year's data. The company was able to increase its revenue by 14.20%, resulting in a staggering $84.60 billion. Meanwhile, Deutsche Post DHL Group reports an impressive $80.41 billion in revenue for FY2020. As a result of a higher package demand, USPS has also experienced a boost of nearly $2 billion (from $71.15B in 2019 to $73.10B in revenue), leaving FedEx with $69.20 billion behind.
As the companies' leaders admit themselves, 2020 has exceeded their expectations, bringing significant changes to the stock market as well. FedEx managed to improve its stock price to all-time highs of $254.36 for the period of February 10, 2020 to February 10, 2021, increasing its ROI by 60.35%. UPS grew by 53.25% during the same period and its stock price is now $162.37 while DHL experienced 36.04% growth, resulting in a stock price of $45.25.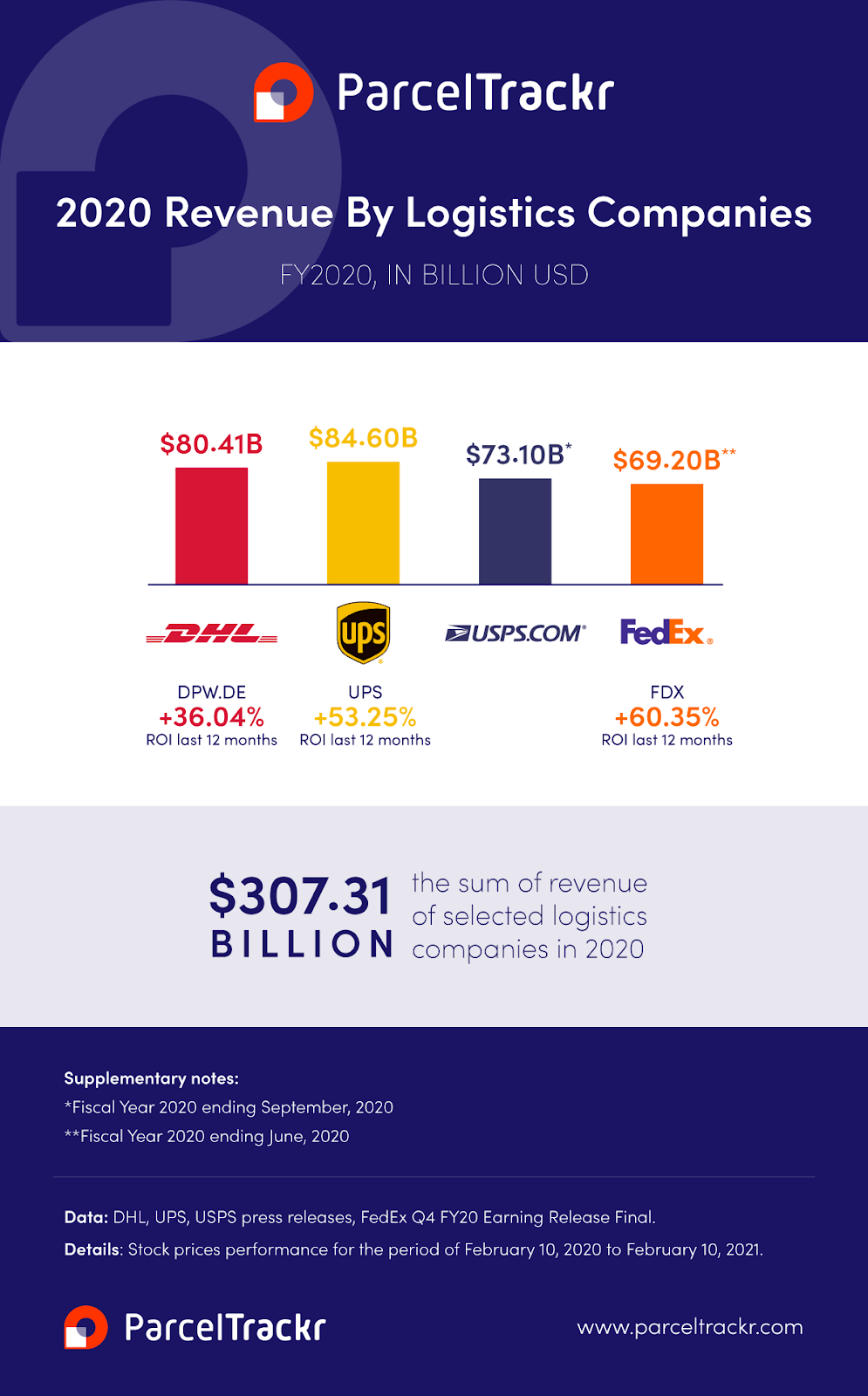 Companies project a positive future outlook
Given the pandemic-related rise of e-commerce, the logistics industry seems to be going through its golden age that will likely continue in 2021 and beyond. Both local and cross-border deliveries have never been so crucial to people's everyday lives, considering not only the shipment of various goods but also playing an essential role in coping with this global health crisis.
DHL and UPS are actively participating in the distribution of COVID-19 vaccines worldwide that has already started in the fourth quarter of 2020. Furthermore, the world's leading logistics companies are optimistic about further growth of global e-commerce activities and expect continuous revenue increase in the following year as well, regardless of all the challenges that the coronavirus outbreak has brought into the sector.
The most common issues highlighted by industry leaders were disruptions in the workforce, fast changes in the marketplace, the urgent need for supplements for safety precautions. USPS also states that the package volume has increased by almost 1.2 billion pieces, or 18.8% compared to 2019, which reflects a clear shift in consumer behavior. As a result, online shoppers become more demanding about the speed and transparency, thus raising another challenge and making seamless shipment tracking and collaboration with reliable service providers a must.
However, the numbers show that selected logistics companies managed to deal with most of these issues and allocate both physical and financial resources accordingly. For instance, in 2020, UPS's operating profit reached $7.8 billion while DHL Group has outperformed their earning guidance of $4.96 billion by improving operating profit (EBIT) to $5.85 billion.
Moreover, since the beginning of the coronavirus outbreak, DHL Group's free cash flow has increased to $3.01 billion which exceeded last year's result by a whopping 188.35% as well as surpassed the market estimate. Meanwhile, UPS reports a free cash flow of $5.10 billion, once again leading the quad.
No signs of e-commerce boom slowdown
Although the future is still unclear, raising trends and predictions can already shape the image of further development of the logistics sector and e-commerce industry as a whole. Businesses will continue to feel the pressure of fulfilling orders faster while trying to stay on top of their quality standards.
"As more and more logistics-related tasks are shifting online, one of the biggest challenges in the next 10 years will be the expansion of logistic centers and their ability to adapt," said Ernestas Petkevicius, Co-Founder of the Trackr app. "We have already witnessed leading carriers reporting record-breaking numbers, and this is likely the direction that e-commerce-related sectors will continue to follow while having to deal with constantly arising new challenges."
This thought is already well supported by the current shortages of warehouses in Europe, reaching record-low vacancy rates of around 5%. Real estate consultancy Savills reports that the investment volumes for distribution warehouses have already increased by 121% on the long-term average, reaching $6.47 billion.
On the flip side, logistics professionals provide a positive future outlook. As online shopping continues to keep people safer yet closer to their everyday habits during these unprecedented times, carriers evaluate their capabilities positively and expect to benefit from the ongoing e-commerce growth.
Since UPS's financial performance exceeded its expectations last year, the company expects to continue on the same path while DHL Group forecasts EBIT to further grow not only during this financial year but also to be even higher in 2022.