You've perfected your lead magnets and reeled customers in.
You know competitors are on the rise, so you're trying your best to stay ahead.
You also know that increasing customer retention is easier than finding new clients, so that's your focus for now.
The problem? Your existing customers aren't buying like they used to.
Maybe your offers aren't in line with what they need, you're not solving their pain points, or maybe your brand has gotten lost in a sea of digital stores.
Luckily, there are ways to bring your store back to life and convince customers to buy again.
Let's take a look at some ways you can encourage your existing customers to continue making purchases.
Diversify your offers
From specializing in SaaS products to offering expert marketing services, e-commerce stores tend to stick with select markets.
While niching down is important when you first open your store, it can limit your audience reach over time.
Notice how public figures like actors, athletes, and musicians start their careers specializing in a specific field. They later diversify by selling perfume, clothes, CBD oil, and who knows what else?
That's the key. Build a name for yourself first by niching down, then explore how you can diversify and broaden your audience reach.
Real Thread is a great example of this.
At first glance, Real Thread looks like your typical custom-printed t-shirt company. But after taking a closer look, you can see that it has diversified its offers to include masks, tank tops, sweatshirts, and tote bags.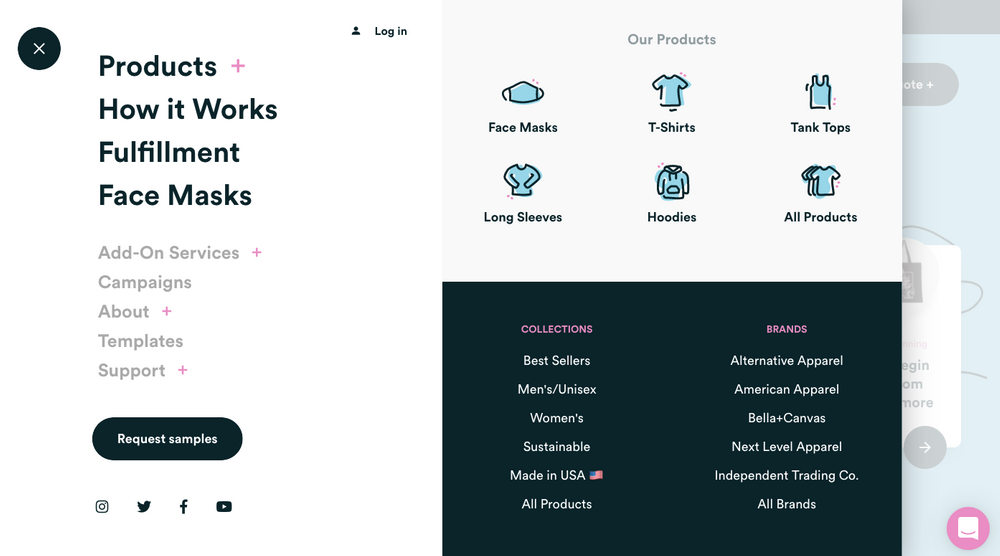 Over time, it could even expand offers to include office accents, home decor, accessories, or whatever its customers prefer.
When deciding how to diversify your offers, start with customer behavior research. Where do your current customers shop? What do they buy? How often do they buy it? What offers do they buy most often?
This shows where your current customers spend their time and money beyond your store. You can also send out a survey asking customers which new offers they'd be excited to see in your store.
After understanding your customers better, decide which offers you're going to roll out and when.
Set a deadline, make a plan, and then take your new offers live.
Then, rinse and repeat this process semi-annually or annually, depending on your goals and resources.
Offer attractive subscription packages
When done right, subscription packages are powerful growth machines.
Offering subscriptions — regardless of your online product or service — can be one of the best ways to keep customers coming back.
Subscription-based strategies help businesses capitalize on the compounding value of customer relationships. As long as customers continue deriving value from the company, customers will keep buying.
And that's the key.
For customers to become more valuable over time, your focus should always be delivering tremendous value.
Take Netflix, for example.
Instead of offering subscriptions as an option, Netflix decided to base its business on a subscription-based model — one that charges customers a recurring monthly or yearly fee for services.
During the first quarter of 2021, Netflix had 207.64 million global subscribers. While its DVD sales may have declined due to the rise of online streaming, the streaming service sales continue to increase.
Netflix doesn't seem to be going away anytime soon. Its loyal subscribers say they'd stay loyal to the company, even if the subscription price increased. They also say that they'd continue streaming even if Netflix included ads.
So why are these subscribers such a loyal bunch?
Netflix is committed to offering diverse content for people from diverse backgrounds and lifestyles. From appealing to Hispanic, Indian, and African American viewers to featuring nearly five times the number of LGBTQ+ characters than Hulu in 2018-19, Netflix continues to provide valuable content.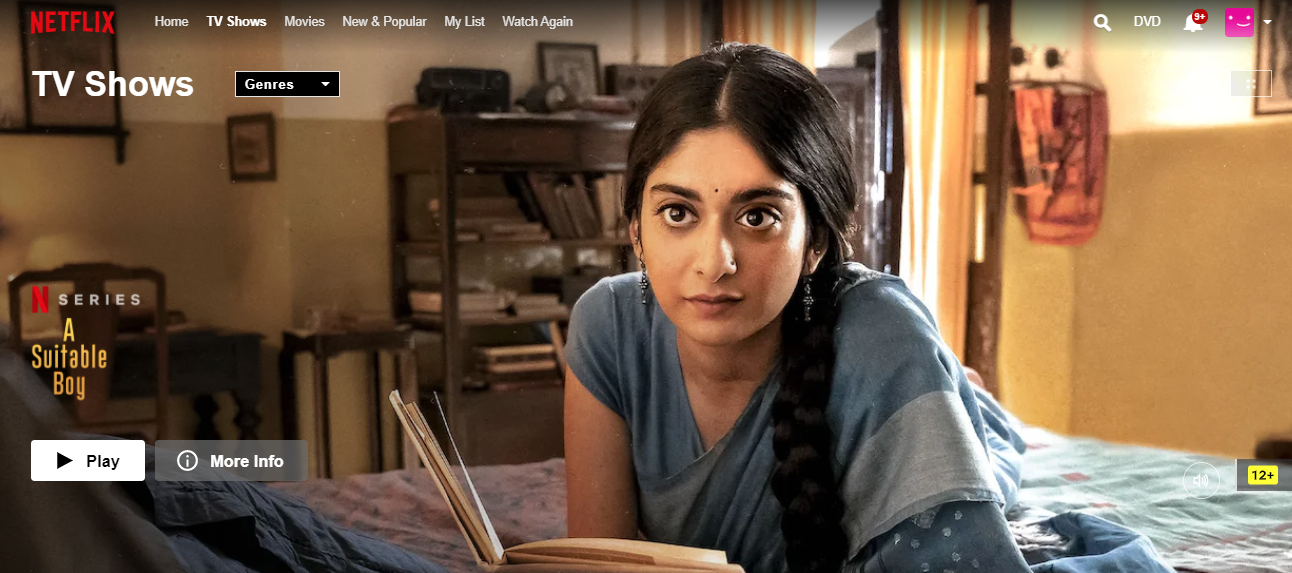 Another example of a company succeeding with a subscription-based business model is The Motley Fool.
The Motley Fool offers yearly subscriptions to its premium stock advice service. When customers sign up for a package, they receive expert advice about what stocks to invest in.
Customers can choose between three packages: retirement-focused top picks, rule breakers top picks, or general stock top picks.
By doing the heavy lifting for customers, The Motley Fool provides value and retains its audience.
But this doesn't mean you need to restructure your e-commerce business, so it's just subscription-based. You can, however, add a subscription option for customers who prefer passive shopping or to reward customers for making purchases.
Essential oil and wellness brand Young Living offers its customers a monthly Essential Rewards (ER) program as an option. When customers sign up for ER, they have to add up to $50 in paid value to their carts every month. Customers can choose to pick products that ship to them on autopilot, or they can customize their products each month.
As a gift for signing up, customers get free shipping and "points" (credit toward future products). If they spend higher amounts, Young Living adds full-size seasonal products to their order as a gift.
When choosing how to set up your subscription packages, keep your customers in mind. What are their pain points? Do they hate costly shipping? What do they love buying? Would they like to customize their offers? What needs do they have?
You can also survey your existing customers to see what kind of subscription packages they'd sign up for.
Present personalized offers
Personalizing interactions with customers after they've made a purchase is a strategic way to upsell products they may need.
Before you can personalize offers, conduct customer behavior research to see:
What their buying behavior looks like
How often they buy from you and your competitors
Where they buy from and how much they spend
What social media pages they're on and how they're engaging online
What they're saying about you
What they've bought from you and your competitors
What their buying preferences are
What ads, offers, and websites they click on
Getting to know your customers like this is the only way to know what habits they have, what they're interested in buying, and how often they spend money.
You can also survey your customers or use chatbots or a customer data platform to collect more behavior information.
Whatever method you choose, just make sure you can secure the data by having access to secure data storage.
Then, segment your customers by their preferences and start planning your personalized offers.
For instance, let's say you sell beauty and cosmetic products.
After collecting customer data, you're able to narrow down five main categories your customers prefer shopping in:
Age-defying skincare
Argan oil, beard oil, leave-in conditioner, and specialty hair care
Cleansers, toners, and moisturizers
Makeup, makeup remover, and basic skincare sets
Sensitive skin and sun care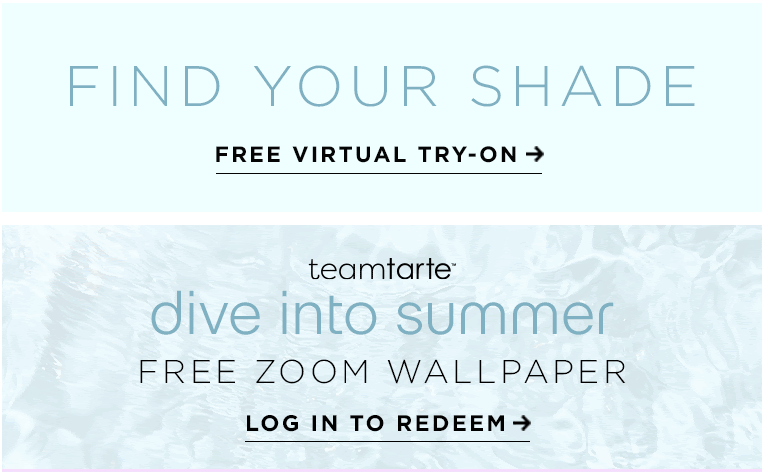 After segmenting your customers into these five segments, you decide to go deeper. Which age-defying products do they prefer? What type of moisturizers and sun care do they love?
After collecting more details, you're able to segment each of these five groups further.
From there, you plan a series of email campaigns, social media ads, and Google ads tailored to those specific products and the customers who love them. Your campaigns and ads run for three months before conducting research and repeating the process again.
Prioritize long-term relationship building
To inspire your customers to be repeat buyers, it's important to build long-term relationships with them.
From sending them their favorite product on their birthday to advocating for causes they're passionate about, long-term relationships are vital to e-commerce success.
Here are some ways to build long-term relationships with your customers.
1. Start conversations on social media
Start a conversation with your customers to build relationships and keep them coming back. Ask them what they think of your latest product launch, or get personal and ask them what their lifelong dreams are. Whatever you do, don't wait for customers to start the conversation — take the initiative and get the conversation going.
2. Engage with your social community
Many businesses build up their social media and forget to focus on customer engagement. Instead of posting nothing but marketing promotions, stick to the 80/20 rule, where 80% of your content is valuable and engaging, and 20% is promotional. Spend a couple of hours each day responding to comments, asking questions, and sincerely getting to know your customers.
3. Explore and solve your customers' pain points
One of the fastest ways to lose customers is to ignore their pain points. Instead, work to understand your customers' pain points and commit to solving them. A great example of this is Google. It dominates the search engine market share because it solves searchers' pain points. Google is fast, reputable, and presents the most valuable search results in a manner of microseconds. Its competitors can't always say the same.
4. Give exceptional customer service
Kind and prompt customer service is every customer's dream. Offer customers various ways to get in touch, such as through email, contact forms, and chatbots. Consider also creating knowledge base articles that customers can read through to troubleshoot problems on their own.
5. Stay ahead of the competition
You may have an exceptional product, an engaging social media presence, valuable backlinks, and great customer service, but if a competitor offers something you don't, you're in trouble. Keeping an eye on your competitors not only raises the bar but also ensures you're ticking all of your customers' boxes.
Wrap up
Understanding your customers is the first step to improving your offers and encouraging them to buy again. After conducting consumer behavior research, remember to diversify and personalize your offers, add a subscription option, and focus on long-term customer relationships.
With the right approach, any e-commerce business can revive their stores and motivate their customers to keep coming back.
---
---
This is a guest post by Ioana Wilkinson.
About author:
Ioana is a freelance content writer and SEO strategist for B2B and B2C brands specializing in Business, Marketing, Tech, and Mental Health. Born in Transylvania, raised in Texas, and transplanted to Barcelona, Ioana's next move is taking her to sunny Mexico.