Do you own a dropshipping business or are thinking of starting one? Whichever the case, you have most likely heard of Oberlo dropshipping. But is the Oberlo app as good as they say it is?
We decided to take the matter into our own hands and find out what the fuss is all about. Keep on reading to discover everything about the Oberlo marketplace, including pricing, suppliers and, of course, Oberlo pros and cons.

Everything about dropshipping - in a few words
Before diving into Oberlo dropshipping, let's quickly go over what dropshipping business model means and if it's still a viable business idea in 2021.
Dropshipping business model is based on a fulfillment method where instead of producing and stocking products on your own, you source the products from a third-party supplier.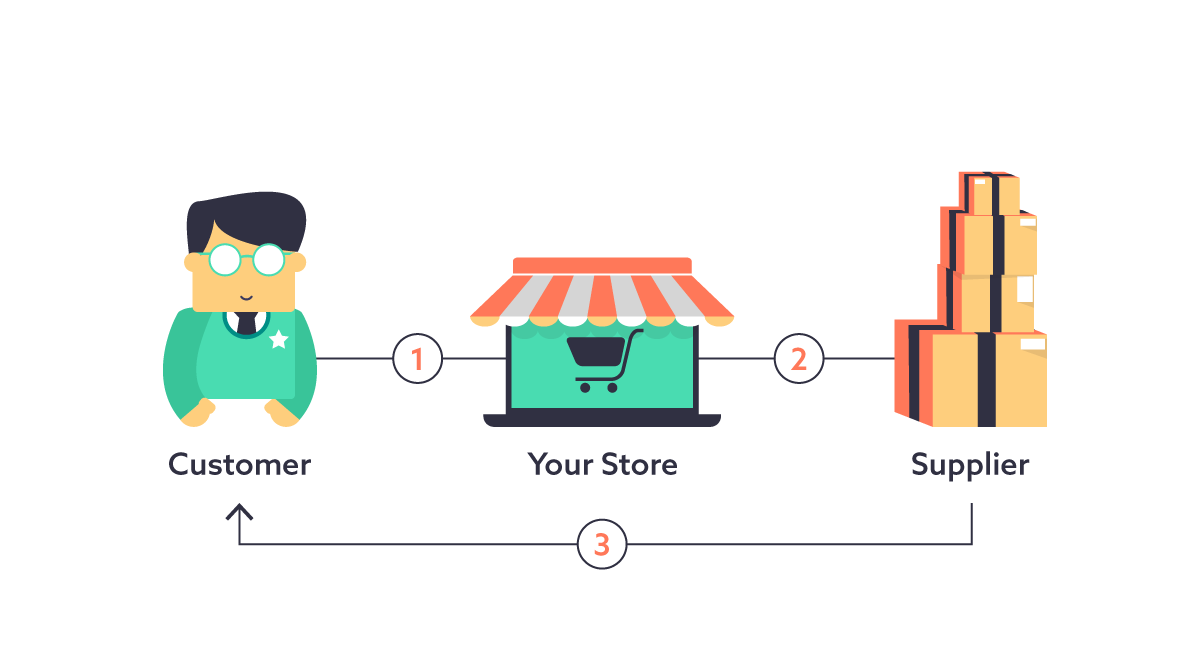 Once someone makes a purchase on your store, all you have to do is confirm the order. Next, the order is sent to the supplier who will be responsible for sending the item to your customer.
Is it really possible that you don't need to be responsible for shipping products sold in your store, not to even mention that you don't have to worry about stocking products? Yes, it is possible. Dropshipping is a very viable way of doing business and, in fact, nearly 33% of online stores are using the dropshipping method.
The key to getting your business off the ground is to find an in-demand product as well as a reliable supplier you can collaborate with. Naturally, the question of how to find the right products and reliable supplier is on everyone's mind who wants to start a dropshipping business.
This is where the Oberlo dropshipping app comes into play.
What is Oberlo dropshipping?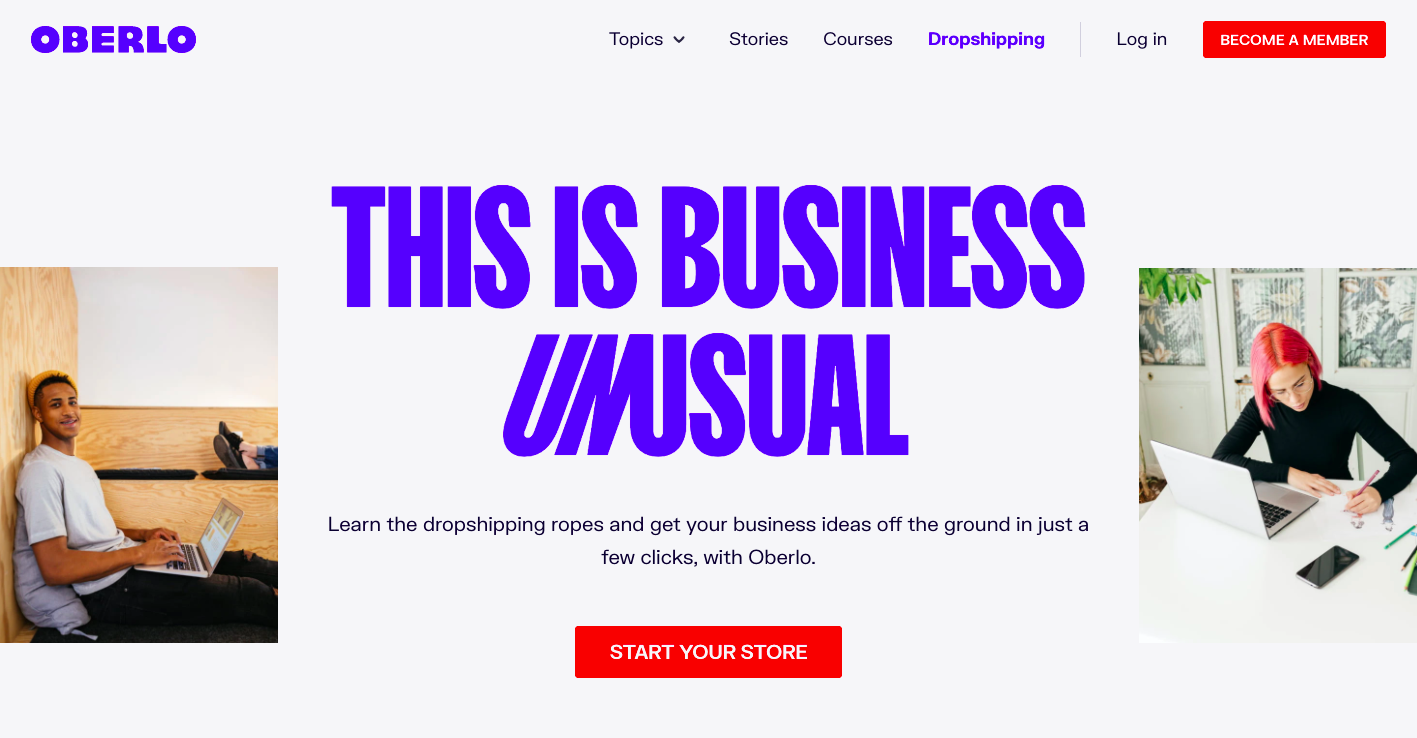 Oberlo is a dropshipping platform, which works in conjunction with Shopify and one of the most popular marketplaces - AliExpress.
On AliExpress, you can choose from over 100 million products from around 200,000 sellers. You can sort the products by category, price, location, and much more. Without a doubt, there is something that's a great fit for your business.
Oberlo has made it incredibly easy to browse what AliExpress has to offer, find the right products and then import them right to your Shopify store. With Oberlo dropshipping, you will be able to easily manage your business and focus on keeping your customers happy.
You will also find numerous customization options on the Oberlo marketplace. For example, you can take advantage of product customization to edit product descriptions, images, and even pricing.
Bear with us to understand why many ambitious entrepreneurs from all over the world, who by now have sold over 80 million products on the platform, have become loyal to Oberlo.
Oberlo dropshipping main features
Oberlo app comes with many unique features that make managing your dropshipping business effortless and efficient.
Here you will find an overview of some essential features that you can find on the free plan. But remember, upgrading your subscription will give you access to many more.
Importing products to your online store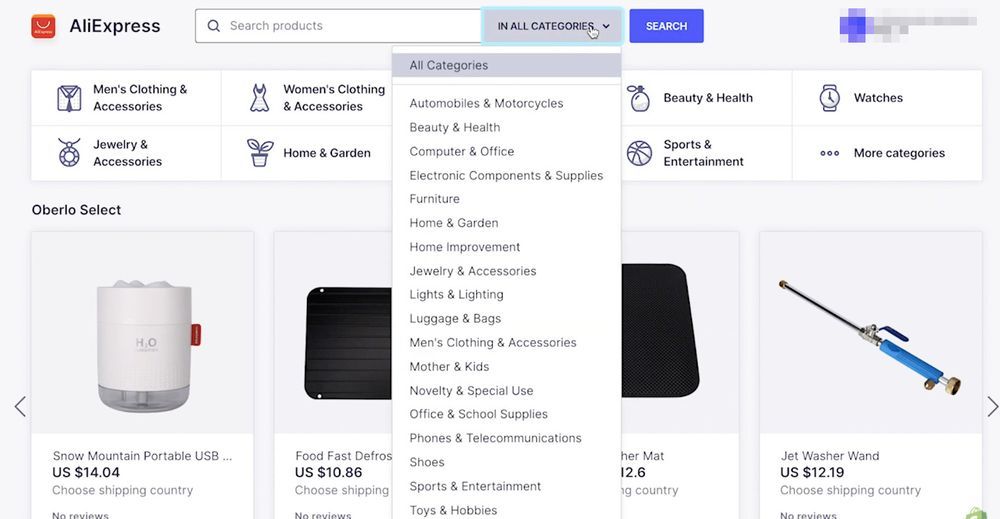 Oberlo itself is not an eCommerce platform but is a trustworthy link between your online store and your suppliers. With Oberlo, you can import products directly from the AliExpress database to your Shopify dropshipping store only with a few clicks.
On a free plan, you are limited to 500 products, meaning that this is the total amount of products you can have in your Import List and Products page combined.
TIP: When searching for products to import, keep an eye out for "Verified suppliers". They have a proven track record providing quality items and a minimum of 95% of delivery time rating. Furthermore, Oberlo has investigated in detail their warehouses, documents and processes to guarantee smooth sailing.
Customization of product details
After you have added items to your import list, you can take advantage of product customization. Make adjustments to various details, like product photos or titles, to ensure that you keep your brand's voice and boost your SEO.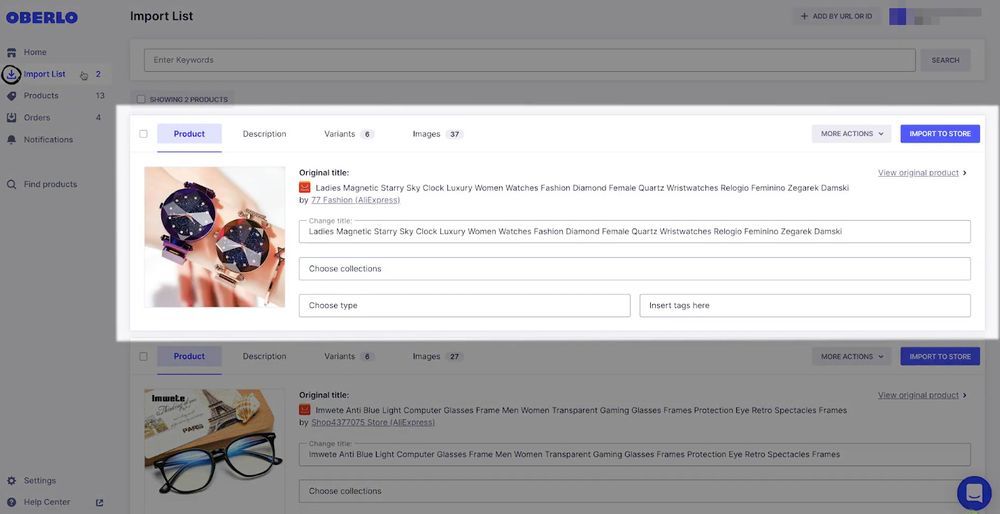 Unlimited monthly orders
You'll have access to unlimited orders without any restrictions no matter if you are on a free or a paid plan.
Automated inventory updates
Automated features are always a great benefit and Oberlo has added this crucial element to your online store. With automated inventory updates, you can be assured that your customers will never order an item that is out of stock.
Besides not having to apologize to unhappy customers, it also lets you win time which you would otherwise put on updating and checking inventory reports.
Global approach
Oberlo has a global mindset. Providing a selection of languages (English, French, Italian, German, and Portuguese), an option to deal with multiple currencies, and supporting worldwide shipping are all a big advantage for anyone wishing to have an international scale business.
Get started with Oberlo Dropshipping: A step by step guide
Has Oberlo piqued your interest? Let's go over what it takes to get started with Oberlo dropshipping.
1. Sign up and connect with Shopify
There are two options to get started with Oberlo:
Go on their homepage, click "Become a member" and proceed to create an account as usual. Signing up this way will require you to link your account to your Shopify store. Simply navigate to the Oberlo Admin page and click "create or connect a store" and add the URL of your shop.
Download Oberlo directly from the Shopify app store. For this, you need to log into Shopify, add the Oberlo app to your store, and the system will simply create an account for you.
2. Find products to import
Now that your Oberlo account is connected to your Shopify store, the real challenge starts - finding the right products for your store. Proceed to Oberlo marketplace to browse around.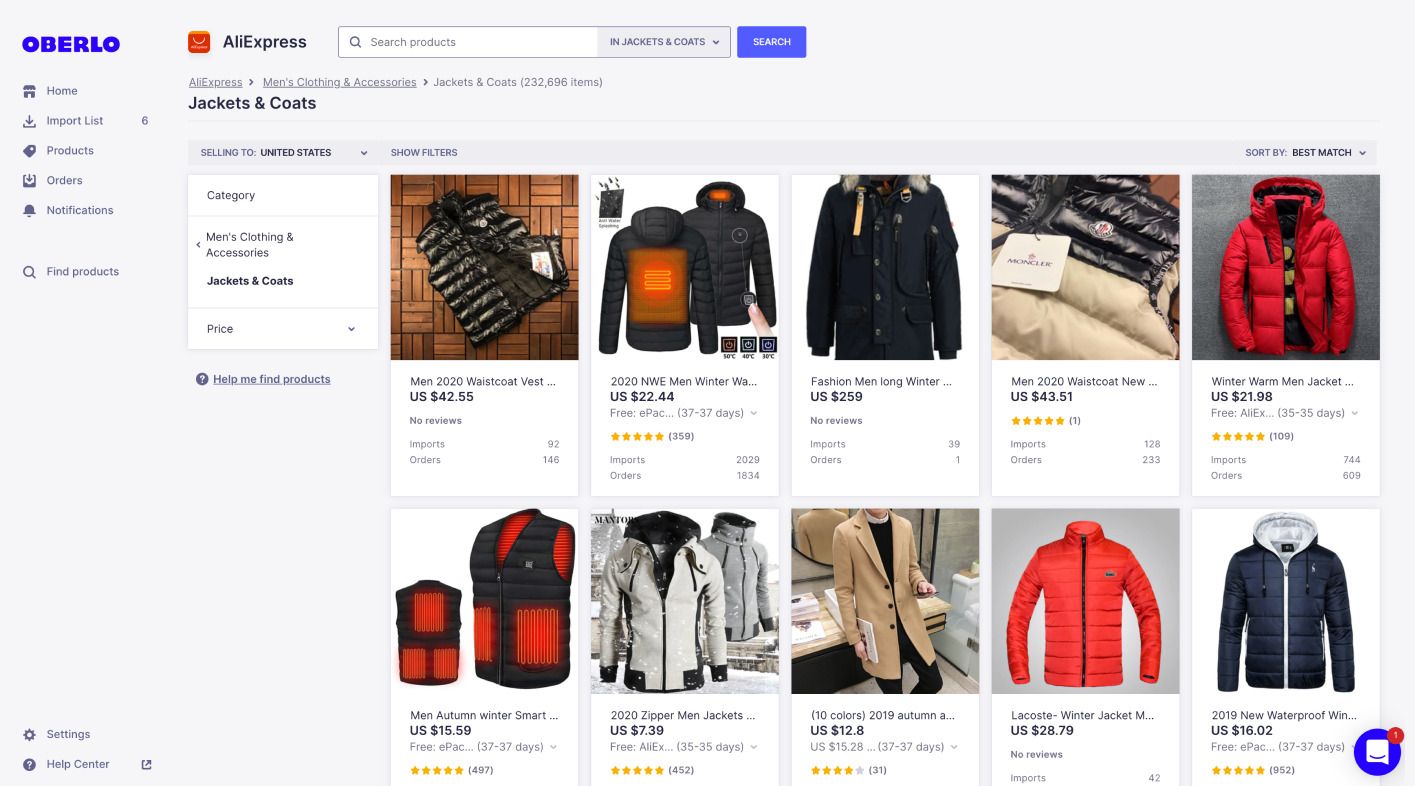 Here you can use the search field to narrow down the wide selection. If you need more inspiration and ideas on what to sell, Shopify has made a list for dropshippers showcasing some popular products.
Oberlo also provides a Chrome extension that enables you to import items directly from AliExpress. The extension icon will turn blue if you are on an AliExpress page with usable products and you should see an "add to Oberlo" button. However, this option might be a little riskier as is explained in the next section.
3. Connect with trustworthy suppliers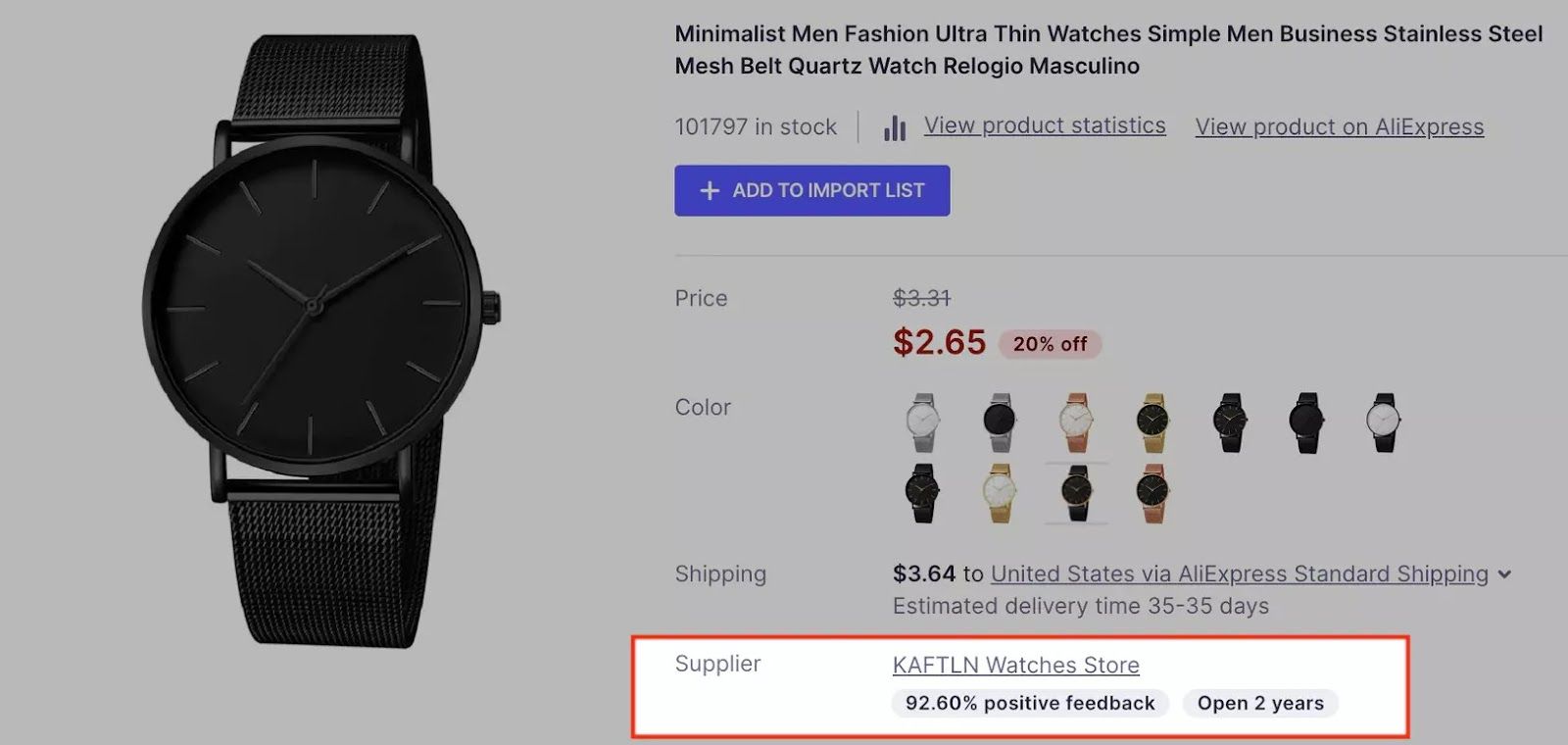 There are three types of suppliers you will find on Oberlo:
Oberlo Suppliers. Oberlo has made a background check on these suppliers to understand if they are legit. The background check has included thorough insight on the suppliers' operations, warehouses, documents as well as info on the quality of the products and shipping times.
Verified Suppliers. As mentioned above, Verified Suppliers are the ones to really keep an eye out for. Besides having all the background checks in place as is for Oberlo Suppliers, Verified Suppliers have a proven track-record of successful best-selling products and the vendors have handled at least 1000 orders. You can identify them by a "Verified" badge with an orange tick next to the items they are selling.
Aliexpress Suppliers. If you wish to browse directly on AliExpress and not on the Oberlo marketplace, you can do so. But keep in mind that in this case, you will need to do your own research beforehand. Check out reviews and other information provided by customers to understand the reliability of these AliExpress suppliers.
4. Import products
Every item on the Oberlo marketplace has a blue "add to import list" button next to it. Clicking this button will make the selected product ready for importing and customizations.
On the Explorer plan (free), you are allowed to import 500 products. If you wish to broaden your selection up to 30 000 items, a Boss Plan is needed.
5. Set prices for selected items
Now that you have decided what you sell in your store, customize the selected products and set up your pricing either manually or in bulk. Both can be done from the "Import List" that you will find on the left-hand side tab.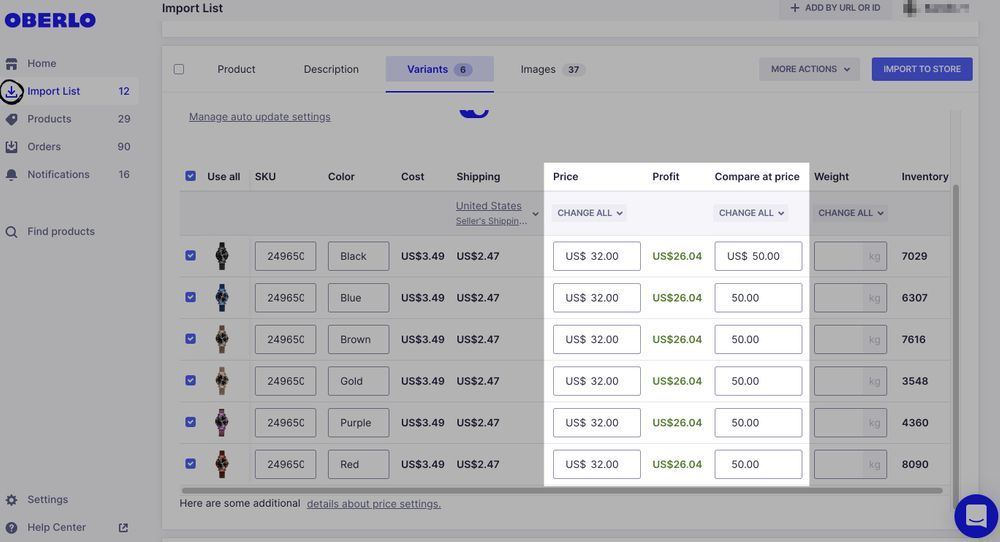 Setting prices manually. Navigate to your import page and push the "Variants" tab. You will see a list of default prices that you can edit as you wish.
Setting prices in bulk. On the same page, underneath the price column, you will find the option "change all". Here you can either set one price for all the items or set a multiplier when you wish to have a sale.
6. Manage your orders
Once the orders start coming in, there are a few things you need to take care of before the order is processed and shipped by the supplier.
When a customer makes a purchase, it will be seen on the "Orders" page and it will remain unfulfilled until you click the "order products" button next to the purchased item. This will send a signal to your supplier that the order needs to be processed.
7. Be clear about the return policy
In eCommerce, returns are inevitable and something that has to be taken into consideration from the very beginning. However, Oberlo has claimed that AliExpress suppliers do not usually accept returns.
Still, in some cases, refunds will be issued and quite often, some sort of proof is needed:
Delivery of an incorrect item (color, size, etc.)
The item is defective or in extremely poor quality
The estimated delivery time has expired
The shipment is lost
Make sure you have conducted a clear return/refund policy to avoid upsetting customers.
Oberlo pricing
Oberlo prices are friendly. The starter plan is available for free with the possibility to upgrade your subscription costing $29.90 a month. To ensure that you get what your business needs, Oberlo also offers a 30-day free trial - just find the balance between the features you need and the number of orders you process each month.
Oberlo website offers an informative overview of both of the plans: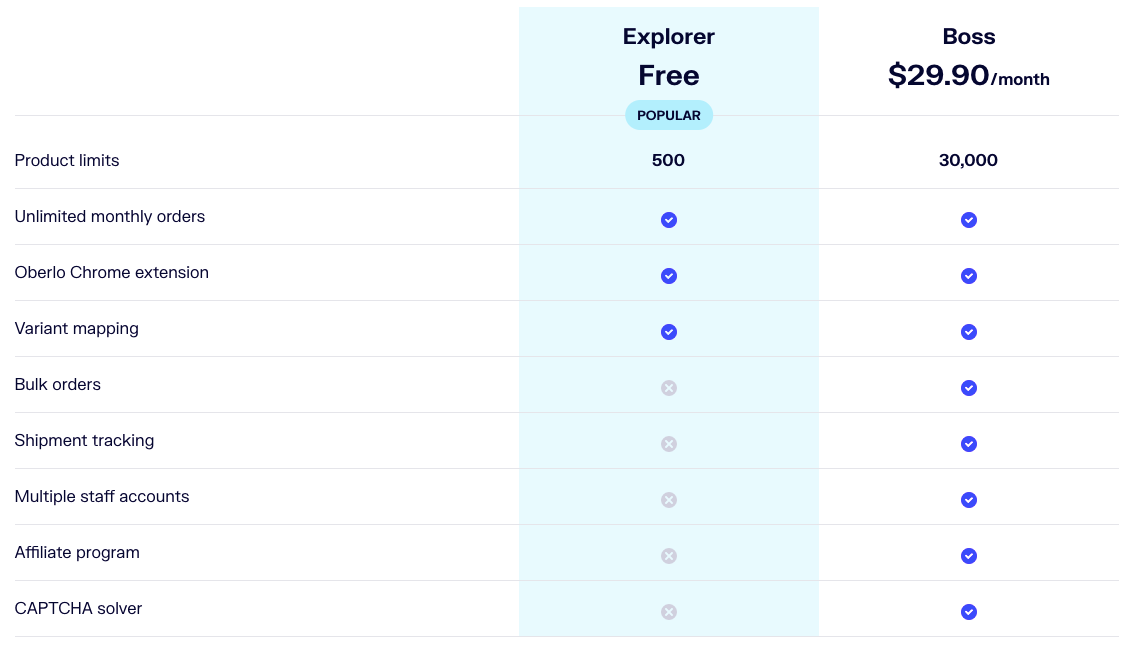 Oberlo Review: The pros and cons
For anyone who skipped the upper part and wanted to get a quick overview of Oberlo dropshipping pros and cons, then here they are.
Oberlo dropshipping pros
Possibility to use a free plan as long as needed as well as check out other functions on a 30-day free trial
Extremely convenient integration with Shopify
Possibility to browse thousands of AliExpress products and experiment to understand which are the best for your store
Verified suppliers for peace of mind
Product customization
Automated order processing and fulfillment
Numerous learning resources provided by Oberlo to get started with a dropshipping business
Quick customer support
Oberlo dropshipping cons
Works only with online stores built on Shopify
Importing items is limited to AliExpress
Returns are not accepted by most AliExpress suppliers
Tracking shipments and delivery times are available only on an upgraded plan
Basic and limited live chat option
To sum up
Oberlo is a great tool for anyone in the dropshipping business no matter the previous experience. It is possible to set up your store on Shopify and start importing desired products from AliExpress with ease.
As Oberlo supports worldwide shipping, you have no restrictions regarding locations and there are various possibilities to expand your business as you grow. If you ever wish to change your stock - just browse around for new in-demand products and make necessary changes to your store.
But of course, if you feel that Oberlo is not the right fit for you and you wish to have more options than searching products from AliExpress, look up some Oberlo alternatives to kickstart your dropshipping business.