‌‌Well, let's imagine the situation where you just got a new order. If you think the only thing left to do is ship this order, you are deeply mistaken!
In fact, order confirmation emails have the highest open rate among others in the eCommerce industry. Сustomers expect to receive order confirmation emails as soon as they make a purchase from your online store.
Order confirmation emails not only inform and ensure customers about their purchase, but also generate even more orders. Order confirmation emails are important for any eCommerce business because of the number of reason:
Provide customers with assurance that their orders were processed;
Get customers excited about their purchase;
Improve customers' post-purchase experience;
Build relationships with your customers.
The power of order confirmation emails lies in the details they contain, including transaction details, order numbers, shipping details, tracking numbers, and other valuable information for your customer.
In addition to high engagement, your order confirmation emails are highly deliverable and scalable, making them a great customer retention tool.
What is order confirmation emails?
An order confirmation email is a transactional email sent by a seller to a buyer right after completing a transaction in an eCommerce store. Unlike promotional emails that target a specific segment, this transactional email is triggered and sent to the customer automatically in response to an action they have taken (place an order).
While you may have an order confirmation page on your website that ensures the order is placed successfully, sending an additional confirmation email is reassuring.
Order confirmation emails usually include the following information: the cost of the purchased items, shipment address, order tracking number, estimated delivery date, etc.
The main purpose of order confirmation emails is to notify customers that an online transaction has gone through successfully. But they are also useful for meeting a psychological need.
So, how to create a great confirmation email? We are glad to introduce our new Trackr integration with Klaviyo and Omnisend. With the help of the integration, you can directly create and send the emails through any of these useful tools.
To enable any of these integrations, you need to go to the Trackr app settings, then click on "Integrations" and enable the desired integration. After that, you need to enter your API key.
In order to find Klaviyo API key:
Navigate to your Klaviyo account -> Settings;
Click API keys;
Then Create API Key.
In order to find Omnisend API key:
Once you log into you Omnisend account, click on your account name and choose "My account";
Go to "Integrations & API" -> "API keys";
Click "Create API key".
Well, now you know what the order confirmation emails are and how the Trackr integration can make your life easier. It's time to get inspired by our amazing collection of eCommerce email examples.
10 great examples of order confirmation emails‌‌

Gilt order confirmation email.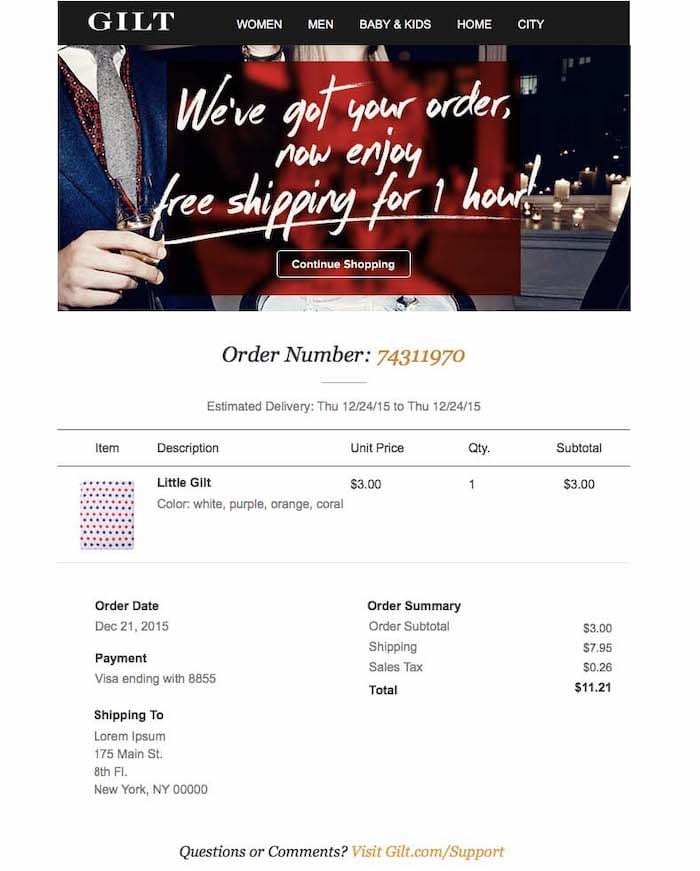 Gilt uses a great tactic to help increase their sales. Once customers make a purchase, they receive an order confirmation email that includes a limited free shipping offer on their next purchase.
This will almost certainly increase sales as well as the conversion rate for that campaign. By limiting the special offer to one hour, the company can easily ship additional purchases alongside the original purchase. Since the customer has already paid shipping for their first order, this limits the offer to Gilt.
If you already offer free shipping or don't want to include it as an offer, you can always include any promotion in your order confirmation email. Customers appreciate this opportunity and will want to use it in most cases. It will also allow you to improve customer satisfaction and retention.
2. Another great example of order confirmation email provided by Macy's.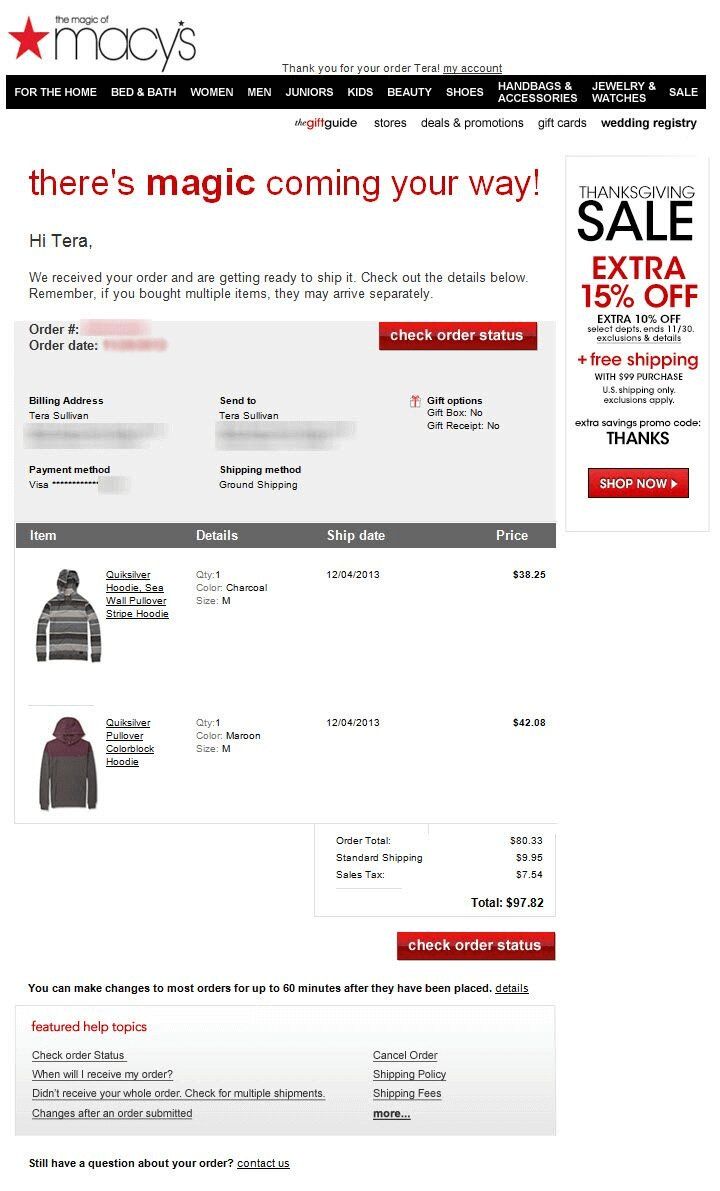 ‌‌When it comes to the holidays, Macy's never misses a beat and its order confirmation email is a classic example of this.
Macy's is great at highlighting so the customer can see the most important parts of the email, such as order details, featured sections, an extra discount on the Thanksgiving sale, and free shipping.
The email allows customers to review their order, and offers a 60-minute window to reconsider their purchase decision. Social links in the end give customers the option to stay connected with the brand and look out for their amazing offers.
3. Burst – Oral Care Product

‌‌Burst stays true to its brand in the order confirmation email. The design of the email perfectly organizes the order information after thanking the client for his order, using the colors of the official website. The email receipt layout makes it easy for customers to view and find important information about their order.
The order confirmation email contains order tracking information as well. This saves both customers time and nervousness since they don't have to worry about the location of the order.
4. One more great example of the order confirmation email presented by Zulily.

The Zulily example is classic, especially in how it tracks the action element.
Use individual information blocks - they work well. They draw customers' attention to different topics in the same email without looking chaotic.
Make website links part of the communication. So while it doesn't take the usual route of upsell or cross-sell, it does offer options for exploring merchandise.
5. Forever 21.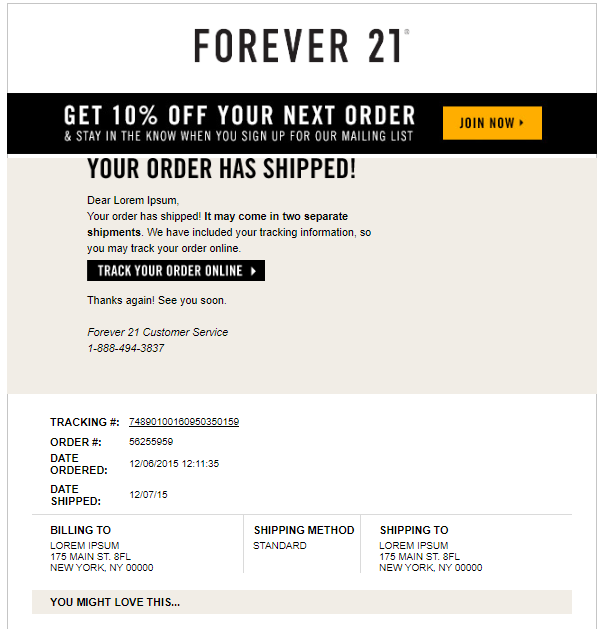 Offers and discounts in order confirmations can be perceived by customers as a kind of reward.
The discount from Forever21 is pretty simple: it offers a 10% discount on a future purchase. Such a discount obviously won't bankrupt you, but it could well be an incentive for someone to look into your store again. Thus, it will increase customer loyalty and engagement.
6. Sephora encourages customers to follow them on social media.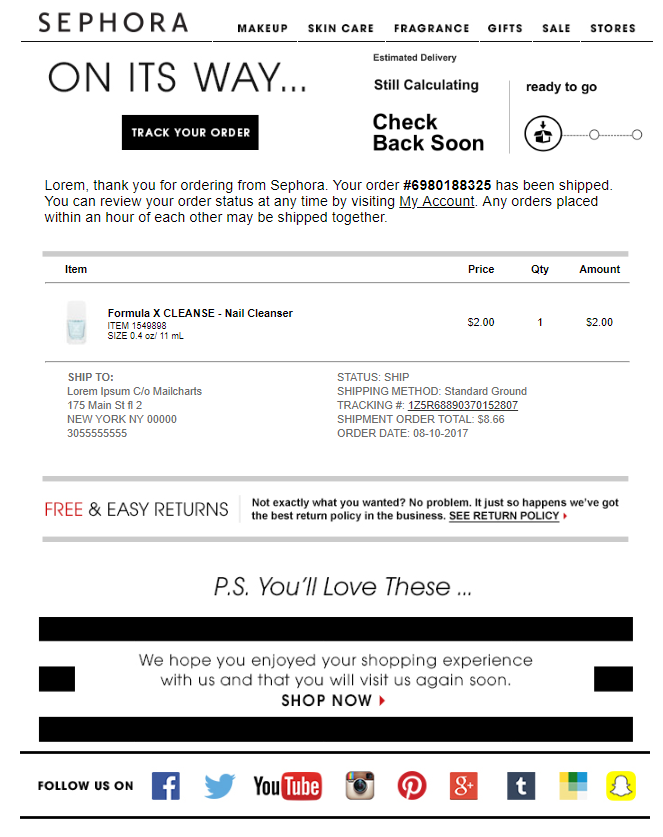 Order confirmation emails help to increase your presence on social networks.
This confirmation from Sephora points out all of their social icons in a way that you can't miss thanks to the contrasting colors. You can also customize your social buttons depending on which networks are your top priorities.
7. Brand Adore Me tells about their strengths.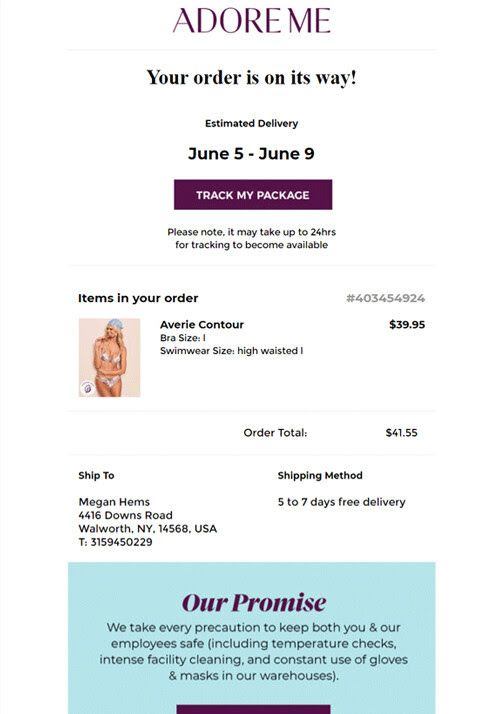 ‌‌Presenting your brand through email is about much more than slogans and logos. A confirmation email gives enough power to let your customers know that you really care about them. So yes, this is a real opportunity to make a more human connection.
8. Frank Body tells their customers stories.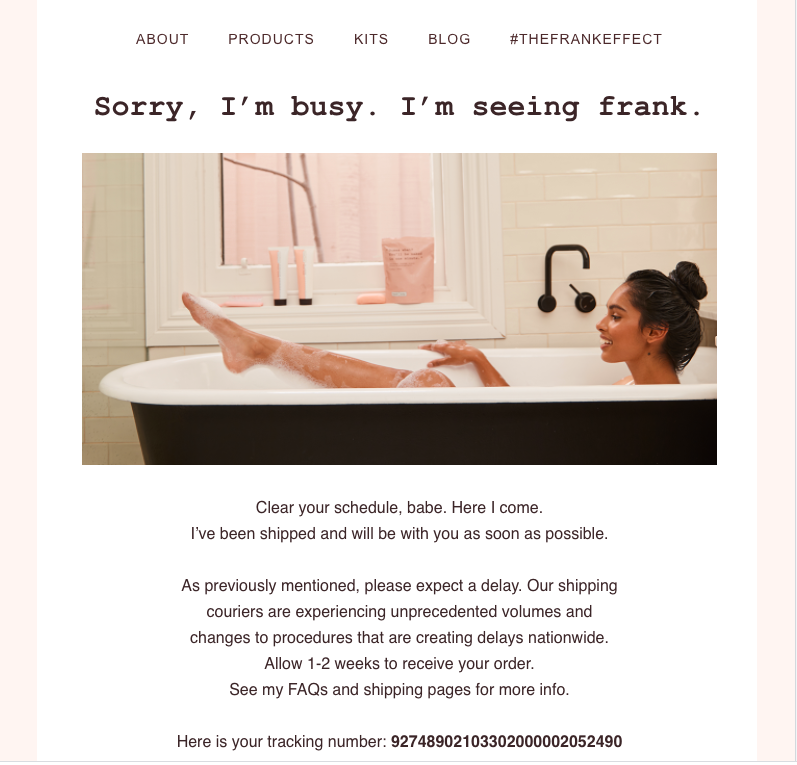 Everyone loves a good story, even those who read emails. Make your next confirmation email something special, with engaging content or imaginary situations.
A catchy headline that will surely make customers come back to this piece of the message several times. It sets the mood for the rest of the text, but more importantly, it reflects the anticipation that customers have when they know their order will be delivered to them soon.
9. Include loyalty programs like Tradesy does.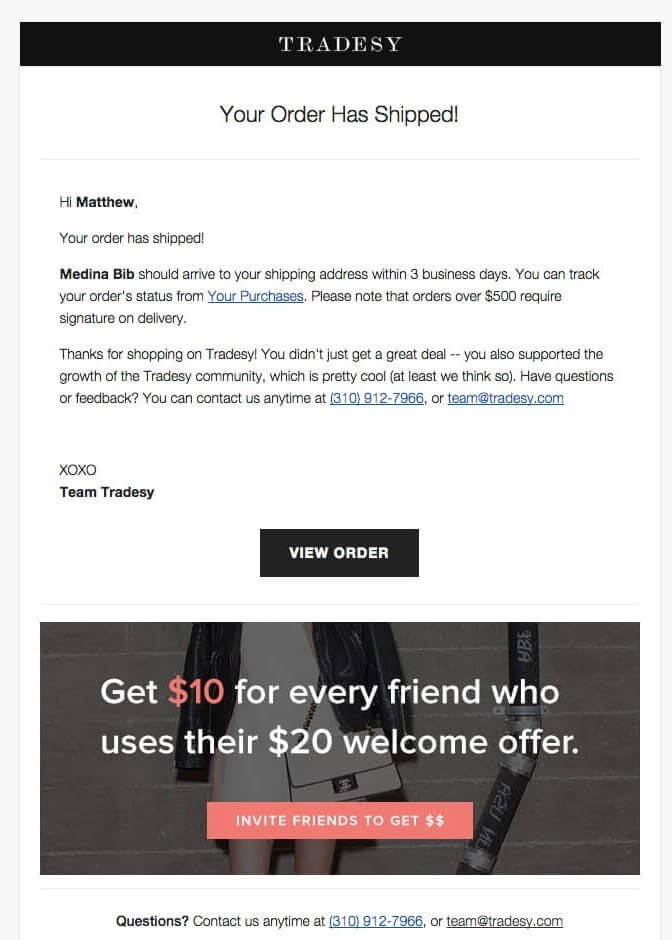 Every eCommerce business sends similar delivery confirmation emails. The difference comes when you think about how to exceed and surprise your customers. Loyalty programs are the great way to do this. It also helps to connect with your brand and attract new customers.
10. Michael Kors email confirmation.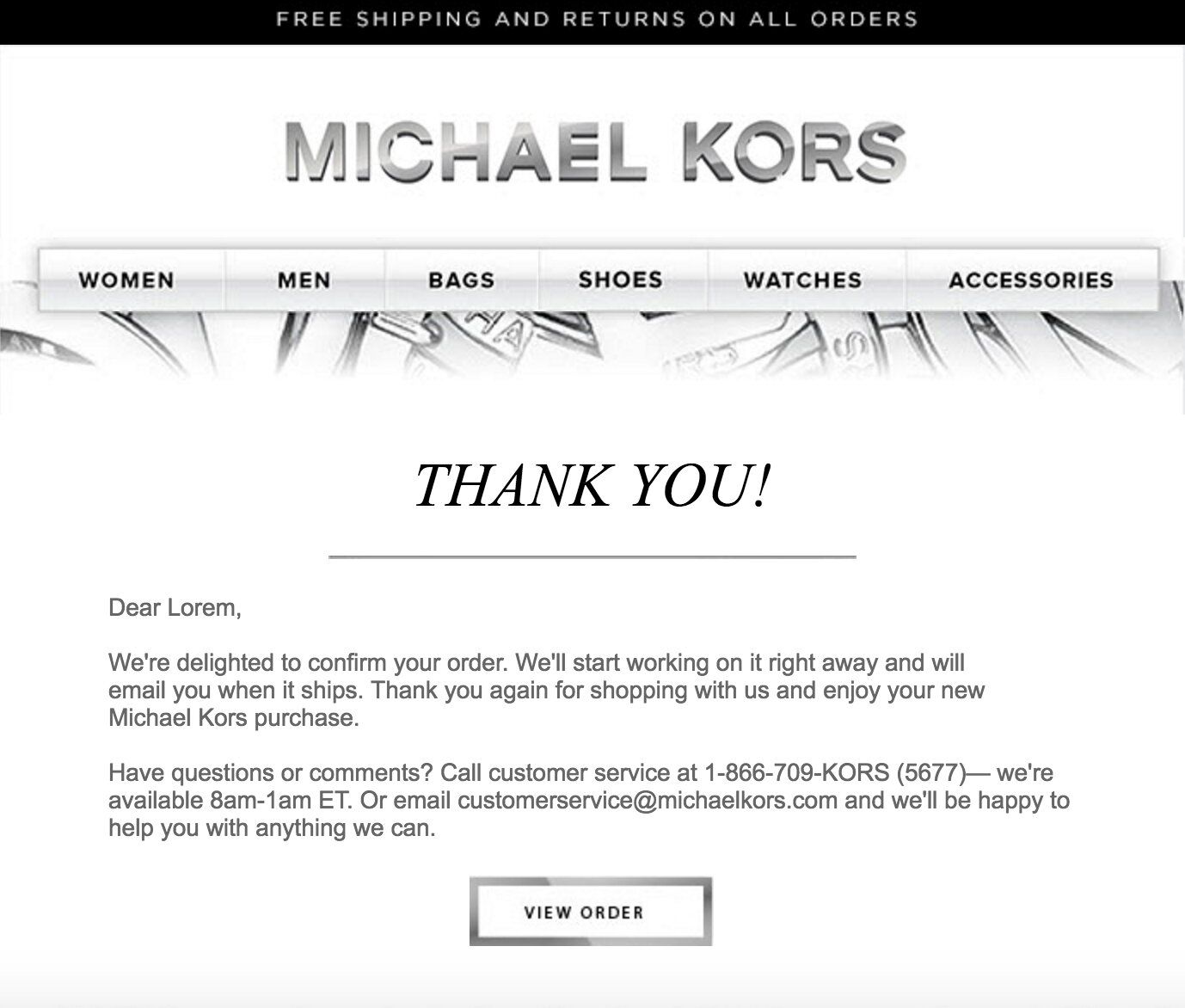 This email confirmation is a great example of focusing on customer experience.
The order confirmation email should reassure recipients that the brand is available at any time to answer their questions, so it can be helpful to include contact information (email address, contact link, phone number, etc.) .
This helps customers appreciate the relationship they create with the brand, increasing the chances of building loyalty.
Conclusion ‌‌
An order confirmation email can be transactional, but it doesn't have to be boring. There are many ways in which an order confirmation can lead to further engagement, increased interest, and most importantly, future purchase intent.
Now, with our new integration, you have the ability to make your order confirmation emails impressive to generate positive emotions, improve post purchase customer experience and encourage the customers to buy from your brand again.‌‌‌‌