The key to a smooth tracking app service is a simplest design and powerful features. It is out utmost priority to make order tracking easier for both customers and merchants. That's why we are focused on improving our app and developing new useful features.
And today, we are happy to announce the Trackr app update to be released. Now it's even more convenient to use with the new look and more advantageous features! Let's explore new Trackr improvements together!

Improved Design And Navigation Menu
In search of better navigation for Trackr users, our team has decided to move away from the single-page layout. Now you don't need to spend your valuable time scrolling to find a needed Trackr service. The navigation menu and multi page layout will make the process faster and much easier.
The new navigation menu consists of the following sections:
Dashboard contains a detailed analytics dashboard, where the current plan, a number of trackings used, quota consumption rate, total shipments, delivery days by destination and delivery days by couriers are shown.
Shipments tab displays the shipments management grid. Here you can monitor order status, find tracking number of the order, courier used and latest event.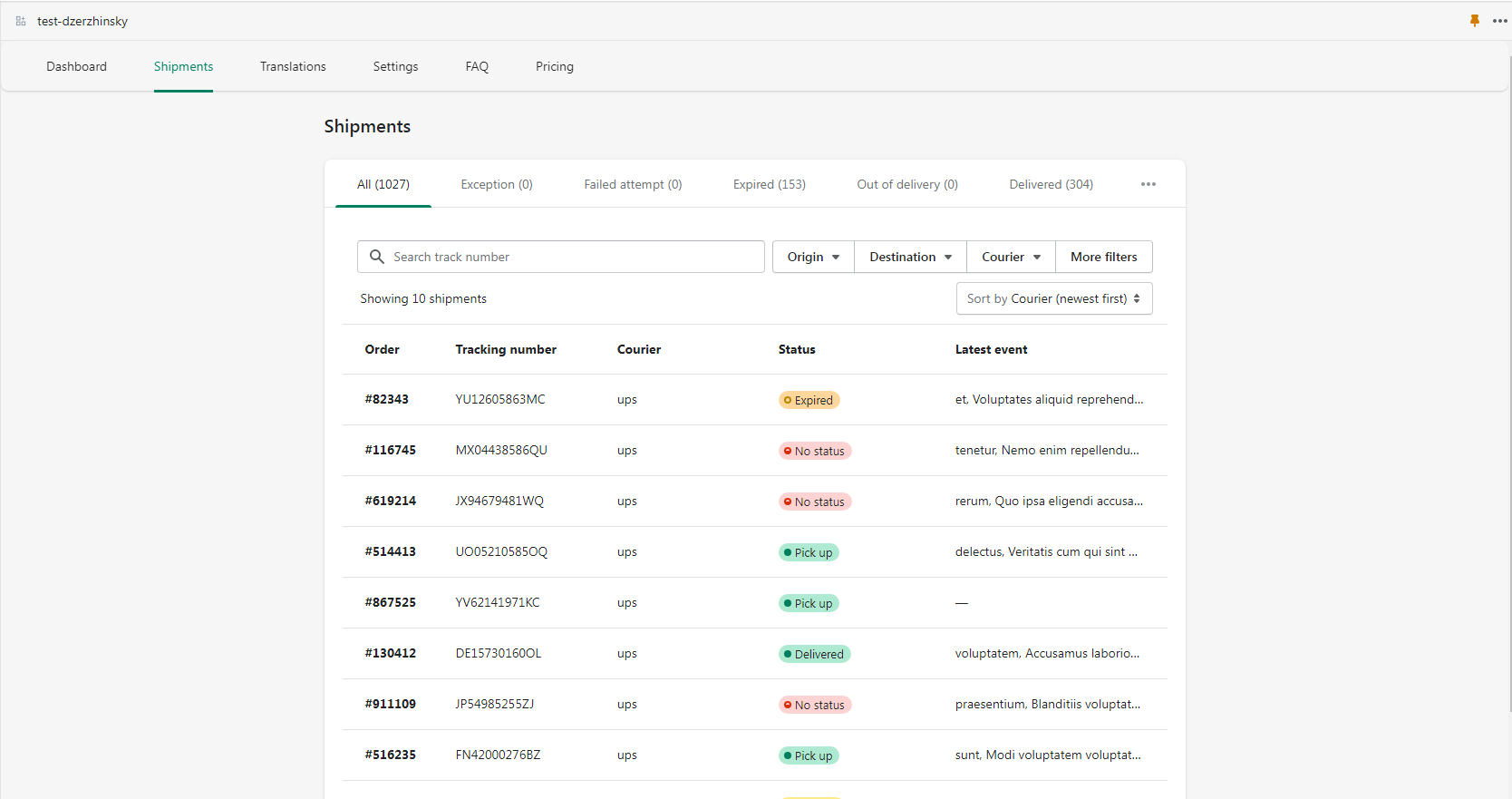 Translations service allows you to translate certain parts of the tracking page into a selected language. With the service you can show tracking search blocks, error and info messages, tracking status descriptions, delivery updates emails, etc. in the language your customer understands.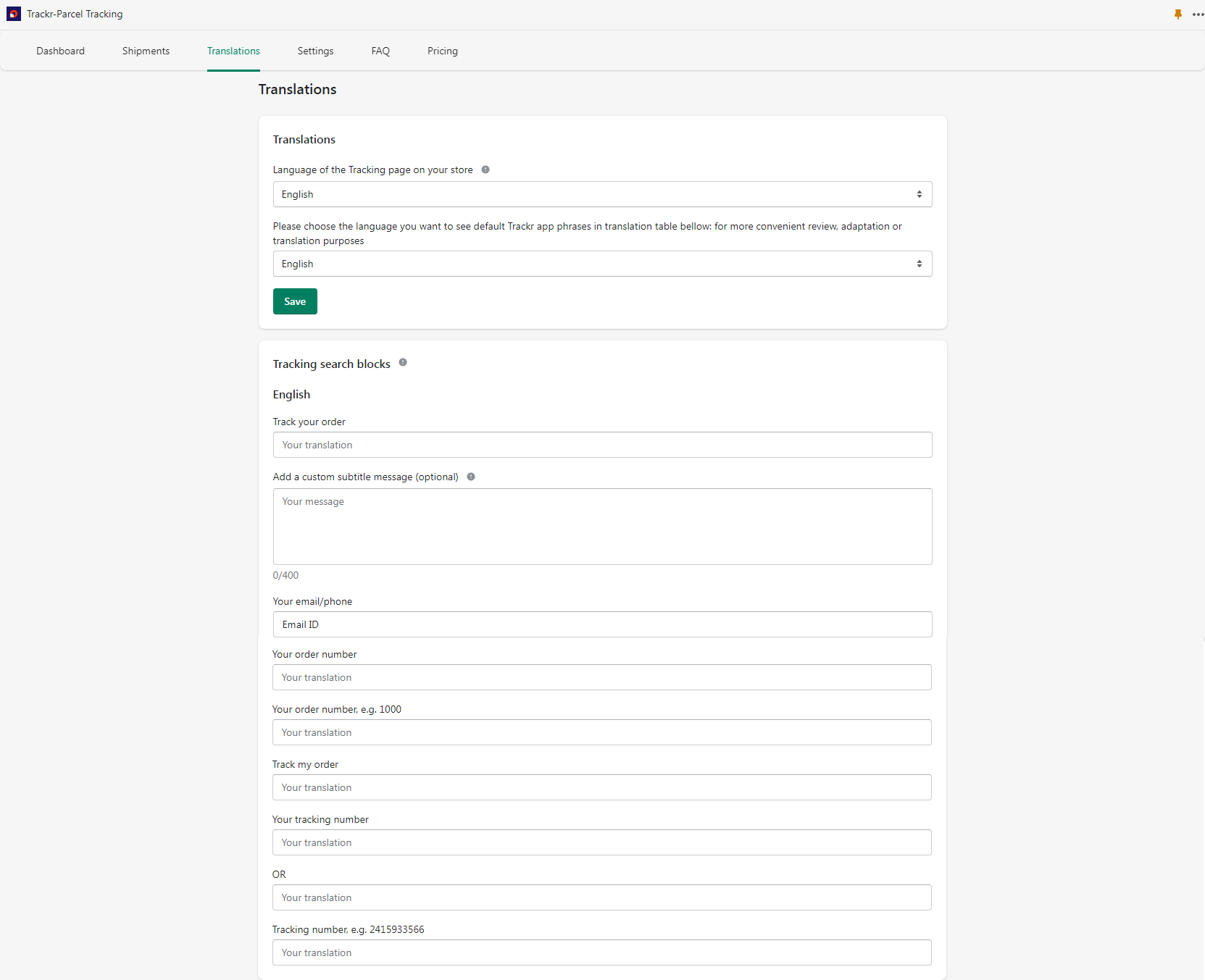 Settings is the tab you should use to make tracking page and/or email customization, hide dropshippers, update tracking links and order status, optimize the page for search engines, add product recommendations sections, etc.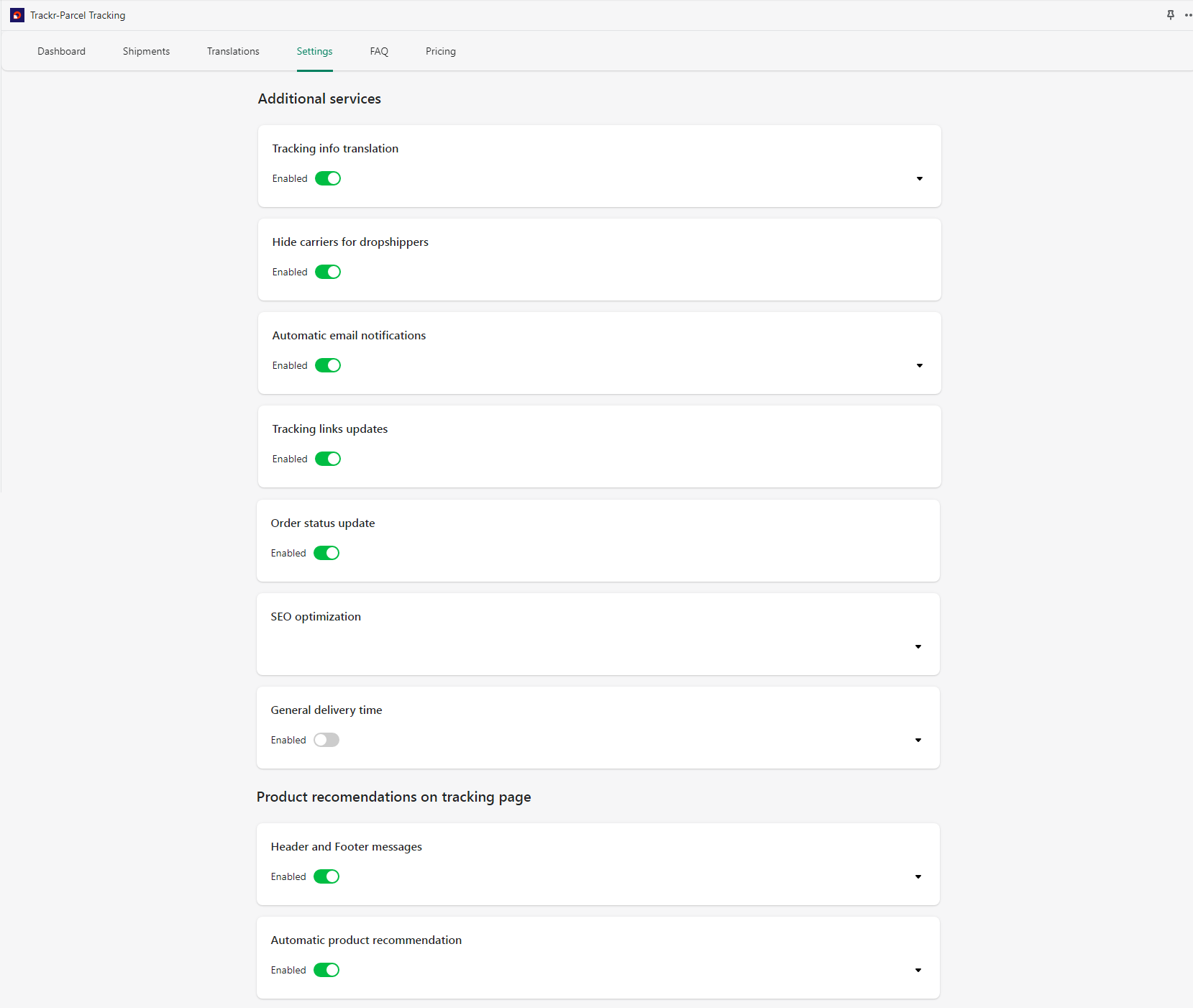 FAQ is the section where you can find the answers to your questions about the app. If you haven't managed to find what you've been searching for, feel free to contact our support team.
Pricing. Here you can find available plans, the next billing date and FAQ referred to pricing. You can also upgrade or downgrade your current plan here.
As you can see from the new navigation menu two new tabs appeared: analytics dashboard and shipments management grid. Let's look at them in more detail.

2. Analytics Dashboard
The real time analytics dashboard is the best way to gain all necessary insights without much effort from your side. The dashboard consists of 6 sections:
The Tracking section displays the number of tracking used and the available number of tracking for your plan. Here you can also enable auto top-up service, which is automatically activated when the limit of monthly plan trackings is reached and the balance is empty. This way your customers won't get faced with tracking issues even if the plan available trackings are over.
In the My plan section you can check your current plan, its price and the next billing cycle.
The Quota Consumption section displays the graph with the dates and number of total shipments of the store over the period of time.
The Total Shipment graph displays the rate of shipments related to different order statuses for the period of time. It allows merchants to determine the general shipments' performance.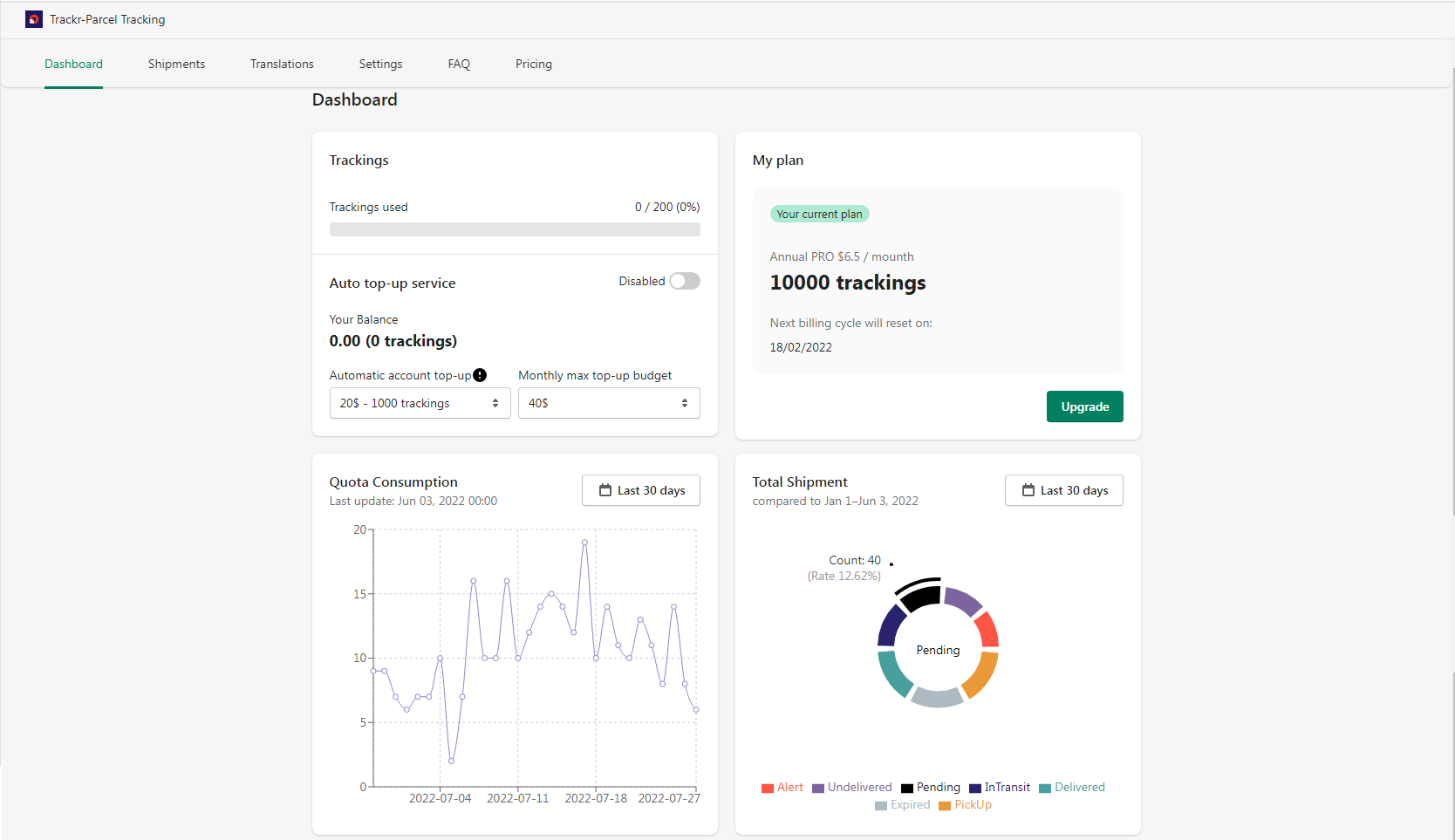 3. Shipments Management Grid
It can be difficult to manage your shipments especially if you use different couriers. Of course, you can track parcels the same way your customers do or contact the courier directly. But it's obvious that you do a double job if you ask for info from, let's say FedEx, to manage "My Shipments".
Now Trackr collects all the necessary data for you in the Shipments tab.
With this update you can easily find the order and appropriate tracking number if your customers have lost their parcels and provide them with the relative tracking information including courier, order status and the latest event - all within one grid. Also you can edit shipment details for each order.
With the tab you can identify failed and delayed shipments, find exceptions, determine best-performing courier and check destination. The advanced navigation allows Trackr users to filter shipments by origin, destination, couriers, statuses and dates.
Shipments management has never been easier!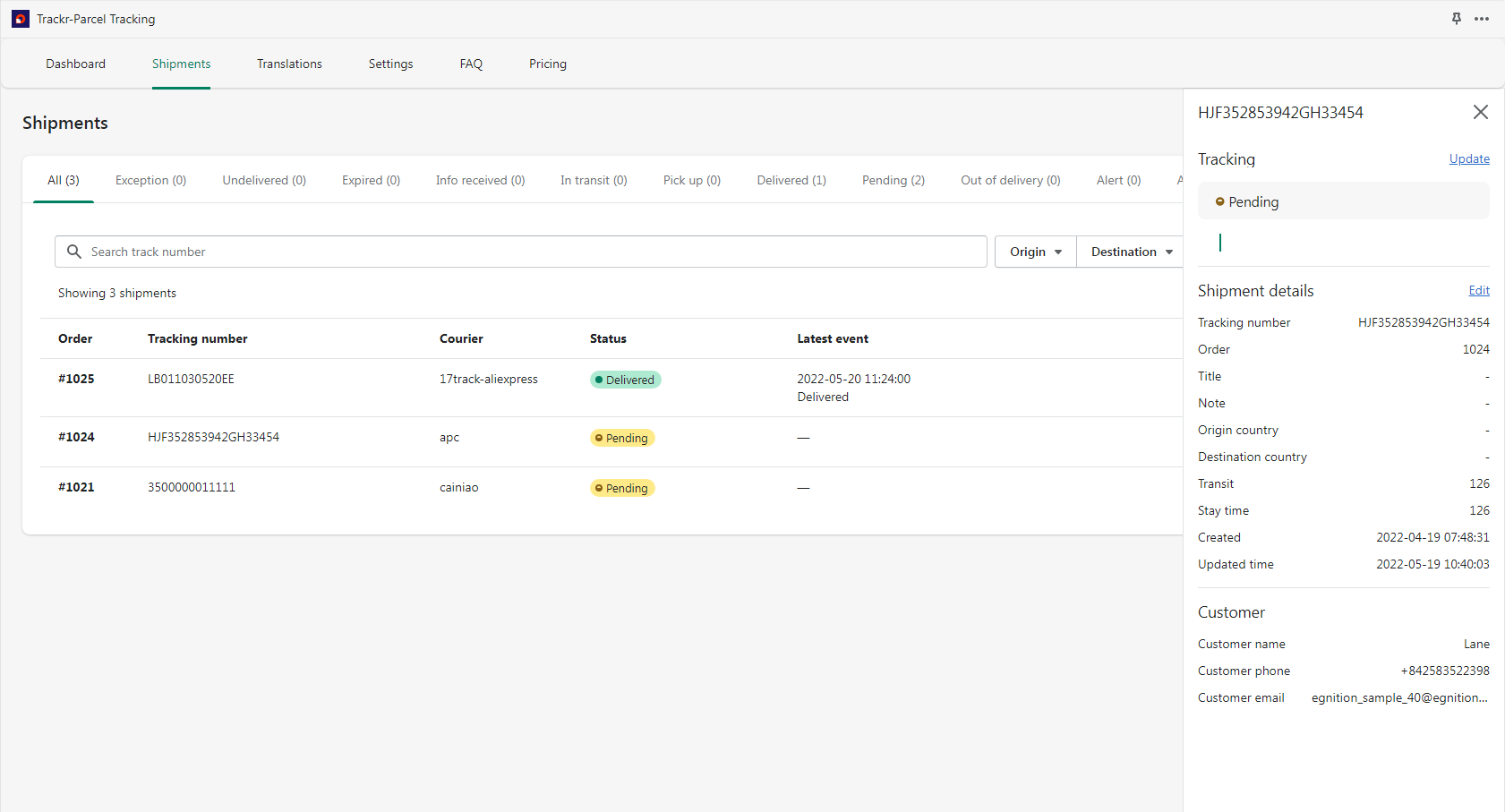 Conclusion
Although it's always difficult to get used to a new design, we hope it'll make the tracking service much easier and effective.
If you have any questions or want to learn more about new features and improvements, please, read our guide or contact the support team: support@parceltrackr.com!
Follow our social accounts to learn about the latest news and current events on time!
Your Trackr Team.