Starting an ecommerce business is more than just setting up a store and listing products. You have to study every aspect of the business and make sure everything is correct if you want your ecommerce store to grow in the right direction. And one of the important aspects here is ability to track the order for both retailer and customer.

As the world changes, the way people shop online is changing as well. The days of retailers using third-party websites to track sales and inventory information are over. Ever-increasing customer expectations require more and more options and ways to order tracking. Thus, there is a growing trend among ecommerce businesses towards app-based order tracking and management.

What benefits can you get from order tracking apps?
In Shopify order tracking, orders are monitored from the time the order is placed until it is delivered to the customer. Since order tracking apps are one of the most effective tools for real time shipping tracking, any ecommerce businesses can take advantage of the many benefits provided by Shopify order tracking apps.
Real-time updates help keep things running smoothly, as a business owner, you get up-to-date information about all orders, their location, status, etc. And no need to waste your time searching for these updates, since with the tracking app you can easily find all the necessary information on one page.
Improved communication with customers
Communication with the customers plays a crucial role in ensuring the success of any business. By using last-mile distribution monitoring tools, customers are sent continual updates of activities, as well as their order status allowing for direct contact before the parcel is shipped. This way, by ensuring customers a positive post-purchasing experience, you increase the rate of customer retention.
Ability to monitor your success
Another benefit of an order tracking app is the ability to track your progress. This increases business transparency as you get a clear idea of how each sector of your business is performing as well as overall mission productivity as reflected in analytics.
The benefits of order tracking apps are manifold, and they provide a much-needed boost to the ecommerce business. By involving such tracking apps into your current business structure your organization will get real-time inventory and order updates as well as efficient task management.
And today, we'll compare two well-known order tracking apps - Trackr and Tracktor,  to understand which one is the best for your Shopify store.

Trackr Vs. Tracktor
The benefits of using both apps are numerous: higher average order value, increased customer lifetime value, improved repeat purchase rate, and happier customers who will gladly buy whatever you have to offer.
Beyond that, there are some differences. Let's consider these apps' features.
Real-time package tracking.

Both apps have real-time package tracking features. Trackr and Tracktor support automatic order tracking by collecting data from more than 900 of different carriers to provide the customers with the most recent and detailed information about their order.
Email notifications.
Another same feature that both apps have. With the Trackr app customers will be able to get email notifications about their order main status changes: "Ordered", "In Transit", "Out for delivery", "Delivered".
Besides email notifications, Tracktor app also sends SMS notifications to the customers when their package is out for delivery or arrives at their doorstep.
Hide carriers feature.
Generally, the shipping details for your customers' orders may reveal information such as the origin country of the package. Unfortunately, there are many customers who refuse to buy products related to certain countries, such as China. Luckly,  both tracking apps offer the "Hide carriers" feature for dropshippers. This feature is used to hide the names and locations of all carriers as a part of delivery status information, while the package is in China. As soon as the order arrives at the destination country, all tracking information becomes available to the customer.
Custom branded tracking page.

Both apps have the ability to customize tracking pages by adding your shopify store color, logo, buttons and even fonts. You can also select the tracking information to display.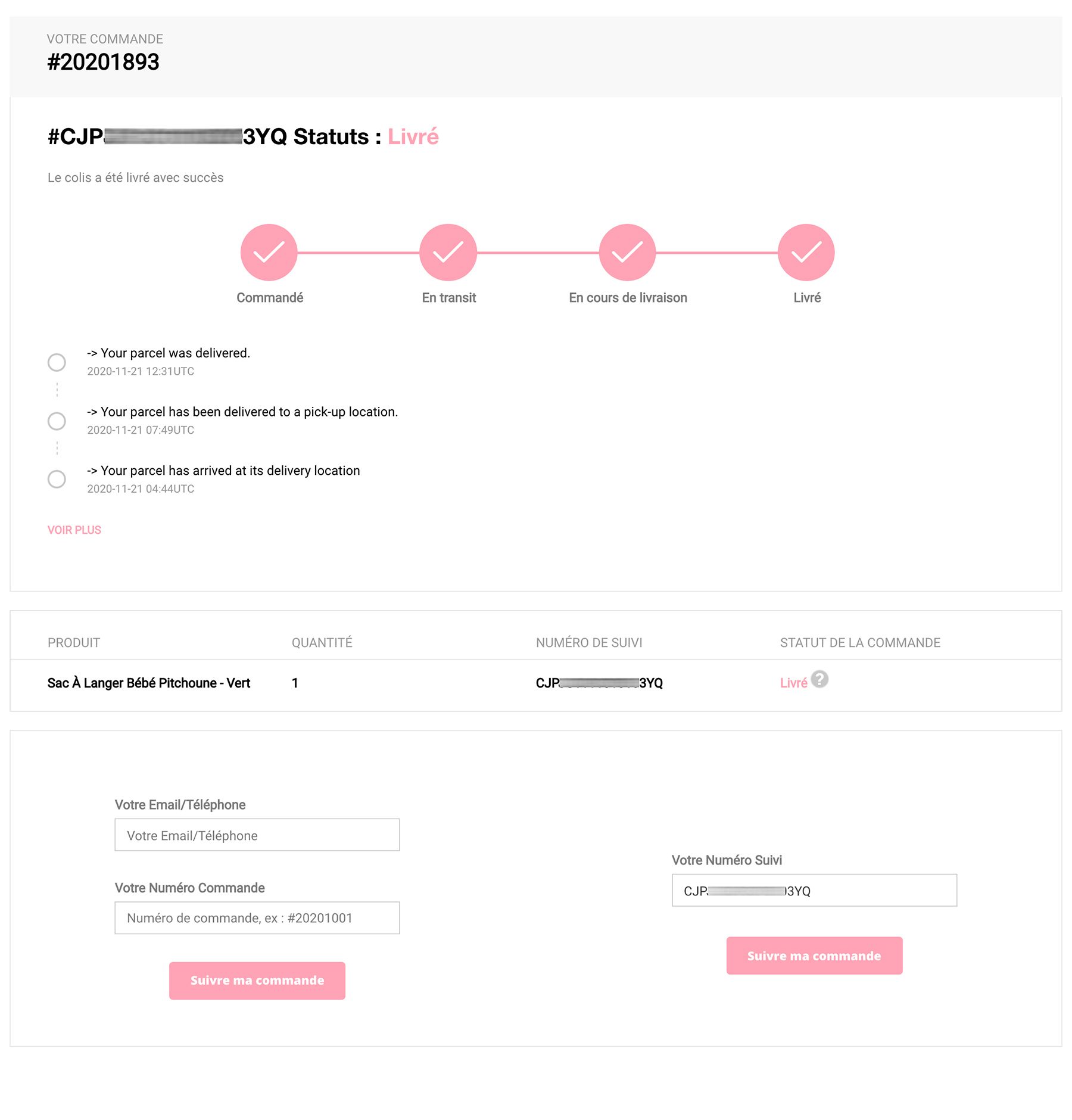 Tracking information translation.
Trackr and Tracktor allow tracking information translation service and provide your customers with order status updates using the language they understand.
Trackr translates the tracking information into English, Spanish, French or Italian, while Traktor offers a wider range of languages (English, Spain, French,  Italian, Portuguese and Dutch). This feature can be disabled for both apps if you would like to see the original tracking language.
Support.
Trackr support team is ready to provide you with all the help you need 24/7. Just let us know what difficulties you are facing and you will get a solution as soon as possible.
At the same time, the Tracktor support team is able to assist you Monday - Friday from 9am till 5 pm.
Upsell products in emails.
By using the Trackr app you have an additional marketing tool to increase your upselling and cross-selling. Due to shipping email notifications having one of the highest open rates, using product recommendation feature you have a great opportunity to increase your sales without additional marketing expenses.  
Analytics dashboard.
Real-time analytics dashboard in the Trackr app allows you to get all the information you need in just a few steps.

Here you can easily manage the number of tracking used and available as well as your current Trackr Plan. It also provides you with the analytics graphs that display the dates and total number of shipments of the store, as well as the rate of shipments related to different order statuses over the period of time.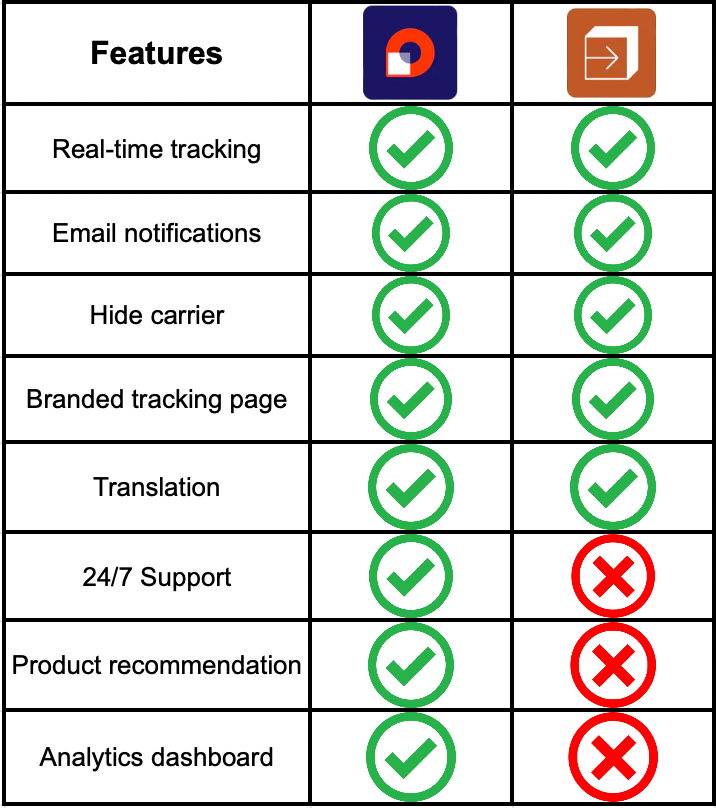 And now let's talk about the pricing.
Trackr offers 4 different types of plan + 15-day free trial for each plan:
$9/month for monthly plan;
$19/month for monthly PRO;
$4/month for annual ($48 one-time fee per year);
$6.50/month for annual PRO ($78 one-time fee per year).

You may review detailed Tracker pricing information here.
Tracktor offers 4 types on plan as well + 14-day free trial for each plan:
$9.99/month for hobby plan;
$36/month for professional plan;
$99/month for business plan;
249$/month for enterprise plan.

Bottom line
As you can see the apps have both similarities and differences. Both are excellent choices, and should be the perfect addition to your store. And based on the information above, you can choose the best option for your ecommerce business.