In May all the Shopify dropshipping businesses shuddered at the news: Oberlo, a popular app for products dropshipping, is shutting down. It made thousands of dropshippers feel lost and confused with no idea what to do next and how to save their business.
Now, when some time has passed and the panic has calmed down a bit, we can say that a good old competition does its job. The dropshippers haven't been left without an alternative and in this article we'll share a list of good dropshipping apps for Shopify. But first, let's pay a bit of our attention to the situation with Oberlo.

Oberlo App
Oberlo app is a popular Shopify app, which connects dropshipping stores with Aliexpress to sell products. The app allows users to import products from AliExpress to the website and customize the product pages - product titles, descriptions, images, etc. - manually. With Oberlo users get access to millions of products to start selling immediately.
In 2017 Shopify acquired Oberlo App and since that time the app became the favorite one among dropshippers. Right up until the shutdown announcement, Oberlo had 100,000 active users, that's why the Shopify decision to sunset the app was unexpected and shocking for dropshipping businesses.
In spite of the dropshippers discontent, on May 12th, 2022 Oberlo was delisted from the Shopify app store, and on June 30, 2022 the app stopped working - all users lost access and the app was uninstalled automatically. The reasons for Oberlo shutdown
Shopify gave a vague idea why they decided to discontinue Oberlo. In general, the official announcement points out that it's conditioned by the search for better solutions for Shopify merchants.
While Shopify didn't make the situation clearer for Oberlo users, the internet is full of different theories and rumors. Here are two main theories which make sense for us:
Shopify is focusing on other services
For the last year, Shopify chose other projects to invest in. Among these projects are Shopify Fulfillment Networks, the service focused on order fulfillment, returns and product storage, and Deliverr, a new acquisition which is predicted to become "end-to-end logistics platform to unlock fast and easy fulfillment for Shopify merchants" (Source: Shopify News).
2. It's too difficult to work with AliExpress
The fact that AliExpress had a limited API (and didn't provide it at all for many years) and Oberlo used to work with it via Chrome Extension, caused multiple issues and a constant necessity for maintenance.
Shopify seems to get away from the complicated work with AliExpress on fulfillment. Instead, it's going to focus on its own orders fulfillment, which will mean less dependence and increased revenue for the platform.

The impact on dropshipping businesses
We can't say that the sunsetting of the most popular Shopify app for products dropshipping passed without consequences. Mostly, because thousands of the dropshippers had to put all their efforts in finding a good alternative and the possibility for data migration. And even though a lot of Oberlo alternatives acted quickly and provided quick migration tools, some dropshippers are still feeling the effects of Oberlo shutdown.
However, Shopify did care about the Oberlo users by suggesting DSers, an alternative to the app. It doesn't mean all Oberlo users must migrate all their data there, but it's one of the possible options. So if you are in search of a good dropshipping app comparable in functionality with Oberlo, you may try the below alternatives collected by our team.
Oberlo alternatives on Shopify
DSers
Description: DSers, suggested by Shopify, is one of the best dropshipping alternatives to Oberlo. It allows merchants to connect stores with AliExpress accounts. The app gives access to thousands of products, bulk orders support, product import and editing features, suppliers management, etc.
Key features: no limit to the number of orders, easy product search and import, access to special suppliers, multiple Shopify stores management, bundles and BOGO offers, cashback for orders, etc.
Rating: 4.9
Price: Free plan is available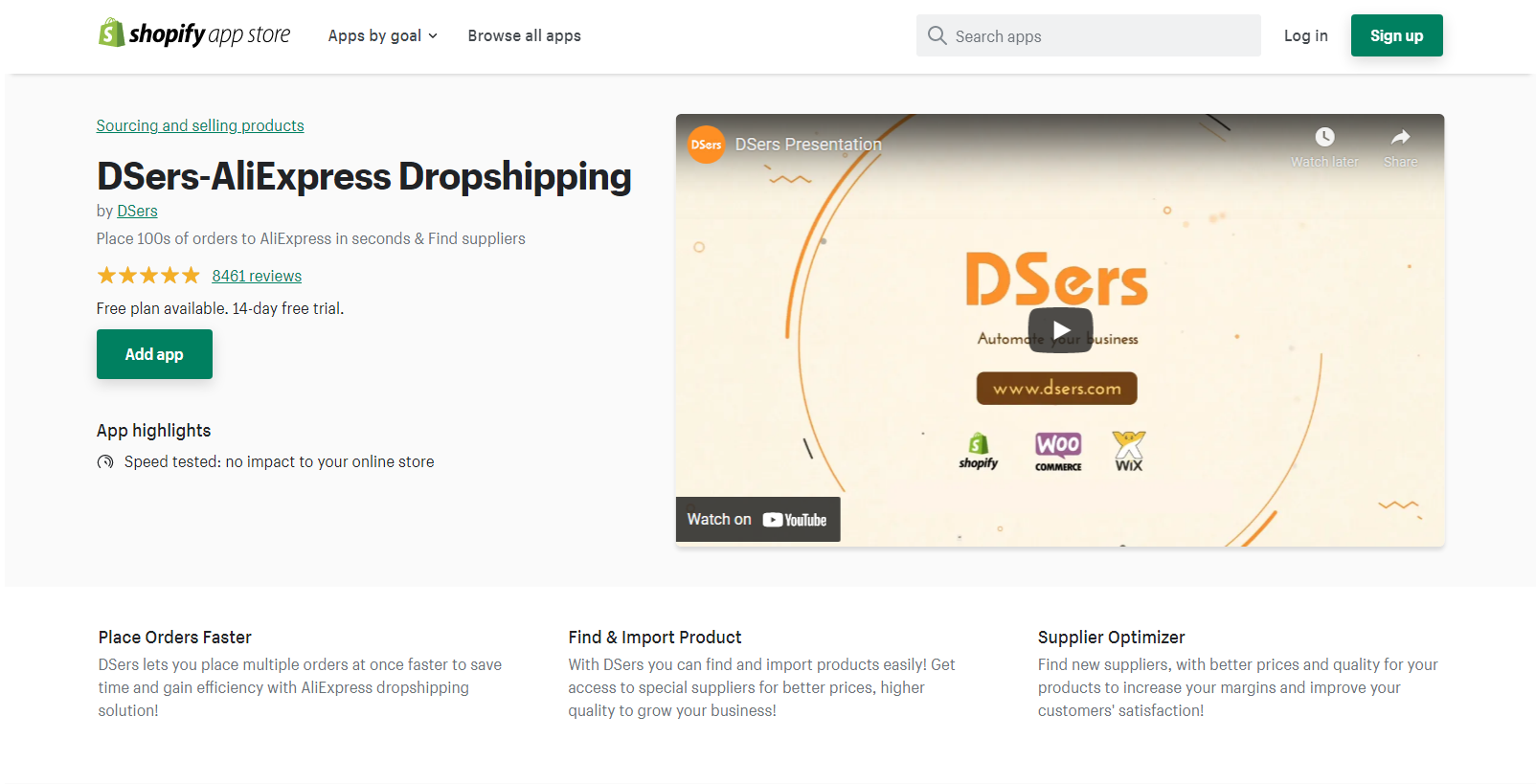 2. Dropshipping + Channel Selling
Description: The app integrates with AliExpress, eBay and Alibaba. It also gives access to thousands of products, import and edit products features, quick order fulfillment, etc. Dropshipping + Channel Selling is also used as a channels management tool, as it gives a platform for selling on eBay, Google Shopping, Facebook marketplace, etc.
Key features: automatic order fulfillment, products DFY sourcing, channel management, product import, inbuilt editor, print on demand supplements, bundles and BOGO offers, cashback, etc.
Rating: 4.6
Price: Free plan is available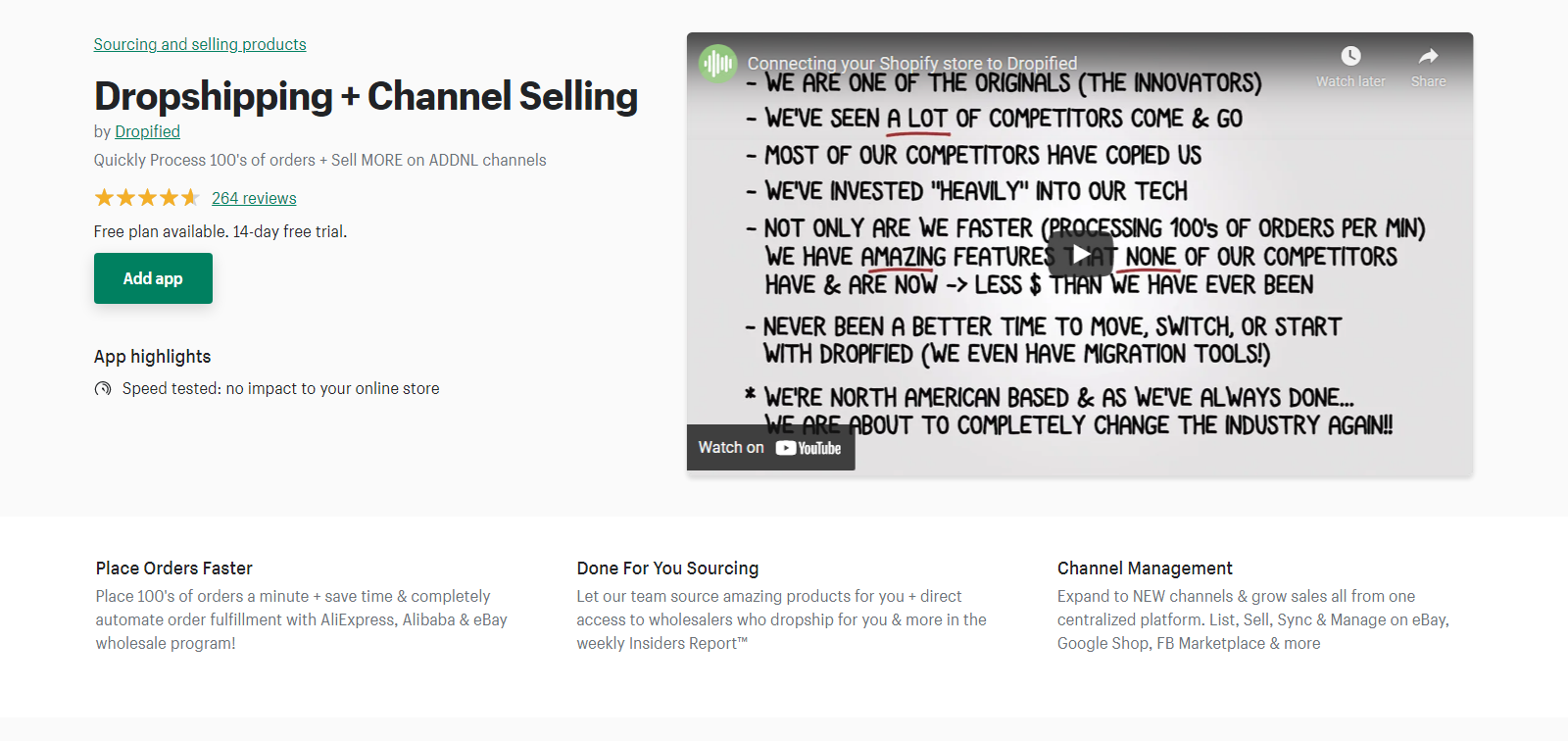 3. DSM: Global Dropshipping
Description: The app allows users to import products from AliExpress to Shopify and fulfill the order with 7-15 day shipment. It also allows users to edit and customize the title, description, variants & pictures before importing products, making your store look perfectly well immediately.
Key features: product sourcing, products import in bulk, automated order fulfillment, shipping service, label and packaging service, quality inspection, import and product editing, syncing and update, etc.
Rating: 4.9
Price: Free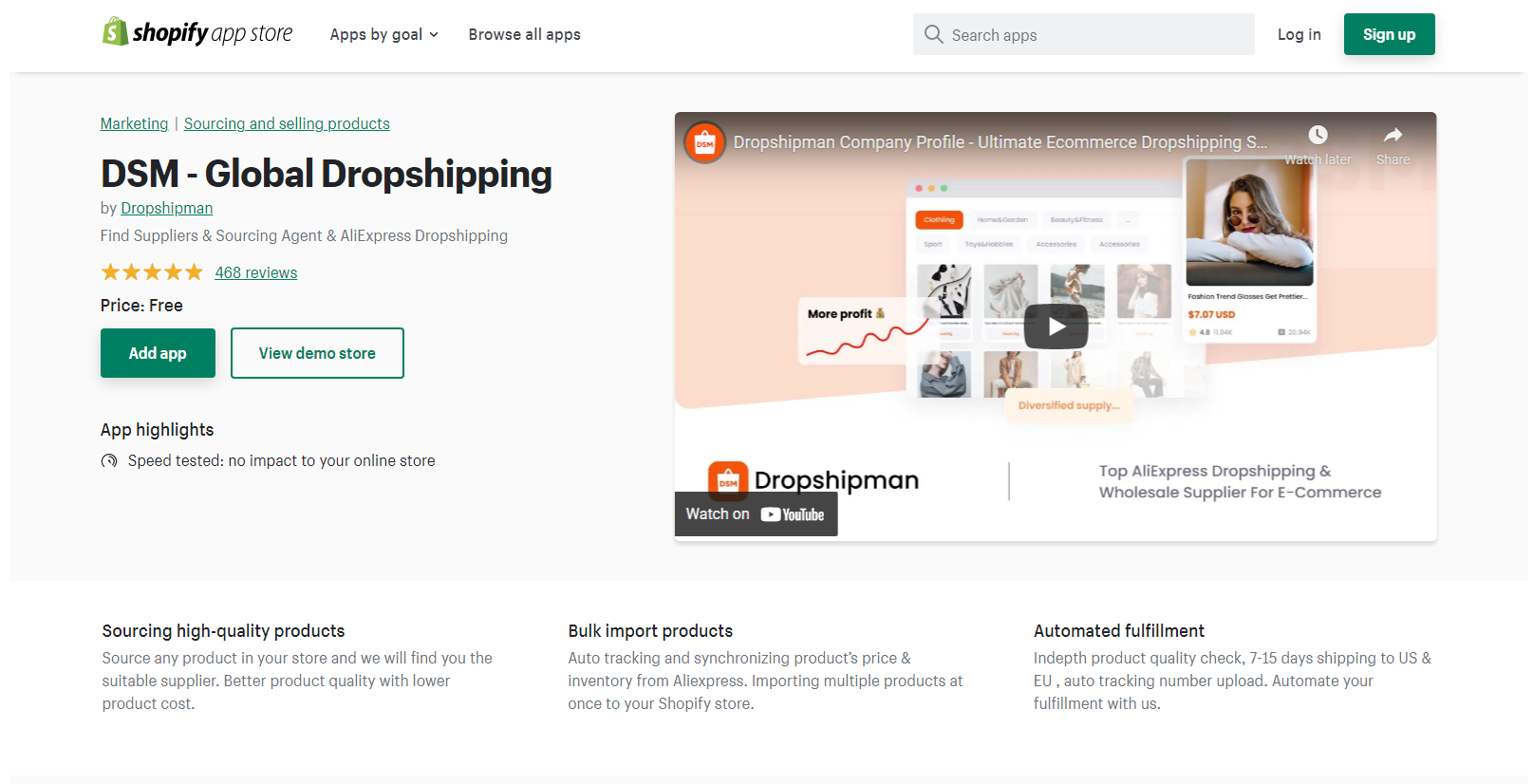 4. AliExpress Dropshipping & More
Description: Gives access to the list of supplier sites, such as Aliexpress, Alibaba, Amazon, Bonanza, Ebay, Target, Walmart, etc. The easy order fulfillment and daily updates of the imported products prices make the app one of the best alternatives for Oberlo.
Key features: search and import, automated order fulfillment, daily product info and inventory updates, automated pricing, Chrome extension, realtime free shipping details, etc.
Rating: 4.5
Price: Free plan is available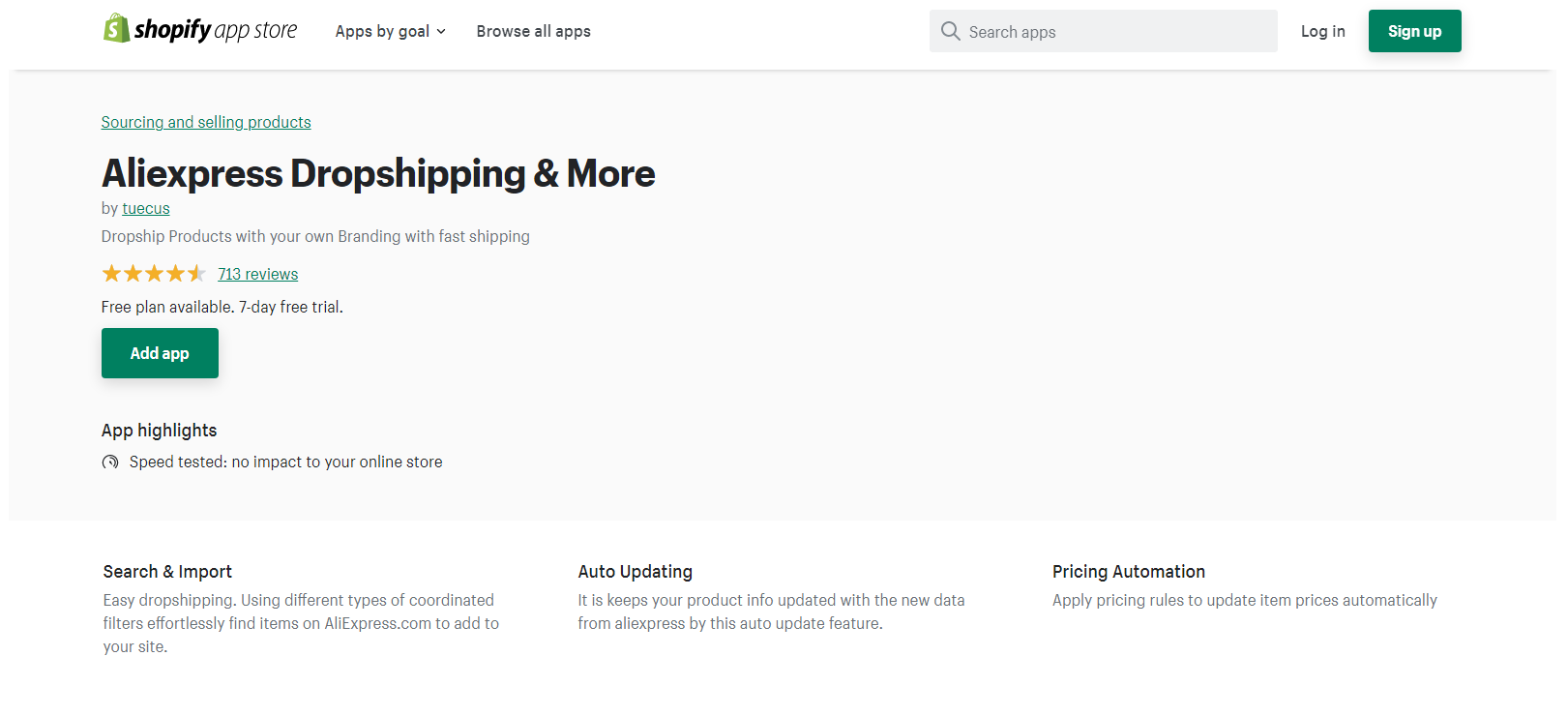 5. Spocket
Description: The app suits your needs if you're looking for suppliers from US, Europe, Canada, Asia, Australia or Brazil, which also means fast shipping and quality products. The discounted prices for retailers will make your business more competitive on the market.
Key features: fast shipping, EU and US suppliers, access to AliExpress products, discount on the retail price, automatic inventory updates, quick order fulfillment, sample orders, branded invoicing, etc.
Rating: 4.6
Price: Free plan is available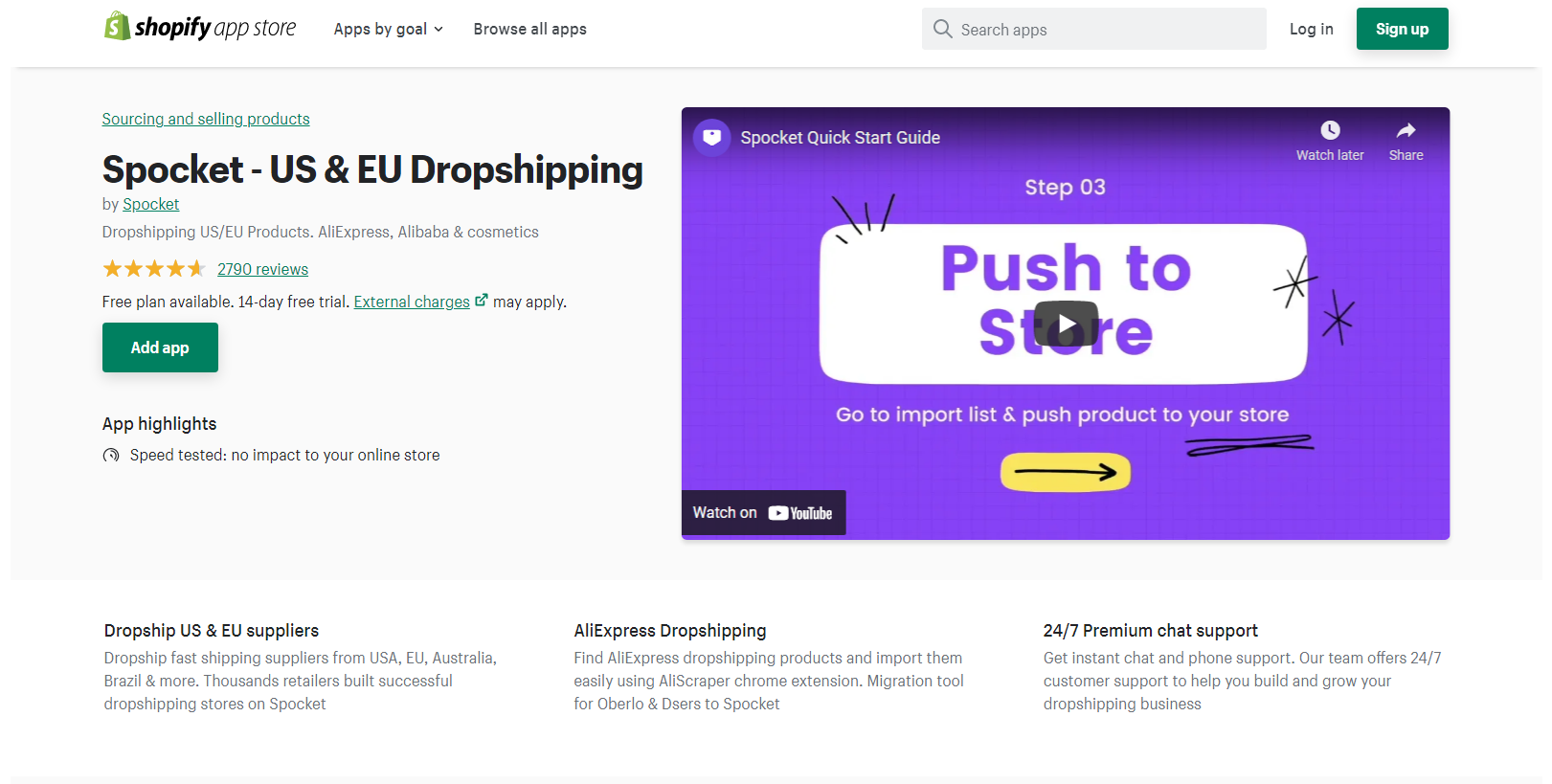 Winding up
Although Oberlo shutdown causes much inconvenience for thousands of Shopify dropshippers, there are still a lot of good alternatives to suit your wants and needs. Almost all the mentioned above apps support worldwide shipping and set no restriction on delivery location.
However, the shipping can take time, which increases chances to raise questions about parcel current location and status. For it, we recommend you try out Trackr, a powerful solution to provide your customers with tracking updates from more than 900 couriers around the world. For dropshipping businesses, there's a "Hide carrier" feature, which allows Trackr users to hide all the carriers' names and locations from delivery status information, while the package is in China. All the parcel information becomes available only when it arrives in the destination country.
Trackr can become a good addition to your new dropshipping app. Find more useful apps for your dropshipping business in our 10 Best Shopify Apps for Dropshipping blog post.