E-commerce is all about the customer. Satisfied customers mean more sales and more revenue for the business. Therefore, providing excellent customer service is essential. According to statistics, 89% of customers are more likely to make another purchase from an online store if they have a positive customer service experience. Order tracking is a key part of customer service, so it's important to make it quick and easy for customers to track their orders online.
What is order tracking in eCommerce?
Order tracking is an eCommerce feature which allows customers to monitor where their parcel is at the moment, check its status and learn an estimated delivery date. This feature is a must-have for any successful eCommerce business in 2022, as customers now expect to get relevant information about their parcel in real time and check the parcel location via tracking number online.
At last no one can guarantee that delivery will pass without force majeure. A good universal parcel tracking system can reduce post-purchase anxiety and prevent dissonance progression. It's a good way to save your support team time and build trusting relationships with your customers.
The reasons for offering order tracking
There are several benefits an order tracking system can bring to your eCommerce business, so you should consider implementing it if you want to improve your service and enhance customer satisfaction.
#1 - Parcel tracking saves money
Have you ever thought about how much money you waste explaining to customers where their order is now? I'm pretty sure your support team already has enough tickets to reassure customers and help them in different kinds of challenges faced.
So if you have a universal parcel tracking system, you can spend the money not on a new support agent but on something more profitable and cash-making. Once implemented, tracking information can be easily found on your website or sent automatically to customers' emails in their native language.
#2 - Meets customer expectations
As mentioned above, customers expect to get all relative information about their purchase delivery. By meeting these expectations, you get more satisfied customers, who may leave a positive review and keep purchasing from your online store later on. At last, we all know, the better service you provide, the more chances for customer retention you have.
The controversial situation is when you don't know where the customer parcel is and suggest they wait until it comes. It will bring nothing but annoyed shoppers who have lost their trust in your brand and may never get back.
#3 - Contributes to better brand reputation
World-known brands usually get their reputation by good products and highest quality service. Millions of dollars are spent every year to improve it, as it is an important ingredient of success.
To understand the standards of after-purchase service, you can simply look at world-known brands and adjust a similar system to your online store. For example, Zara offers order tracking via the Purchases section and sends updates via email. eBay, in their turn, leaves it for sellers to upload tracking information, so customers can track their parcel. However, they point out that sellers should consider using tracking tools to improve the service and increase customer satisfaction.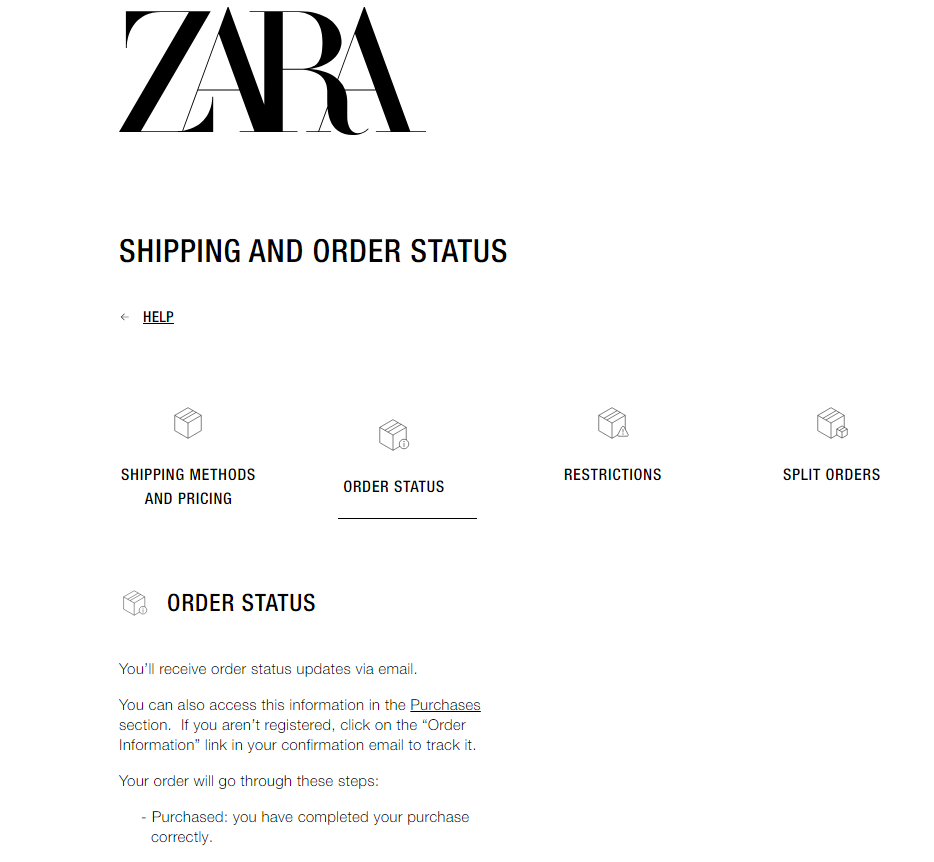 #4 - You get more control over order fulfillment
The well-arranged purchasing process, from the very start when you only try to win a customer to the very end, when the purchase is delivered, the customer is satisfied and is going to repeat this experience, can help you avoid serious issues and win more sales. That's why you should take part and be confident in every purchasing step.
Universal parcel tracking helps merchants to provide only proven information about the purchase and solve any queries without losses. It helps to minimize lost parcels, decrease disputes and improve customer support service. It's the easiest way to increase customer LTV and drive more sales to your store.
Quick way to enable order tracking on your Shopify store
If you want to offer a quick and reliable parcel status and location online check via tracking number, you can try Parcel Trackr, a powerful Shopify app to share up-to-date tracking information with customers. With the app, you can create a tracking page matching your website design. Trackr will collect the latest information from 900 different carriers and provide it to customers via tracking page or/and email notifications. Besides, with the app, you can show estimated delivery time on the tracking page and hide carriers for dropshippers if needed.
Let's see in more detail how you can enable universal parcel tracking with Trackr.
Let's get started…
Step 1: Open Trackr in Shopify admin and choose a plan according to your preferences. Here you can also enable automatic top-up service and set max top-up budget. This service is activated automatically to allow further tracking when the available trackings according to your current plan are over. If you don't want this service, skip it.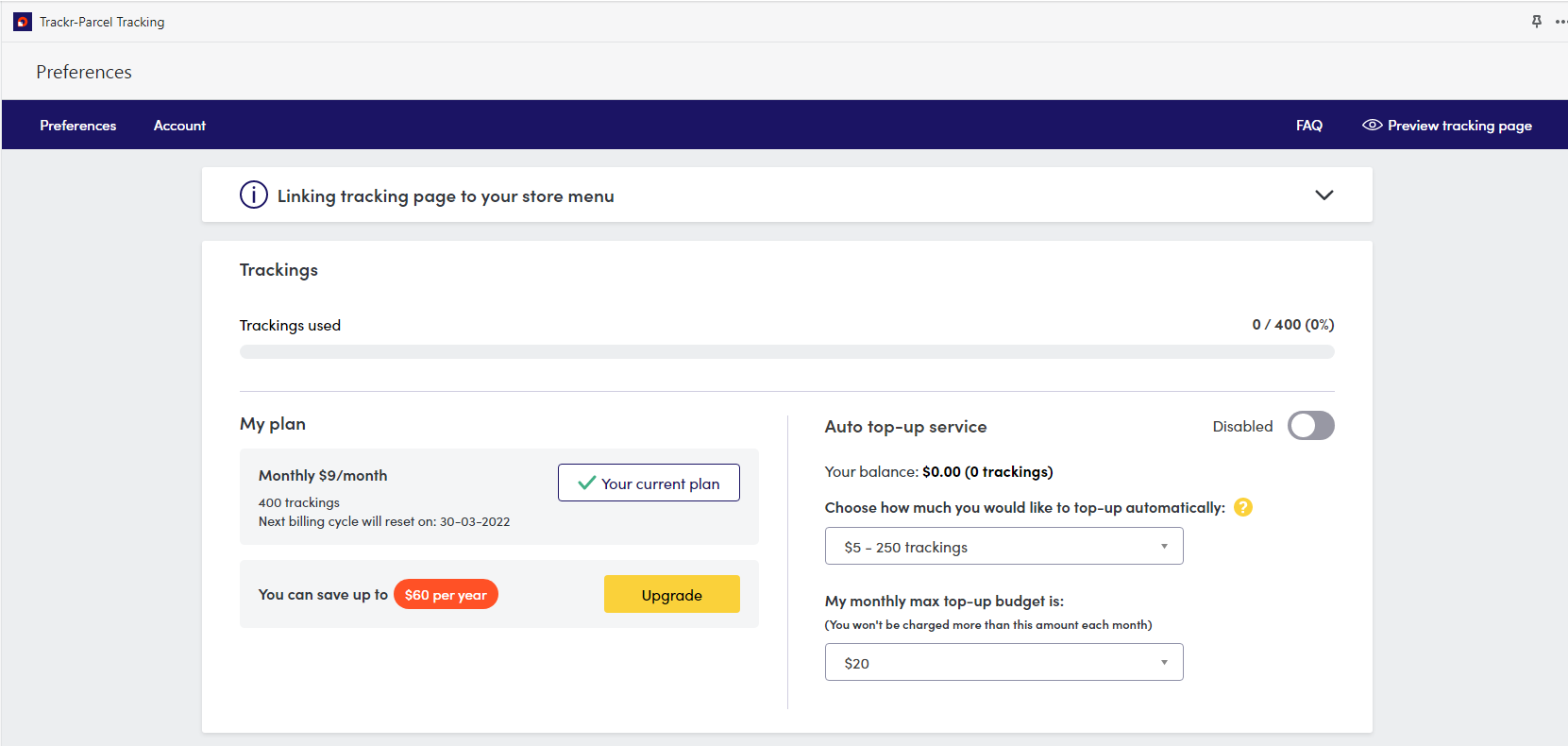 Step 2: Customize your tracking page. You can adjust a tracking page to suit your website design. For it, fill in the following fields:
Tracking info search blocks - here you can define what info customers will need to have access to tracking information:
By choosing Email/Tel.no + Order ID and Tracking number you give customers to choose the preferred way to track orders. They can track parcels by typing their email or telephone number and order ID. And the second option is to check order status online via tracking number. It's also possible to separate the block options with "OR" by enabling it with the toggle below.
You can also allow only one option: either via Email / Telephone number and Order ID or via Tracking number.
2. In the main elements color section you can define colors of the elements on your tracking page to perfectly suit your website design.
3. Next define Shop theme background color: if set default it'll be transparent, or you can choose a custom option and add your main theme color.
4. You can also define Titles color, Other texts color, Buttons text color, Color of input placeholders.
5. Set padding and add Seller Message if needed (it will be displayed at the bottom of the tracking page).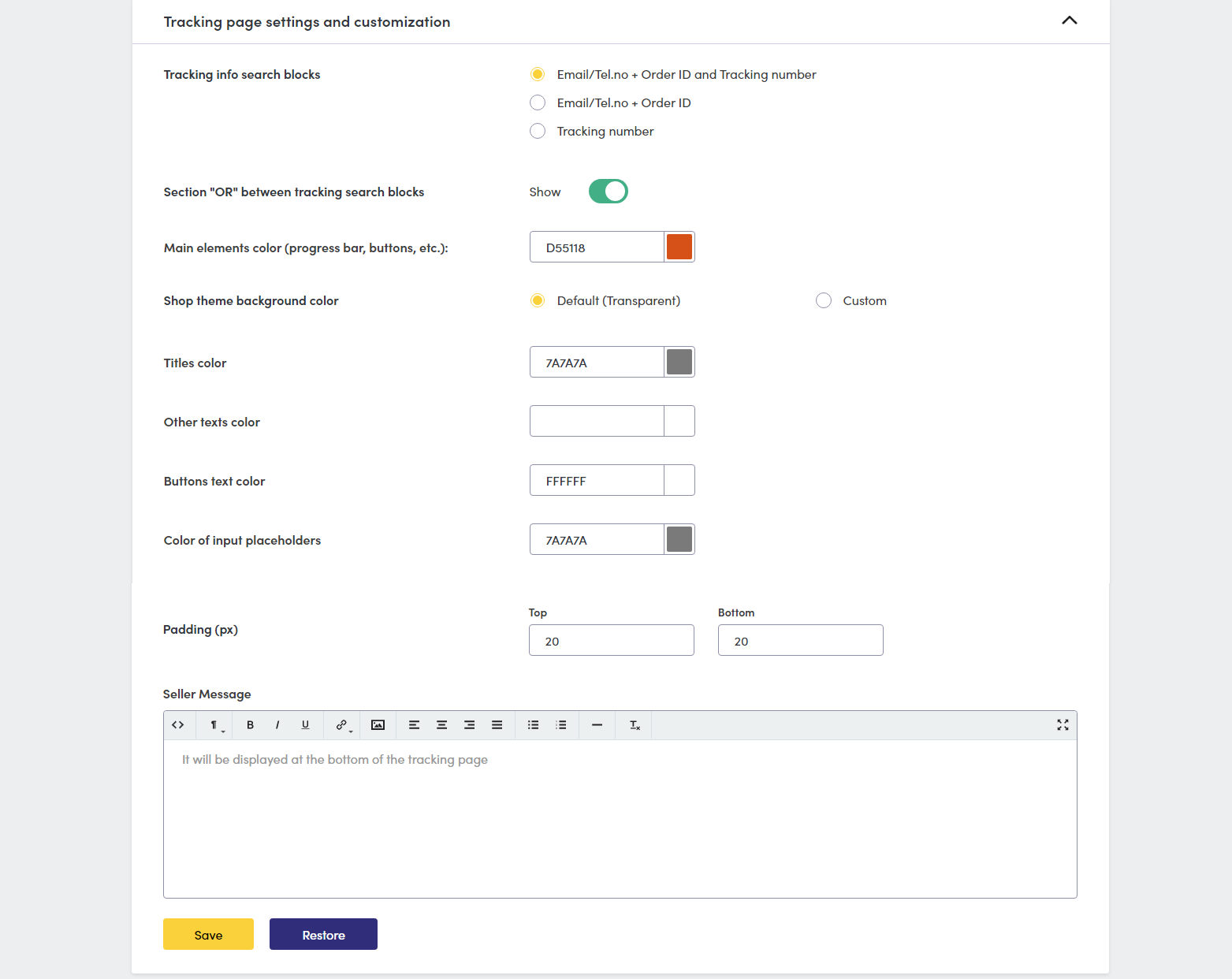 Step 3: Choose wanted additional services. Enable additional services to make your tracking page even more flexible:
Tracking info translation - you can allow customers to choose the preferred language and translate tracking checkpoints into English, French, Spanish, Italian and German.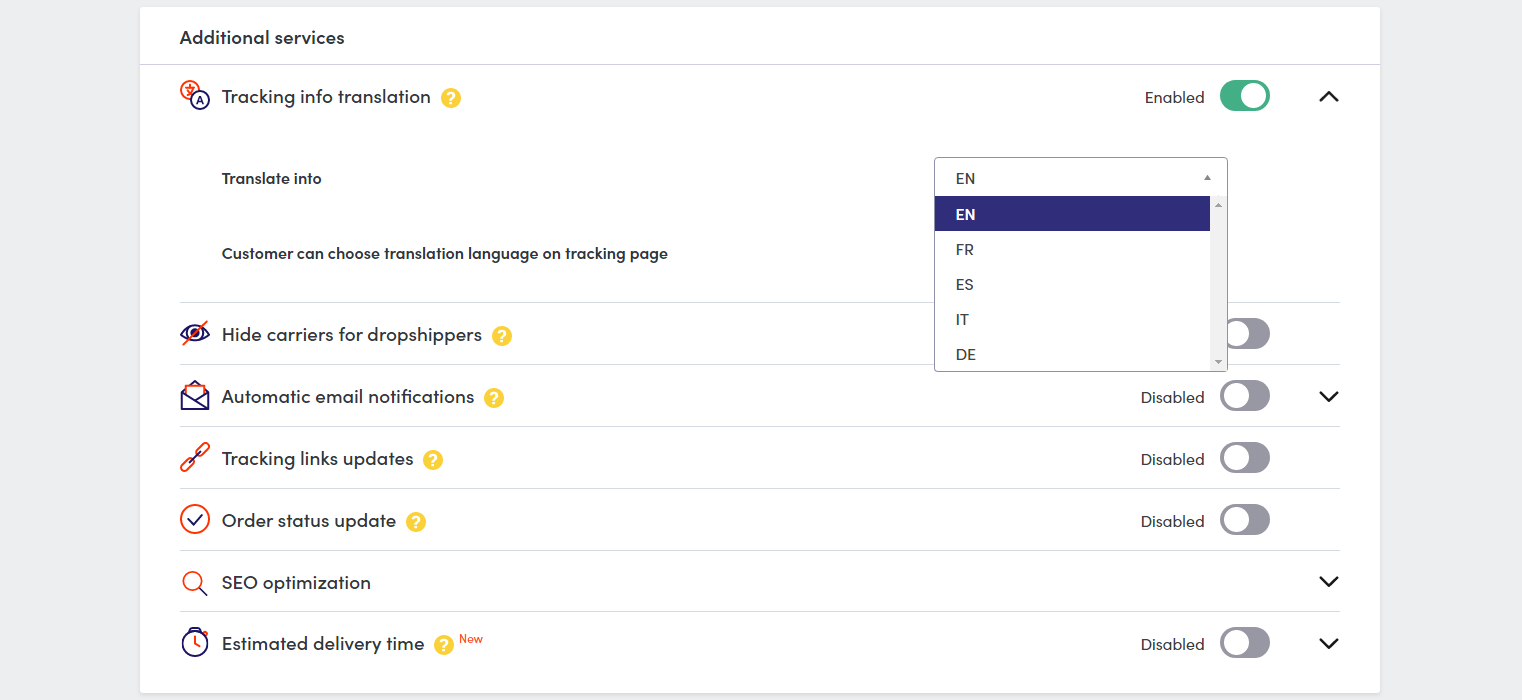 2. The Hide carriers for dropshippers option when enabled allows to hide carriers names and parcel locations when it is in China. The delivery info will become available when the package is in the destination country.
3. Automatic email notifications - by enabling this service, automatic shipment updates will be sent automatically via email to all the customers regardless of whether they opt in for notifications or not. Accordingly, merchants should take into consideration that each fulfilled order will be tracked and calculate the wanted trackings accurately.
In this section you can also customize the look and feel of your email notifications, set the status changes to trigger emails, define sender name and receiver address, add logo, choose colors, write message, etc.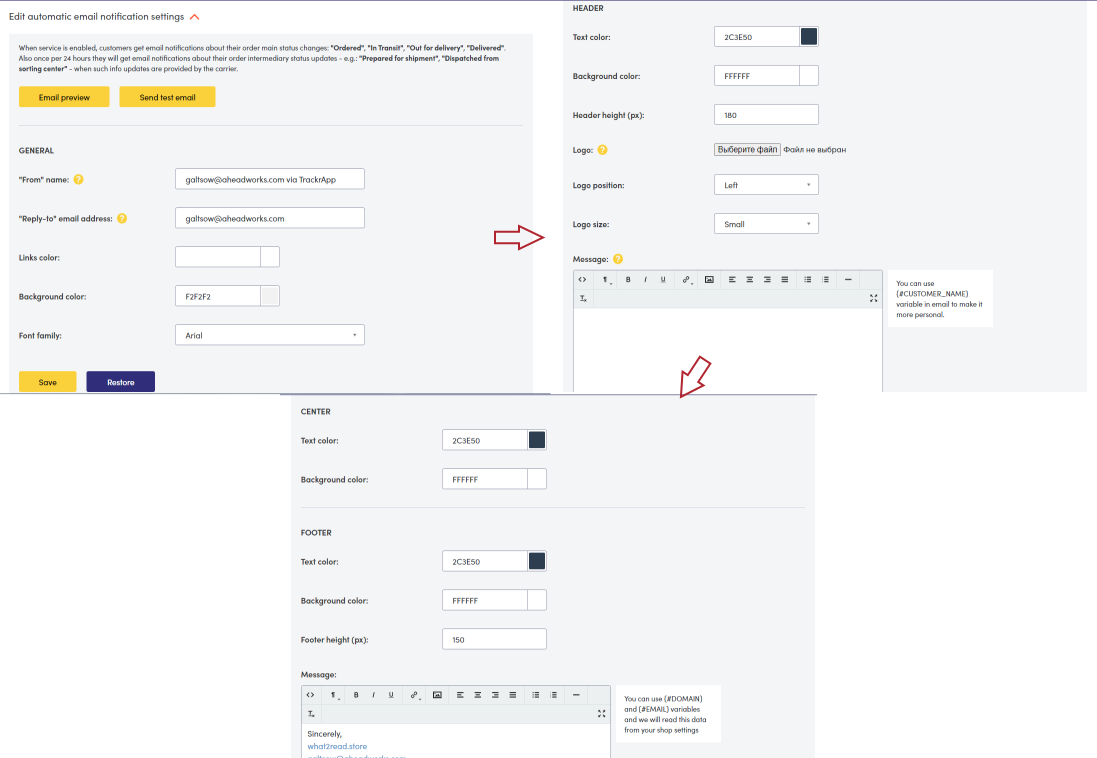 4. Tracking links updates service launches automatic updates of tracking URLs of newly fulfilled orders with the Trackr app links on the tracking page, Shopify Out of delivery and Delivered email notifications.

5. The order status update service updates the status of the parcel to Delivered automatically, when it is delivered to the customer.
6. Then you can optimize your tracking page for search engines by adding meta title and meta description to it. This way you'll drive more traffic to your website and improve its ranking.
7. Next feature enables displaying Estimated delivery time to customers, so that customers could have accurate expectations and include package delivery in their plan for the day.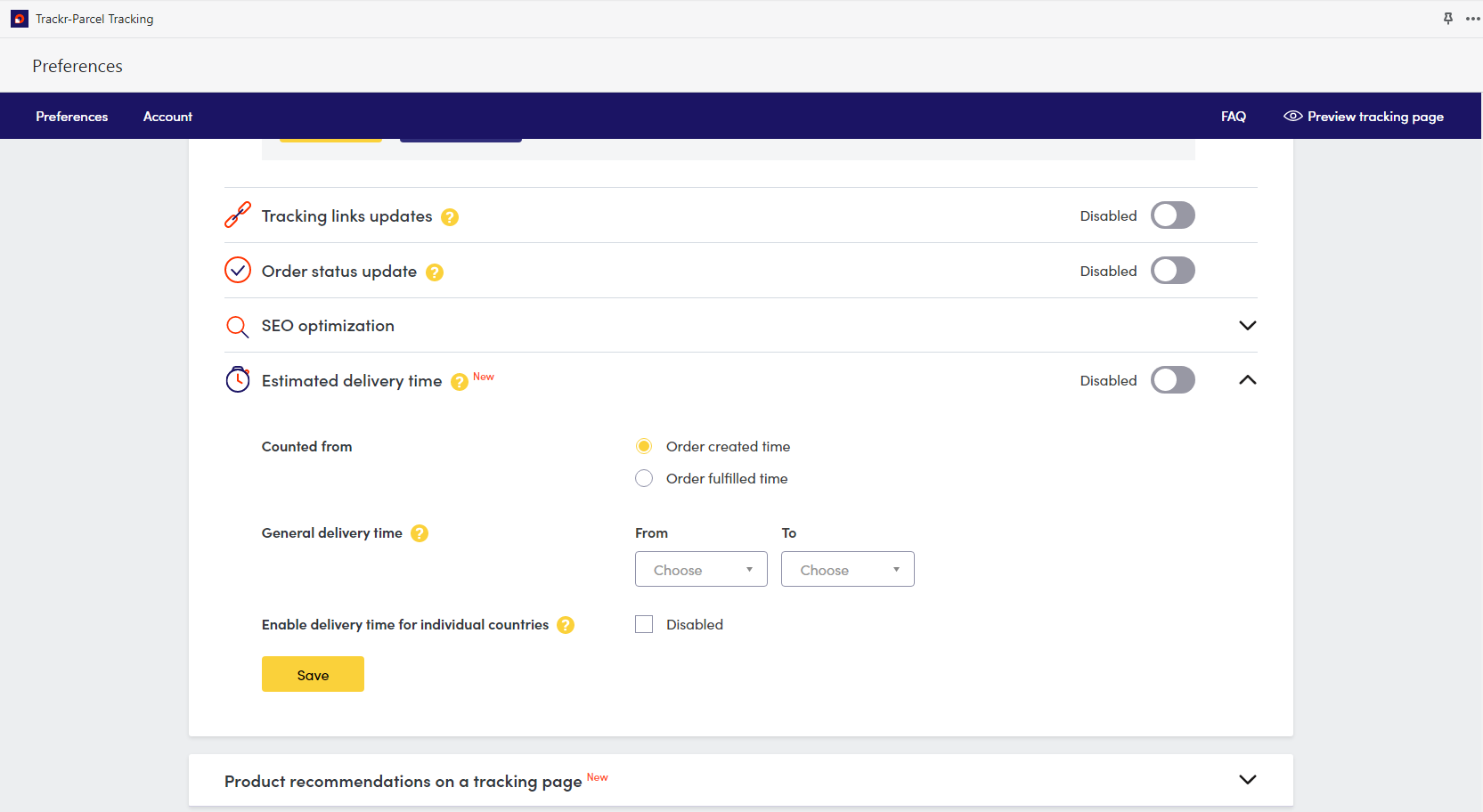 Step 4: Allow product recommendation on tracking page if needed. The tracking page can become a good place for product promotions, so you can add a recommendation block here.
Set customizable header and footer messages, define the background color and add a link. Or you can add an automatic product recommendation block, define the collection of products, choose the location on the page, customize font color, size, and styles, etc.
Monitor tracking page performance with Google Analytics by enabling the relevant service.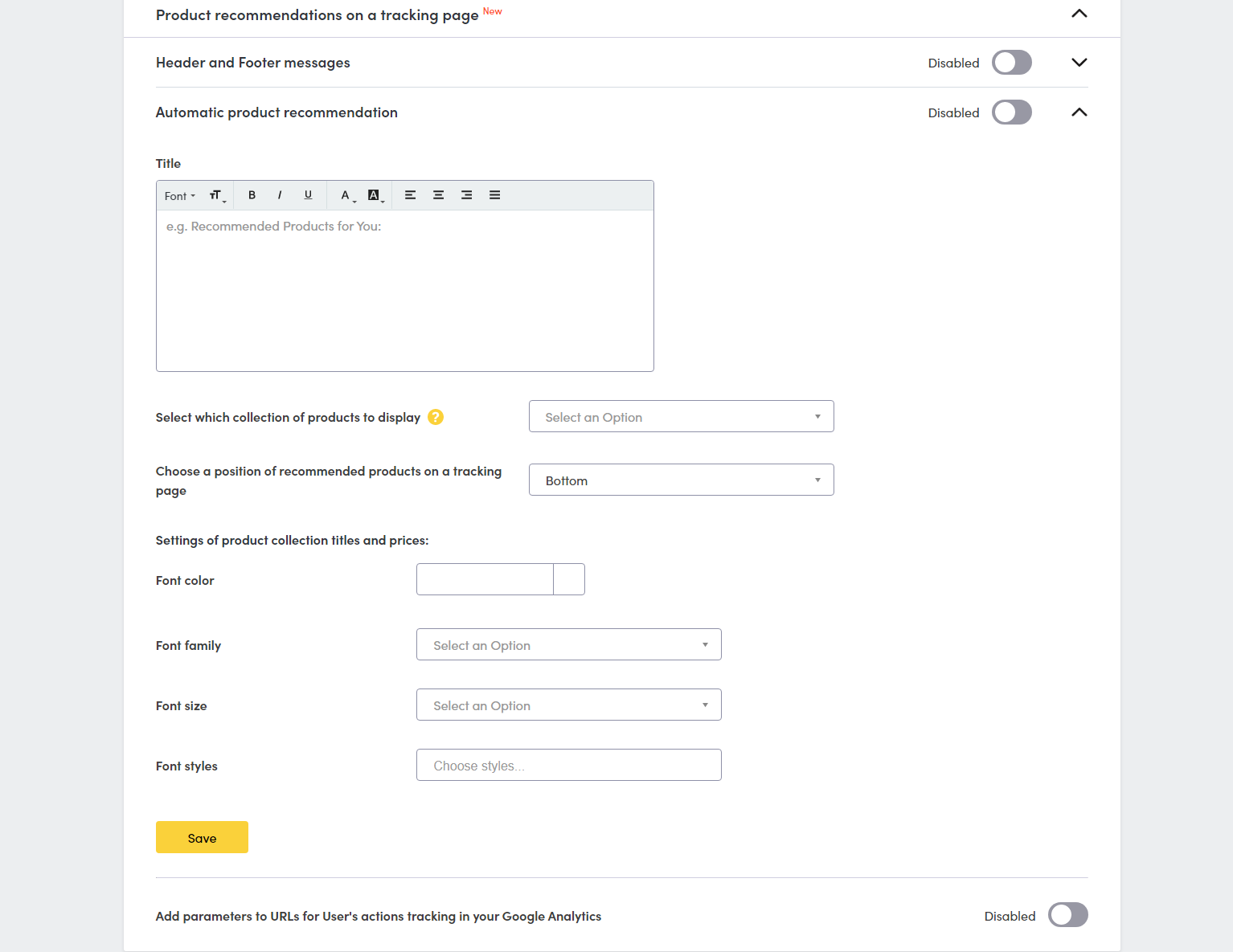 Step 5: Translate certain parts of the Trackr app's tracking page. If you want to make your tracking page multilingual or set any other language than the original tracking language as default, you will need this option. You can also translate Trackr app default phrases in the desired language by adding translated content to the tracking page elements.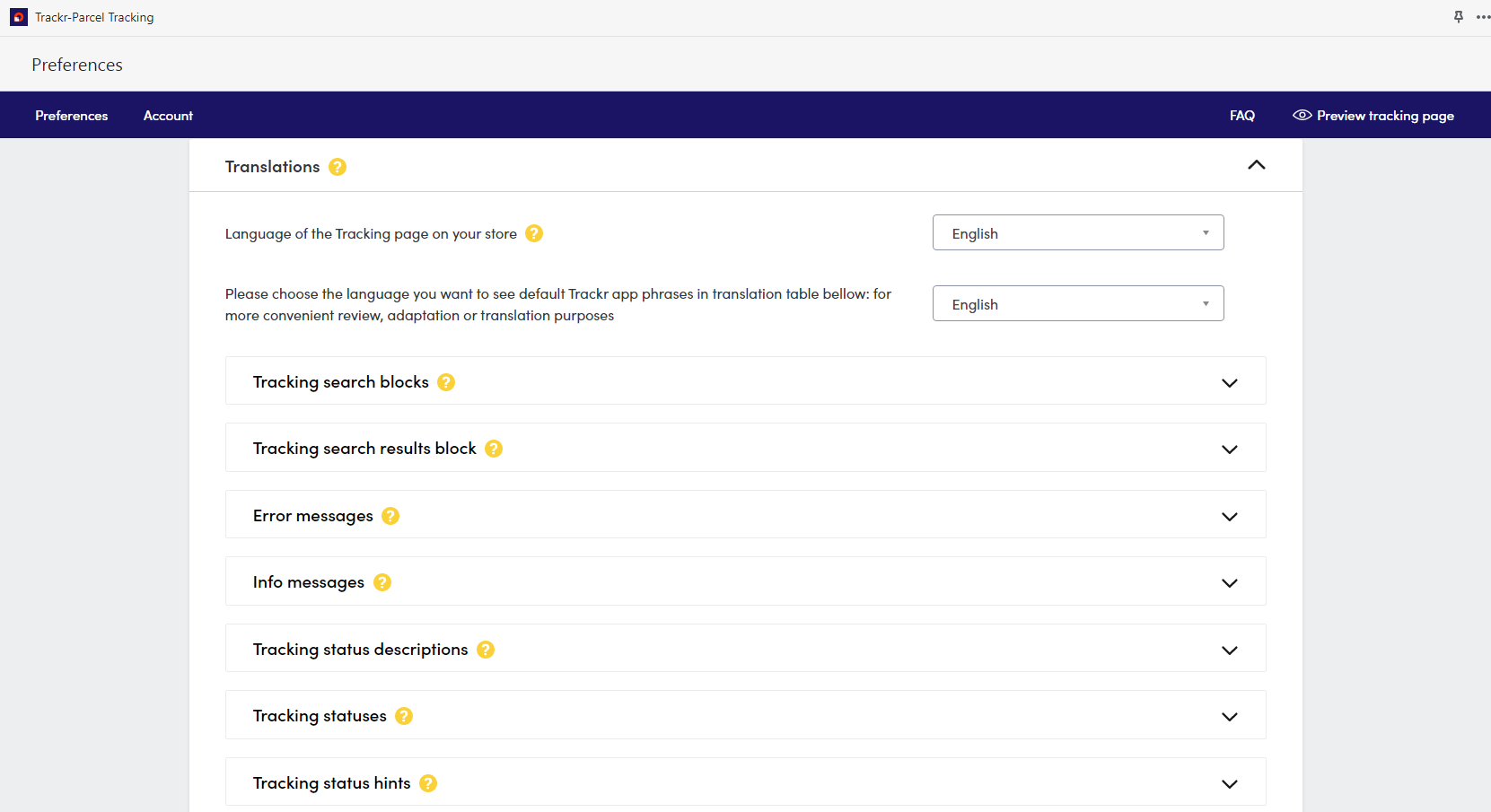 Step 6: Save changes and preview your tracking page. You can check the look and feel of your tracking page right in the app by clicking the Preview tracking page button.
Step 7: Add the tracking page to your website menu.
Now you can help customers find the tracking page easily by adding it to your storefront. For it, scroll up to the Linking tracking page to your store menu section and click the Add menu item button. It will redirect you to Shopify settings. Here you can select the menu you want to add a tracking page to, entitle the page and paste the link from the app details popup window.
You're all set! Now your customers can check online their order status and location via applying order number at tracking page or simply receive email notifications with all necessary details.
You can edit your tracking page anytime by following the same steps mentioned above.
Provide a well-arranged after-purchase customer experience and enjoy satisfied customers and high retention rate with Parcel Trackr!