Interested in dropshipping but not sure how to make a profit? Without proper research and preparation, you will find out that dropshipping is not an easy way to get rich. However, by gathering enough useful information and examples as well as creating an effective dropshipping marketing strategy, you can increase your profits.
There are  several effective practices you need to follow to improve your dropshipping success rate. And today we are going to discuss the best 8 practices. But let's start from the very beginning and look at what dropshipping is and all its pros and cons.
Why is dropshipping popular today?

Dropshipping is a way to fulfill orders that does not require the company to have items in stock. Instead, the store sells the item and transfers the sales order to a third-party supplier, who then sends the order to the customer.

Once the customer has placed an order on the site, the dropshipper only needs to contact the supplier. And sometimes they even don't have to, since there are many dropshipping sites now where everyone can find suppliers, for example, the well-known AliExpress.

Since the dropshippers don't need to keep an inventory, they don't need to go to the office of the delivery service. All this will be done by the supplier. Once a seller places an order with a supplier, the seller needs to use the customer's shipping address. The supplier will send the goods to the customer, even if the customer is from another country.
On the one hand, it seems like easy money - you just sell other people's goods and get your profit. But on the other hand, given all the shortcomings, obstacles and day-to-day management, it is far from easy and can turn out to be hard work.
Pros and cons

Dropshipping is a perfect way to start your own ecommerce business.Let's take a look at the strengths of this.

No inventory management.

The most obvious pro is the ability not to store goods. This frees you not only from finding a place to store the product, but also from tracking and maintaining stock. Getting rid of these responsibilities allows you to spend more time developing your business. In addition, you are able to check the quality of products by ordering only one piece from the supplier, instead of placing bulk orders.

Relatively cheap startup.

This pro flows from above one. Since you don't need to make bulk orders to start selling in your online business as well as  you don't need to own the inventory, it's cheap enough to start a Shopify dropshipping store. This also saves you in other things like warehouse and fulfillment fees.

Dropshipping fees are mostly related to marketing strategies costs and running your website.

Wide variety of products.

All types of stores always strive to offer a wider range of products, and with the help of dropshipping, this is possible for you!

You don't have to worry about different colors or sizes and where they should all be stored, all you need to do is just list them on your site and your supplier takes care of the rest.

Dropshipping allows you to have an extensive, ever-changing inventory, which increases the chance of sales.

Low risks.

Retailers are under a lot of pressure by holding inventory. It is clear that unsold goods are lost money for the seller. This risk may cause delays in inventory changes and ecommerce stores updates. With dropshipping, the risk factor is eliminated - you only pay for items you sell. Retailers are free to modify their inventory as they wish and keep their store in line with customer requirements.

Time-saving.

Organizing your inventory and getting it ready for delivery can often be time consuming.

Using a third party to ship goods saves on handling, labeling, packaging, shipping, and so on. And it provides you with time to focus on improving dropshipping success rate and developing your business in different areas.

Despite the popularity of dropshipping, there are a few drawbacks to consider:
Product Competition.

When you are looking for a variety of dropshipping products it often means that you will face competition from other retailers in your sector. The markup on dropshipping products can be quite low as many suppliers charge for shipping services, so you only have a price range to beat the competition.

Customer service issues.

As the owner of a dropshipping store, you don't have control over products' quality and shipping process. In addition, many dropshipping businesses sell cheap goods from abroad which may have low quality. As a result, dropshipping stores tend to have a higher volume of returns and customer complaints than regular online stores.

It may take longer to resolve a customer complaint or request because you don't have all the information you need. So the request and complaint must go through the third party provider before it can be resolved.

Lack of control.

Since you are outsourcing the delivery process to a third party, you must give up some control. This comes with a fair dose of risk. If a dropshipper makes a mistake and leaves your customer unhappy, it will reflect on your business. That's why it's essential that you work with a secure, verified dropshipper.

As we can see, dropshipping, like any other business, has its advantages and disadvantages. Before starting your Shopify dropshipping store, you need to research enough information to understand if this business model works for you and if you are ready to deal with this. You might be interested in our guide on how to create a successful dropshipping store.
8 best practices for successful dropshipping store

And now let's consider some useful practices you can implement to improve your Shopify dropshipping store.
Focus on effective  marketing strategies.
The dropshipping business model has gained popularity due to the evolution of performance marketing solutions that provide e-commerce businesses with advanced ways to target and reorient their audience. Because of this, it has become more efficient to invest in advertising and different marketing campaigns. With time saved on inventory and shipping, sellers should focus on improving their marketing skills to increase traffic and increase conversions.
Provide perfect customer service.
As with any other e-commerce business, providing excellent customer service to your stores is a key success factor. Remember: customers are always right (even when they are wrong). If you're selling to multiple countries, it's important to know what customers in other markets expect.

Happy customers are the best form of marketing. As with any business, it's much easier to make a sale to a satisfied customer than it is to try to convince a new potential customer to make a purchase. If you treat your customers exceptionally well, they are more likely to spread the word and recommend to others. With superfine service, you can build a business where repeat customers make the most of your income.

Parcel Trackr app is a great tool to increase your customer satisfaction by providing them with real-time order tracking information. It helps your brand create trustworthy relationships with customers.
It's important to understand that the first few months are the hardest. You will struggle with doubts, run into issues with your website, and may not get many orders or make huge profits. Just accept that it's okay.
If you mentally prepare for a tough start and don't expect to get rich overnight, you'll be much more likely to continue your business until it's successful.

Create a clear return policy.

Before creating a return policy for your dropshipping store, you should research how all of your suppliers handle returns. A strict return policy from only one supplier may force you to reconsider the terms you can offer your customers.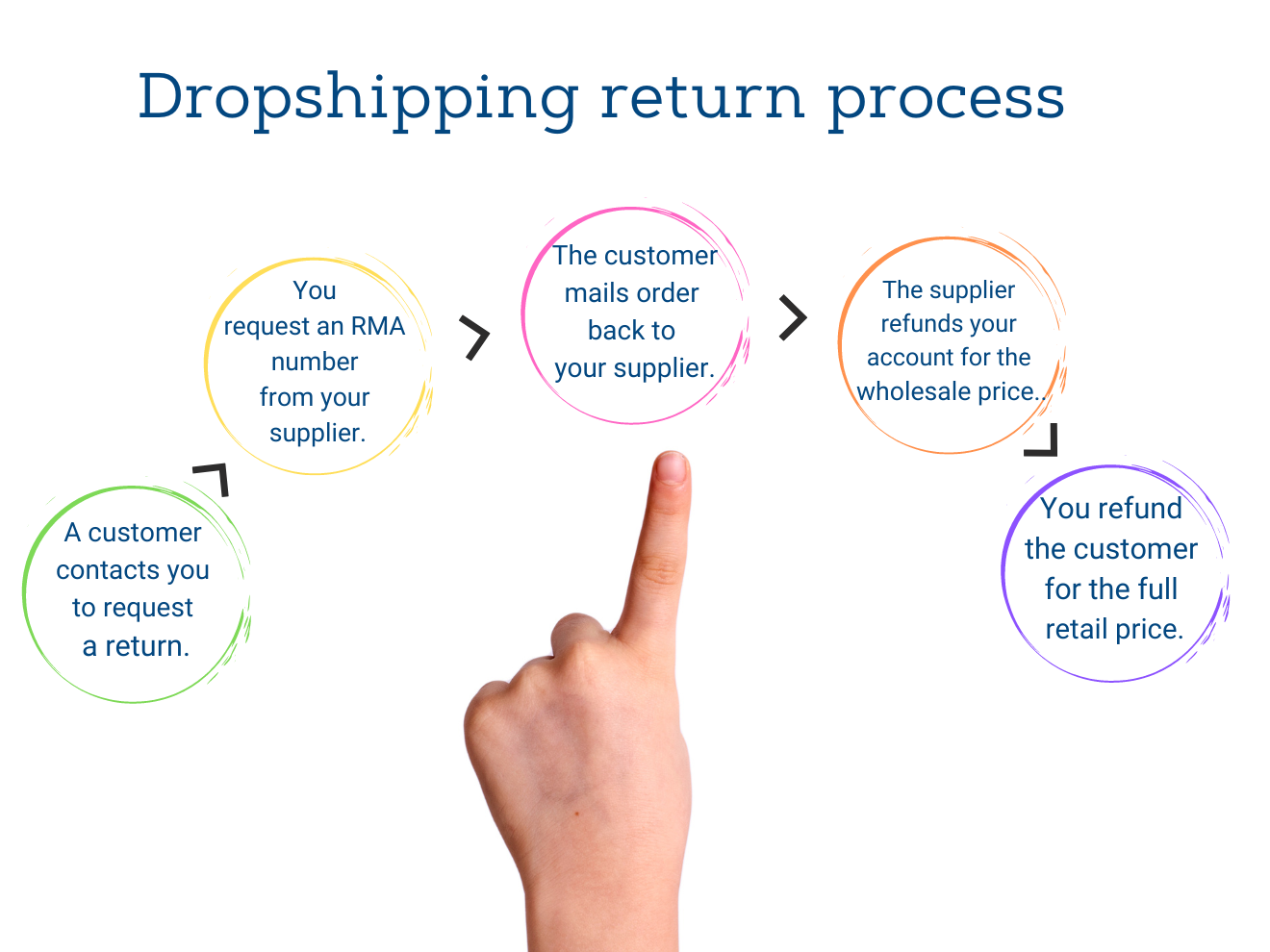 Remember, for dropshipping stores, universal free returns can be expensive. Most customers are used to not having to pay for return shipping just because they ordered a product they don't end up needing.
Customers are usually skeptical about the quality of the products that dropshipping stores sell. That's why adding customer reviews to your online store is a good way to build trust with your audience.
Product reviews will help new visitors see what previous buyers think about the product. In this way, it can motivate a potential buyer to make a purchase. For example, consider putting a "Write Review" feature on your product page to encourage customers to leave a review for the product. If you use the same marketing strategy, you can increase your conversion rate up to 60%.

Blogs are one of the most trusted sources of information on the Internet.
Blogging is an inexpensive marketing strategy for reaching your target market. The main benefit of blog marketing is to build your audience and increase traffic and sales for your drop shipping business. You can also use blog content to convince previous visitors to return.
In addition, one of the most important goals of blog marketing is its ability to boost your SEO results. Search Engine Optimization (SEO) is a set of processes that optimize your content to drive more organic traffic. The better you optimize your blog posts for SEO, the higher your website will be listed on the search engine results page.
The better your ranking, the more likely people are to find out about your dropshipping business.

Use Upsell and Cross-sell.
As a dropshipping business, you are looking to maximize every single transaction in any way possible. Therefore, implementing upsell and cross-sell techniques can help you maximize the value of the transaction.
They help increase impulse purchases and increase your store's revenue by up to 50%.
Trackr app offers you the possibility to add product recommendations feature to increase selling and generate additional revenue. Another useful tool to increase your selling with the Trackr app is to add upsell and cross-sell techniques to email notifications. This way, you will remind customers about your brand and encourage them to purchase more every time they check order tracking information.

Use simple shipping rules.
Calculating shipping costs can be quite a big challenge for dropshipping business owners. It is difficult to accurately calculate shipping costs for orders shipped to different locations and from different suppliers.
Three types of shipping rates can be used:
Real-time rates. By using this method, your online shopping cart will use the total weight of all items purchased and the shipping destination to get the real value in real time. This is very accurate, but can be difficult to calculate for shipments from multiple warehouses.

Rates per type. With this method, you set flat shipping rates based on the types of products ordered. Thus, all small items will be shipped at a fixed price, such as $5, and all large items will cost $10.

Fixed shipping rates.  With this method, you will be charged one fixed rate for all shipments, despite their type. You can even offer free shipping on all orders. This method is the easiest to implement, but it provides the least accurate representation of actual shipping costs.
Choosing the proper carrier is also very important since it can save you a significant amount of money. You can find more information on how to reduce your shipping costs here.
Conclusion

Starting dropshipping is one of the fastest ways to launch an ecommerce business, but don't forget that it's not a fast way to passive income. A successful dropshipping business requires hard work to grow in order to keep customers satisfied and encourage them to purchase again. Hope these practices will help you to create a strong business and improve dropshipping success rate.