Undoubtedly, Shopify is one of the best platforms in the eCommerce market. It provides merchants with top features to build and run their business effectively. However, there are still areas for merchants to work on. Post purchase service is one of them.
To provide a positive post purchase experience, an online store should offer detailed and clear information about the order right up to the moment of parcel receiving. For it, order tracking is a must for any Shopify store.
What is order tracking in eCommerce?
Order tracking is the feature, which allows both merchants and customers to learn the status of the order in real-time. It is a quick and simple way to manage all your shipments and notify customers about the order status updates.
Depending on business opportunities and a tracking tool used, order tracking in Shopify can be done via tracking page, tracking link or email notifications. The tracking information provided by all these methods gives customers a clear idea of their parcel location and reduces the post-purchase dissonance.

Benefits of order tracking for eCommerce business
Before implementing any feature you need to understand its profit for your business. So here are some of the benefits you may get by offering tracking info to your customers:
Customer satisfaction - relevant tracking info gives a sense of confidence in the brand and helps to build trustworthy relationships, which can result in higher retention rate and boosted sales.
Speeded up order fulfillment - accepting the order and giving the parcel to the carrier can seem but doesn't mean that the store's job is completed. A lot of issues and troubles can appear at any stage of the delivery process which will require your attention and guidance. An organized tracking system can prevent unforeseen delays and unwanted losses both trade and financial.
Better brand reputation - a good post-purchase service contributes to better brand perception. It not only encourages shoppers to further purchases but also saves support team time by reducing "Where's my order?" questions to the minimum.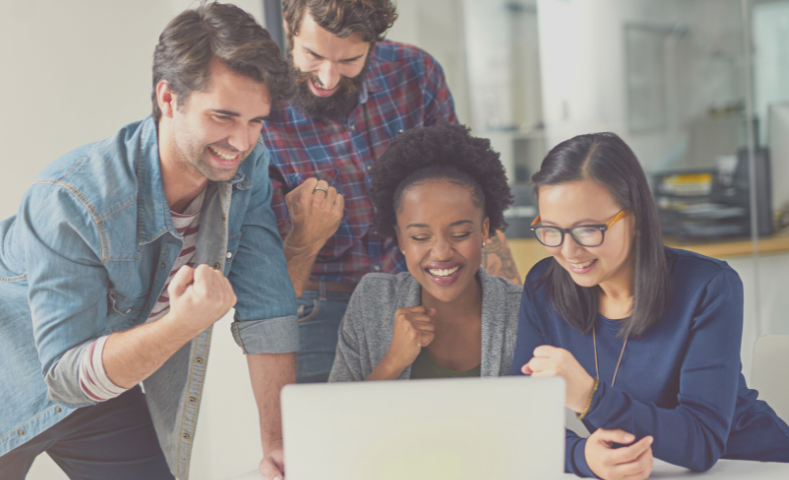 How to implement order tracking in Shopify?
Although native Shopify functionality can't guarantee real-time order tracking, Shopify app store offers a number of helpful plugins with this feature. Parcel Trackr is a popular parcel tracking tool, which collects tracking info from 900+ carriers globally to provide relevant, up-to-date information about the order. It is seamlessly integrated with Shopify and works with such giants as USPS, Fedex, China Post, Aliexpress standard shipping, etc. See the full list here.
The app allows you to create, design and customize a tracking page on your store, so customers can easily reach it in search of tracking info and associate this page with your website thanks to similar design with the other pages on your website. The estimated delivery time will give your customers a sense of security and confidence, while an available translation feature can prevent additional difficulties foreign customers usually face.  
Besides, the app allows users to send automatic notifications about the main order status changes. This way your customers will get notified when their parcel is "Ordered", "In Transit", "Out for delivery", "Delivered" and are more likely not to miss the delivery. The feature can be enabled by a customer, if it's set in the preference section by admin, or you can send the notifications automatically to all customers after each order fulfillment without a need to opt-in.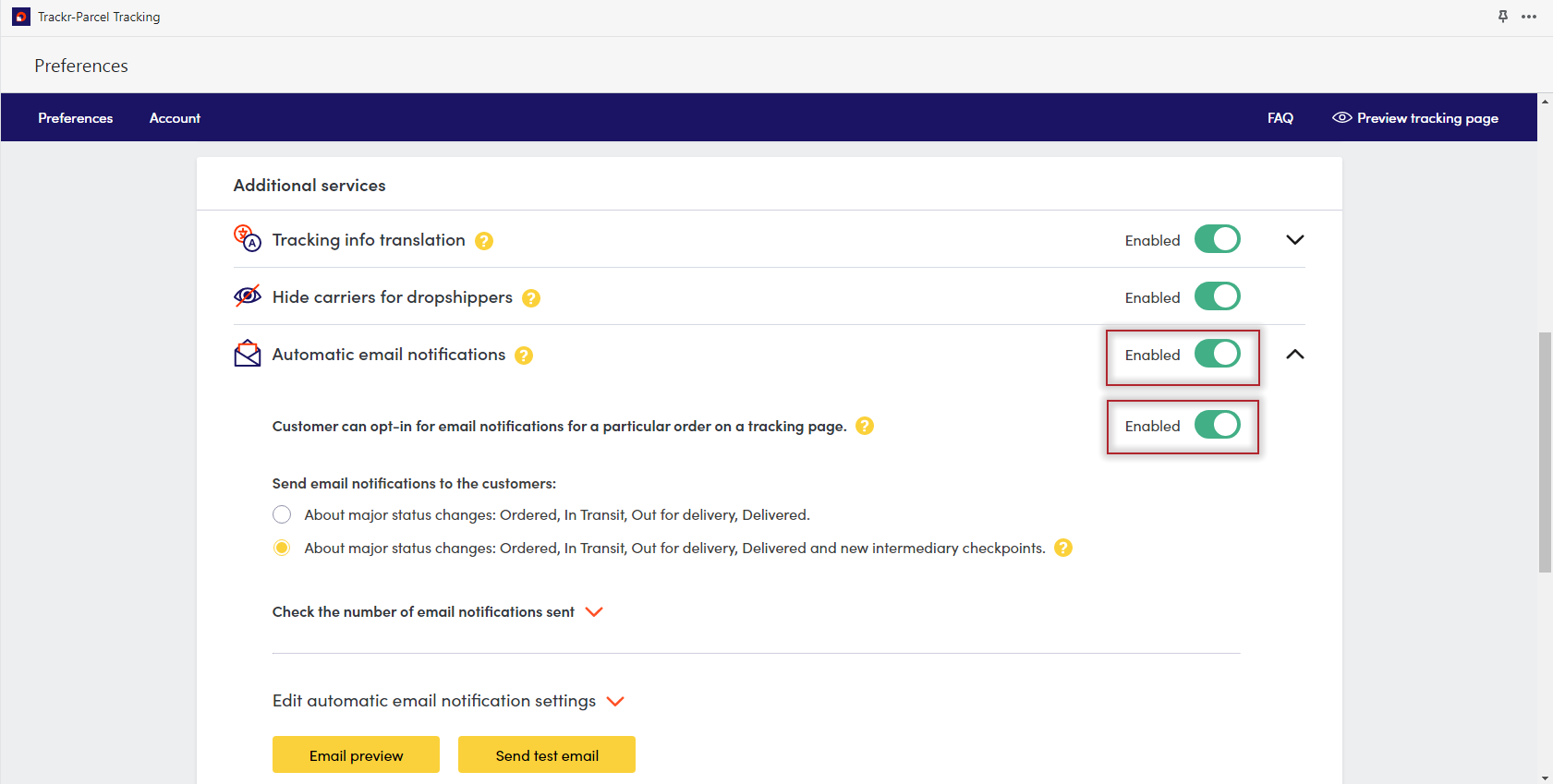 The email notifications also can be customized to reflect your brand. You can add a logo and website link, set the font and colors, add a message, etc.
In addition, your tracking page can become a suitable area for cross-selling, because the app allows users to add product recommendations on the tracking page. It can contribute to better retention and improve navigation and discovery on your website.

5 best practices to improve parcel tracking service

Add a link to the tracking page in the order confirmation email
According to the statistics 46% of customers expect to find a link to the tracking page in their order confirmation email. So to show your shoppers that your store provides them with a tracking tool, we recommend sending an email with all necessary details and a link to the tracking page or sending an email with the latest order status update, which will demonstrate to them that your store provides a convenient tracking notification system.
Also, it's recommended to make this email easy to find, so consider adding "tracking" or "track order" phrases in the subject lines.

2. Highlight a tracking number in invoice
The invoice is a good place to share tracking details and especially a tracking number. Make it easy to find in your invoice and add a direct link to the tracking page, so customers could immediately test it. It will reduce their uncertainty and give them a better idea for further order status check.
In case you ask for an order number and email to track the order, it should also be highlighted in the invoice.

3. Make your tracking page easy-to-reach
A common mistake is to place a tracking page link in the Help page or Customer Service page. Your customers can miss the email notification with the link to the page, so be sure a lot of them will get lost in navigation and bombard your support team with "Where's my order" tickets.
You never know what page your customers will enter in search of a tracking link, so the best position for it is in the header or footer on every page. A good example is Argos navigation, where the tracking page is located in the footer and therefore can be found easily even by guest users.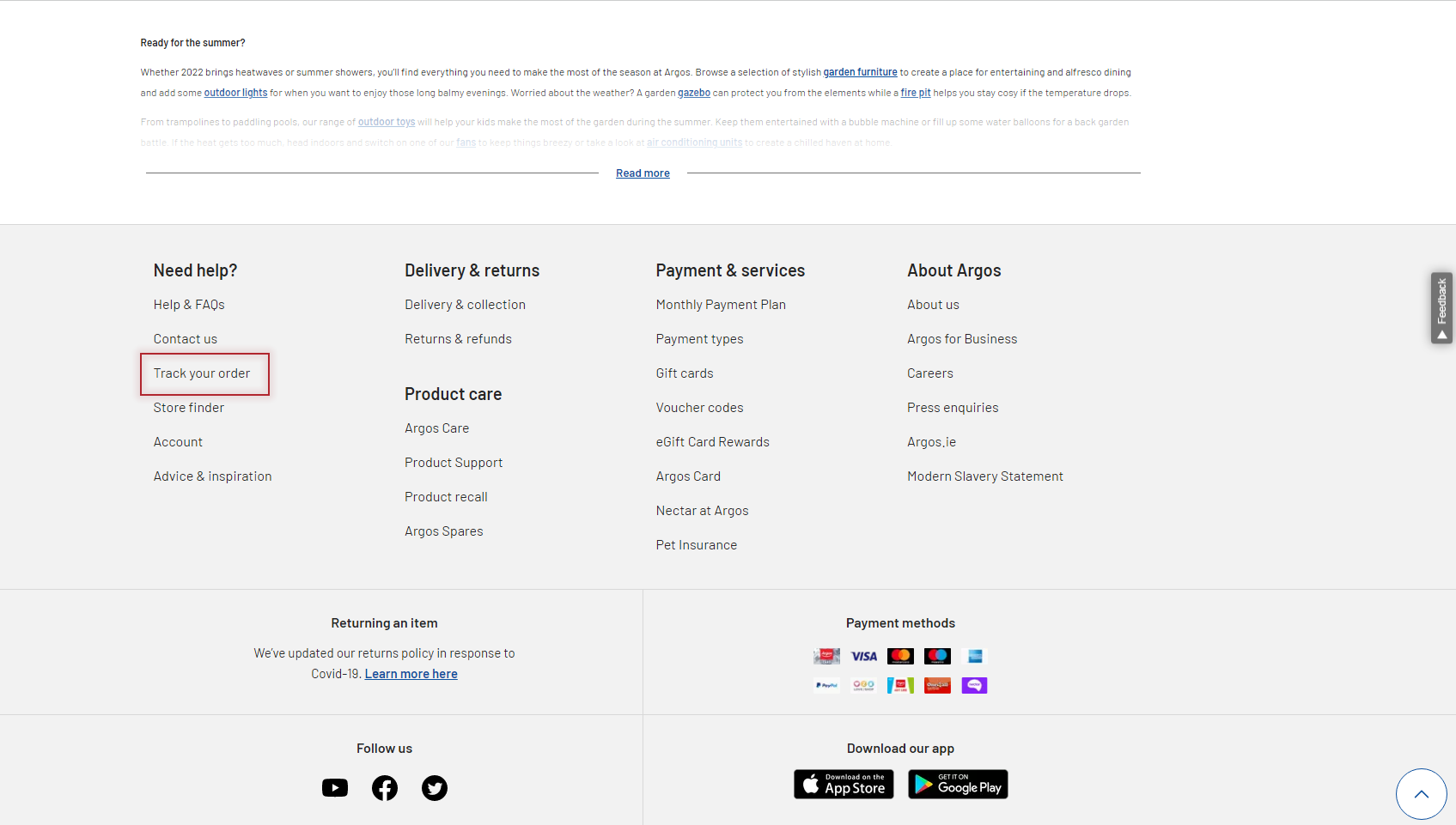 4. Make your email notifications personalized
According to Segment Report, 49% of customers claim they're more likely to make repeat purchases if provided with a personalized shopping experience. Order tracking email notifications and tracking pages can become a good source to employ personalization and increase retention.
For example, Trackr allows users to add (#CUSTOMER_NAME) variable in email to make it more personal, translate the tracking page into foreign language and implement a recommendation block, which customers may find useful.

5. Use your branding
Branding is an important part of any business. Amazon, Apple, Dior - these brand names speak for themselves. So when providing a good post purchase service, don't forget to include branding in every element: email or tracking page. It will not only make the whole shopping process more organized and seamless for customers (they won't feel dissonance when receiving an email or entering the tracking page thanks to similar design, brand colors and logos), but also increase your brand awareness. It's also a sign of quality and professionalism.

Conclusion
The order tracking on Shopify can become a seamless process both for customers and merchants with Parcel Trackr App. Install the app, set preferences and forget about lost parcels and failed delivery attempts.
Make your post purchase service better with Trackr!